Ever since completing our Journey Through Japan, we've been searching for a new travel destination – somewhere close to the UK so we could squeeze the trip in between planned visits to friends and family. Our (google) search eventually led us to Luxembourg, a relatively small yet stunningly beautiful country sat in the middle of France, Belgium, Germany and Switzerland. With three days spare we booked our flights and left from London for a weekend away in Luxembourg.
Special thanks to Visit Luxembourg for helping us organise this trip and for the recommendations on places to stay, visit and eat.
Transport and the Luxembourg card
We often avoid landing in a new country late in the evening as it's often less convenient due to a less frequent transport service and fewer people around to ask for information. Thankfully this wasn't the case with Luxembourg as even at 10pm the airport information desk was still open. The staff were able to help us with all our questions and direct us over to the right bus stop for Bus 29 which takes passengers into the city. This bus along with other forms of public transport inside the city centre are free every Saturday. But wait, it gets better…from the summer of 2019 onwards, all public transport in the country will be free for everyone everyday!
If you're planning your own trip to Luxembourg and it falls before summer 2019, we'd highly recommend picking up a Luxembourg Card which includes the trains and buses you'll need to get around. Another benefit of having the card is the free access it provides to more than 60 local attractions. Cards are available up to 3 days for single and groups.
Sofitel Luxembourg Le Grand Ducal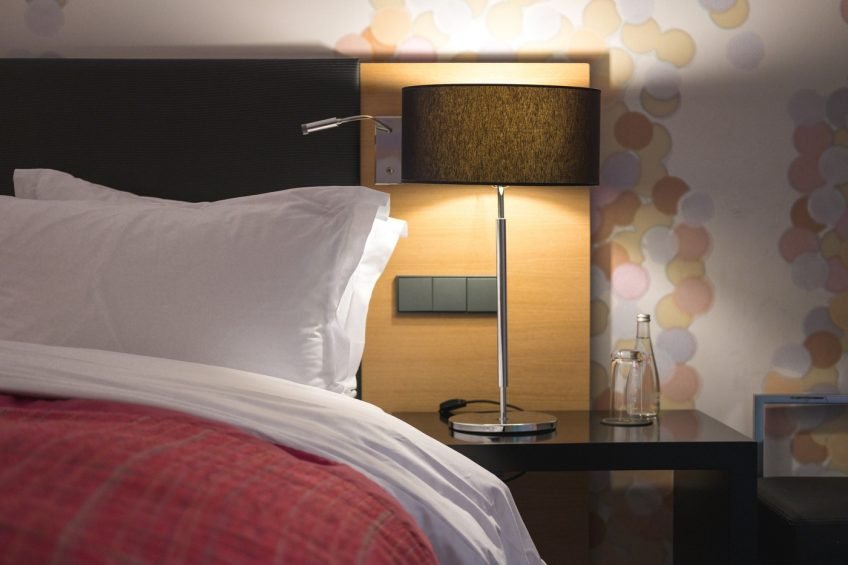 Within 15 minutes we were off the bus and outside Sofitel Luxembourg Le Grand Ducal, our hotel for the night. Inside the building you'll be greeted with a lovely contemporary decor and a warm welcome by some of the friendliest hotel staff we've met. We called it an early night as our body clocks were still in the Asian time zone and were very pleasantly surprised by how comfy the beds were. It's no exaggeration to say these were some of best hotel beds we've slept in. This was our first time staying with the Sofitel brand but we can assure you it won't be our last.
Check property on Booking.com. 40 Boulevard d'Avranches, 1160 Luxembourg
---
Day 1
Old City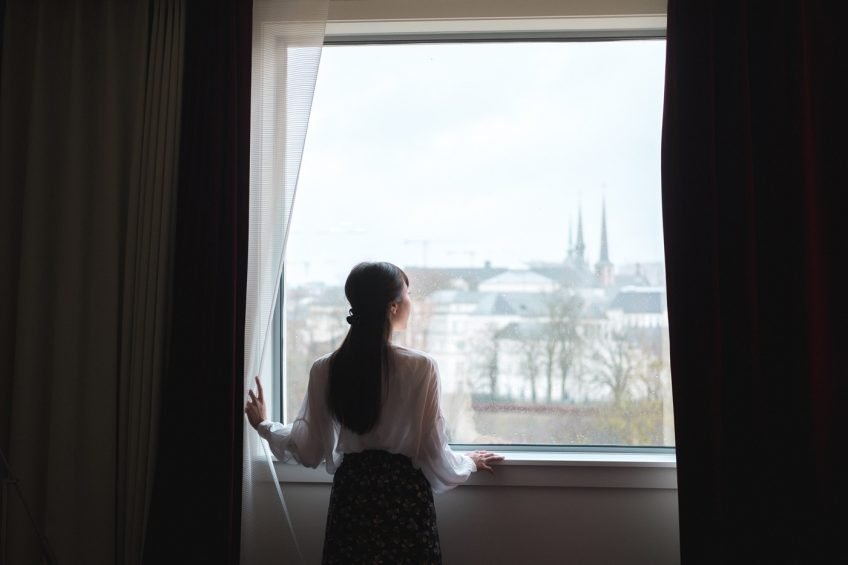 It was completely dark when we arrived into the City of Luxembourg so the morning was the first time we were actually able to see the city. Sipping on a cup of coffee and indulging in a delicious buffet breakfast on the top floor of Sofitel, we looked out onto the picturesque town.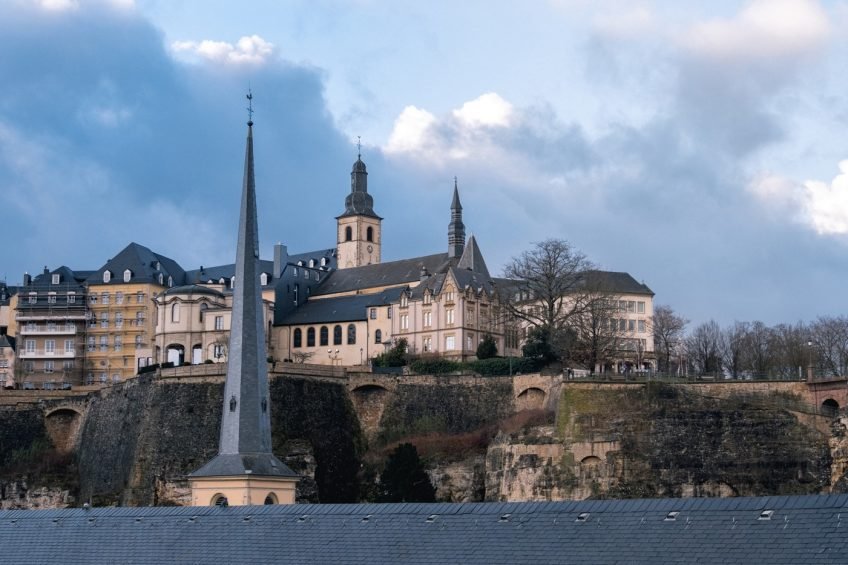 The first thing we noticed were the strikingly tall walls surrounding and running through the city centre. It looked as though the city itself was part of larger fortified castle. Though perched atop the walls you won't find watch towers and canons, instead beautiful examples of classic European architecture line up side by side. Luxembourg was once one of Europe's greatest fortified sites and today finds a place on the UNESCO World Heritage List.
We spent a few hours wandering the streets of Old City Luxembourg, stopping at the Notre Dame Cathedral, Place Guillaume II, The Viaduc Bridge and Le Chemin de La Corniche Balcony where you'll find a beautiful view point of the canal and the Grund below.
Chocolate House
As our luck would have it, our first day in Luxembourg was met with a heavy downpour of rain – very rare we were told. To save ourselves and our camera gear from getting any wetter, we found cover inside the cafe of the original Chocolate House of Luxembourg. Their signature item here is the hotchocospoon, literally a block of chocolate stuck onto the end of a spoon. Stir the spoon into a warm cup of milk and voila you have a rich cup of hot chocolate. There are many flavours to choose from as well toppings of cream and marshmallows. If you're lactose intolerant (like Eric), then you'll be happy to hear they offer dairy free milk too.
Around €5 for a hotchocospoon. Chocolate House Bonn, 20 Rue du Marché-aux-Herbes, 1728 Luxembourg
Panoramic Elevator of the Pfaffenthal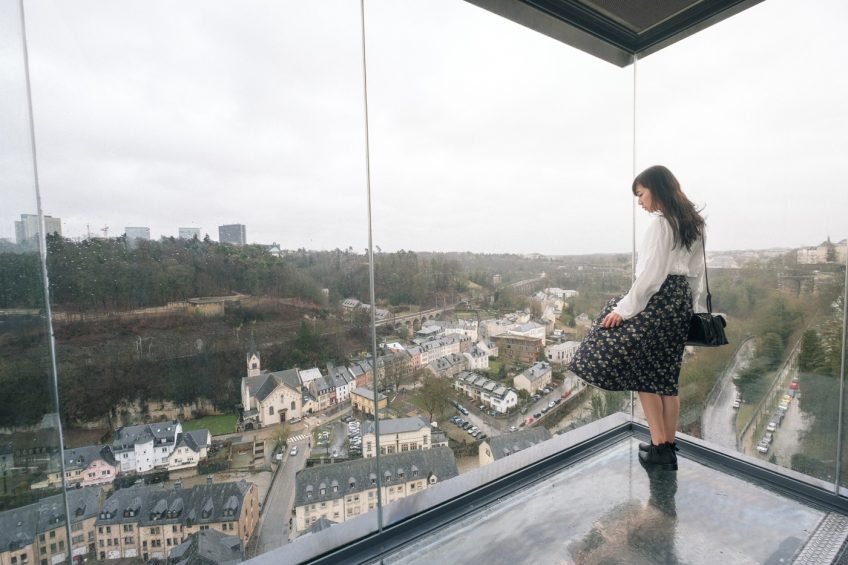 Next up on our itinerary was the Panoramic Elevator of the Pfaffenthal. Warmed up from our hotchocospoon, we walked to the elevator which took a little under 10 minutes. The journey took us through more picturesque streets and around the city walls. The elevator is free to visit and has a very practical use of connecting the Pescatore park and the Pfaffenthal area. But what makes the elevator worth visiting for tourists is the beautiful panoramic view from the top and the transparent glass floor looking straight down below.
Free. Panoramic Elevator of the Pfaffenthal, 1, Montée du Pfaffenthal, 2329 Luxembourg
Museum of Modern Art (MUDAM)
As photographers we're always on the hunt for photogenic spaces so when we heard the Museum of Modern Art was designed by Ieoh Ming Pei, the same architect who designed Le Grand Louvre in Paris and the Bank of China Tower in Hong Kong – e had to check it out. As the name suggests, MUDAM houses beautiful exhibition of moderns art intertwining with the museum space itself. Well worth a visit for modern art, architecture and minimalist lovers.
Adult admission €8. Admission included with Luxembourg Card. 3, Parc Dräi Eechelen, L-1499 Luxembourg City
Grund
Our last spot of the first day was the Grund, an area recommended to us as the most picturesque part of Luxembourg. By this time the sun had already set and the city fell into a romantic glow, lit up only by the warm street lights and light spilling out from house windows. We have to agree that the Grund is perhaps the most picturesque part of Luxembourg, offering a feel of what this entire city would have once felt like during the medieval times.
Grund, 13 Rue Plaetis, 2338 Luxembourg
Off to Vianden
We were enjoying the Grund so much we almost forgot we had to travel an hour outside the City of Luxembourg. Thankfully we weren't a minute later as we made our RE 3768 train to Ettelbruck to just catch the final bus 570 (7:16pm) to Vianden where we would be staying the night. All transport costs were covered under the Luxembourg Card.
Hotel Belle-Vue
We checked in at Hotel Belle-Vue which was a lovely traditional Luxembourg hotel located right beside our bus stop. Once again we received a nice warm welcome. This time we were pleasantly surprised to find that our room had a balcony which faced Vianden Castle – a strikingly beautiful castle perched on top of the hill. The hotel also had a swimming pool, which we would have loved to enjoy had we not forgotten our swimwear…nevermind as we still managed to enjoy the whirlpool jacuzzi installed in our private bathtub.
Check property on Booking.com. 3 Rue de la Gare, 9420 Vianden, Luxembourg
Dinner at Beim Hunn
The foodies among you may have noticed the only food we mentioned so far were the hotchocospoons. Well, that's because we were so busy out photographing and sightseeing we forgot to cater time to eat – a common problem for us when travelling. Prior to our arrival we were recommended by Visit Luxembourg to have dinner at Beim Hunn in Vianden, and told to have an empty stomach for this meal, well we've surely checked that box. Beim Hunn is well known locally for its delicious grill and very, very, very generous portions. We recommend the spareribs which comes with two racks and the mammoth 700g Prime Rib of Beef. Meat lovers will be in for a treat.
Our two course meal for two came to €81.20. 114 Grand-Rue, 9411 Vianden, Luxembourg
---
Day 2
Vianden Castle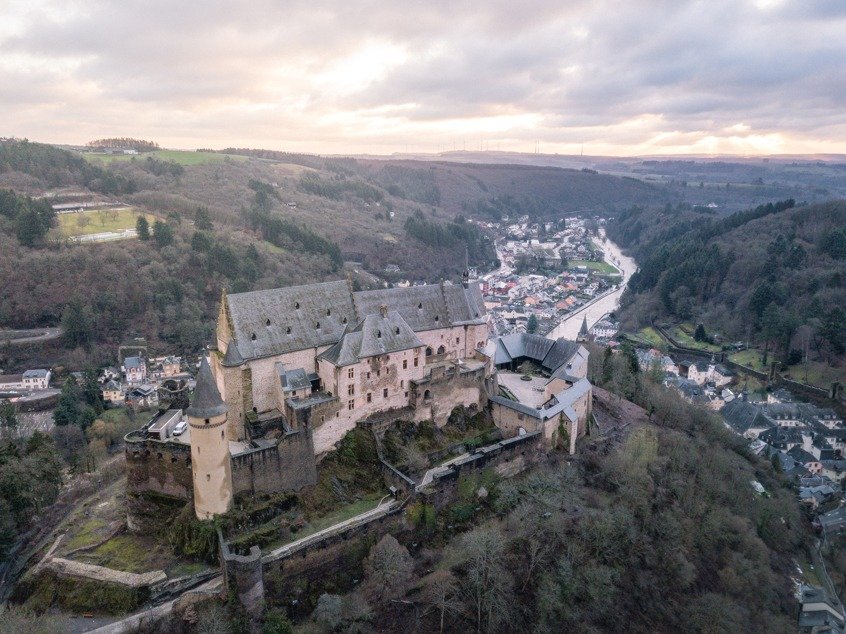 After an entire day full of rain, we couldn't be happier to open the curtains and find dry weather. We made the usual mad dash out the door to photograph sunrise…well one of us did. Sarah decided to stay in and enjoy the beautiful view of Vianden Castle from the warmth of the hotel bed.
Vianden Castle is one of the largest and finest feudal residences you'll find in Europe today. A must see if you're planning to visit Luxembourg.
Entrance into Vianden Castle is included with the Luxembourg Card, otherwise €7. Montée du Château, 9408 Vianden, Luxembourg
Back in the warmth of the hotel, we met back up and enjoyed a traditional Luxembourg buffet breakfast at Hotel Belle-Vue before setting off for the second day of exploration.
Originally we had planned to visit Bourcheid Castle after Vianden but we wanted to re-photograph some of the locations we visited yesterday when it was raining. So with that in mind, we made our way back into the City of Luxembourg the same way we came out.
Back in the city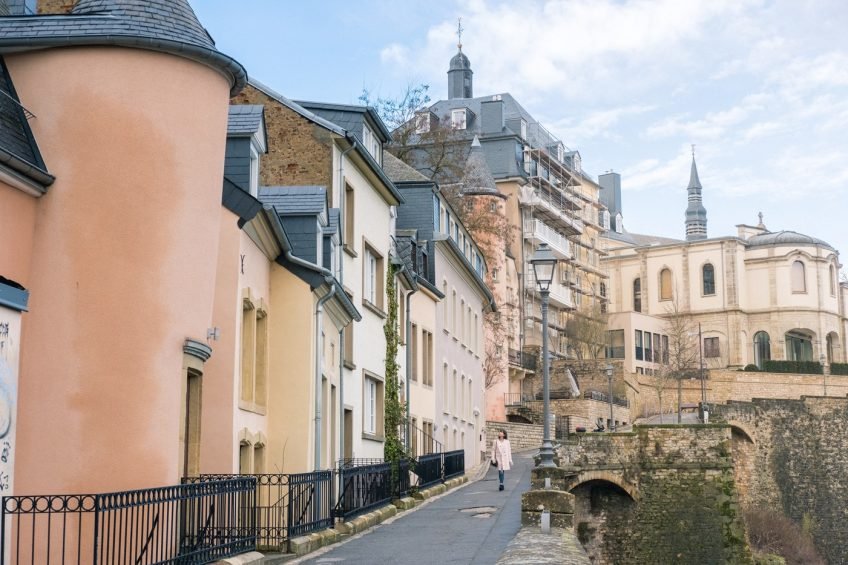 Arriving back into the city we were greeted with beautiful sunshine. We made our way around the some of the spots we visited yesterday until it was time for lunch.
Our chosen eatery was Um Dierfgen, which serves traditional Luxembourg cuisine in a lovely rustic setting. We were meant to visit this restaurant on the first day but ran out of time as it only opens between 10am-3pm. Once again we were overwhelmed by the massive portions but hey, at least we weren't hungry! We went for the selection of sausages which was delicious but the outstanding dish has to be awarded to the flavour-packed chicken pie.
Our lunch for two including drinks and one appetiser came to €63.60. 6 Côté d'Eich, 1450 Luxembourg
With our tummies well and truly full, we made a final trip through the city which was only perfectly rounded off by a beautiful sunset.
---
Final thoughts
It's been a long time since we'd done any exploring in new European destinations but Luxembourg was just the perfect reminder we needed to do more. The stunning architecture, deep history, delicious food and this almost indescribable feeling of romance as you wander the streets – Luxembourg may have just pipped Budapest as our new favourite European city.