Let's be honest, who wouldn't want to save money while they're travelling? Whether you're a budget traveller backpacking your way around South East Asia or travelling with your family for a luxury weekend away in the Swiss Alps – there are certainly ways for you to save money while you travel.
Make a Plan
Perhaps the most effective method to saving money takes place before you even take a step outside your door. Make yourself a plan.
A good plan can help you save money in so many different ways. You can probably relate to your own previous travel experiences and pick out a few situations which, if you had done a little better in planning, you might have been able to save yourself a few pennies. Can't relate? No worries, we'll share one of ours.
In 2016, we found ourselves on the summit of Laozhai Hill in Xingping Town (China) admiring the beautiful scenery before us. Finding ourselves completely lost in the moment, we began making our way downhill only after the sun had set. Back on the ground, we realised we had missed the last bus out of town and we were faced with two choices – either pay for another accommodation in the town we were stuck in or pay for a taxi to take us back. Unfortunately, taxi drivers here are well aware that travellers are stranded at this time so we ended up paying over double what it would have cost us if we had jumped in a taxi 30 minutes prior. If we had planned more thoroughly, we would have known about the bus operating hours and ensured we didn't end up paying extra for an overpriced taxi.
So you know you need a good plan, but where do we start? Well, it all boils down to an itinerary. Before each trip, we sit down and create an itinerary chocked full of information so that it allows us to make fewer "mistakes" when we're in the midst of our travels. Our itineraries include everything from what activity we're doing, its address, how we're getting there, what time we're getting there, how much it costs, opening and closing times, and even forecasted weather for the day. By padding out your itinerary with all this useful information, you'll have an overview of how your travel could look and how much it could potentially cost. If the expected cost is too high then you'll want to jump back in and either cut or rearrange activities for better cost-efficiency. Saving yourself more money in the process.
For anyone hesitant on creating itineraries or planning because they believe it cuts a lot of the fun out of travel, we actually agree to a certain extent. There is a lot of fun to travel when it's unplanned and you're just wandering and allowing your curiosity lead the way. For the wondrous souls out there, we recommend planning for your unplanned travel. Yes, we just said that – plan for the unplanned. Cater blocks of your travel where you know you want to just get lost and explore. This just prevents you from completely overrunning your time and potentially spending your budget away.
Figure Out Your Focus
There's often a scattergun approach to travel where we try to experience everything we possibly can. In an ideal world, we'd have unlimited resources (money and time) to put towards travel but realistically this isn't the case for most. So what can we do to ensure we get the most out of our travel experience with what we have available? The answer is to figure out what your focus is for your trip/travel. Are you a foodie who loves to try every local dish you come across? Are you someone who enjoys exploring the outdoors and nature of a new destination? Or are you someone who loves to sit at a small corner cafe and people watch as the day goes by? By understanding what you want out of the trip, you can remove the distractions (activities you weren't "really" interested in), save yourself some money/time and dedicate your resources towards the things you want to focus your travel experience on. It's better to lean into fewer experiences and really spend the time (and money) to fully enjoy them.
Accommodation
Accommodation usually ends up as the largest portion of our travel expenses so it's a category we pay close attention to. To start, we're going to challenge a conventional way of booking accommodations – booking a single accommodation for an entire trip.
In a lot of situations, it actually doesn't make sense to stay at one accommodation for the entirety of a trip; yet it's usually how we all go about travel. Many trips require us to be moving around a destination as we visit different points of interests, so locking ourselves to one location could result in inefficient spending moving back and forth. This is especially true if the area of intended travel is big. What we recommend you do is to look at the plan you've made for your trip and see if it's possible to segment into smaller chunks based on location. We did this for our time in Tokyo, changing accommodations depending on which section of the city we were visiting around those few days. It helped us save huge amounts on our transport costs (more on this later).
Another reason we recommend booking multiple accommodations is so you can mix and match luxury and budget. Despite being backpackers, we enjoy staying at luxury accommodations from time to time, but there are very few days we can actually spend a decent amount of time at the accommodation since our focus is more on learning about cultures and photography – neither of which is easily achieved at an accommodation. So if we're staying at a high-end accommodation for the entirety of a trip, then we're essentially paying for a place we won't be around enough to really enjoy. Instead, we look at the days we've blocked off to rest or relax and for those days we'll try and find a nicer place to kick up our feet enjoy all the facilities a 5-star accommodation comes with.
Now we're not going to deny that moving accommodation doesn't have its downsides. It's just more hassle booking multiple accommodations and moving your luggage from one place to another throughout your trip. That's why you need to balance it all up, how many moves can you make before it starts to feel like a chore? If the answer for you is zero, then scrap the idea of booking multiple accommodations. But we're sure there'll be some of you out there who wouldn't mind a move or two at least. If you decide to stay at one accommodation then it's worth calling up the accommodation and asking if they offer better rates if you're staying anything longer than 2 weeks – don't just take the price on the booking site to be the final price (especially third party booking sites).
Before we finish up with accommodations we have to touch on hostels. If given the choice between a budget hotel or a hostel, we'll be choosing a hostel almost every time. A massive part of enjoying travel (at least for us) is meeting like-minded travellers and sharing travel stories. And there are few places better to do this than at a hostel. If you hate the idea of sleeping in the same room with a stranger then you can look into booking a private room at a hostel. This way you'll still benefit from cheaper prices (although not as cheap) and you'll get the same experience of meeting other travellers.
Transport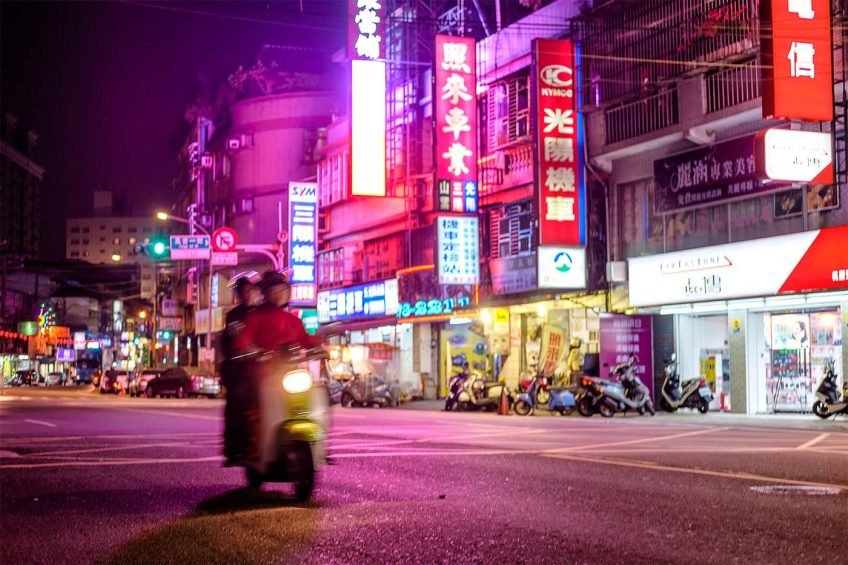 Travel inherently involves a lot of moving around which can translate to high transportation costs. The best solution is to just walk as much as possible. We're big advocates of walking whenever you can as it allows you to travel at your own pace and provides opportunities to stumble on unexpected places – and let's not forget that it's far better for the environment too. 
But not all forms of transportation and legs of journeys can be replaced by walking – so how do we save money when we need to pay for transportation?
Flights
For flights, we recommend booking around 30 days prior – from our own experience, this is usually when flights get discounted to fill up empty spaces. Please keep in mind that if you're flying a popular route then you might not see discounted rates as the flight will already be full. If this is the case, you should expect higher prices or no flights at all. 
Another great way to shave some money off your flights is to pack light. More and more, we're seeing flight companies remove price-inclusive luggage allowances so you'll either need to opt into the extra costs of having a suitcase or pack so you only have a carry-on. It seems daunting to only have a carry-on when travelling but if we, with all our extra camera gear, can do it most travellers shouldn't have a problem.
Train
We love train travel and it's our favourite way to cover great distances when time isn't against us. Think about it, there's no check-in. No need to go through security. No luggage weight restrictions. And no need to go to an airport (usually further than a nearby train station).
Unfortunately, train travel isn't always cheaper than flights, but if the price doesn't differ too much we'd still opt for train travel for all the benefits mentioned above plus it's a greener way to travel. To save some money on train travel, look for travel passes you can take advantage of. Some of the ones we've used in the past include the Eurail pass, Japan Rail Pass and China Rail Pass. These passes are fantastic if you're planning to use trains multiple times throughout your trip.
Also, be aware that most countries have two types of trains, fast high-speed rail and slow local trains. As you can imagine, the slower of the two are often much cheaper but you will need to cater more time for your journey.
Bus
Besides walking or cycling, buses are generally the cheapest option when you're travelling within a country. We especially like booking overnight buses as this not only saves on transport costs but also accommodation for the night (you can do the same with trains too). While planning your itinerary we recommend doing a quick google search on what bus companies operate in and around your travel destination – some companies are more reliable than others so it pays to do your research.
Taxi
It'll be easy for us to just say: don't take taxis. But realistically there are times when we're left with no other choices. If you must take a taxi then check if the country you're travelling to has Uber or another service similar (Grab is used by many Asian countries). The reason we recommend using ride-hailing services is that the price (sometimes estimated) is presented beforehand – we can't even count the number of times drivers have tried to scam us and overcharge us for a ride. Also, drivers on these ride-hailing services have reviews so there's at least some level of safety and assurance before getting in the car.
Food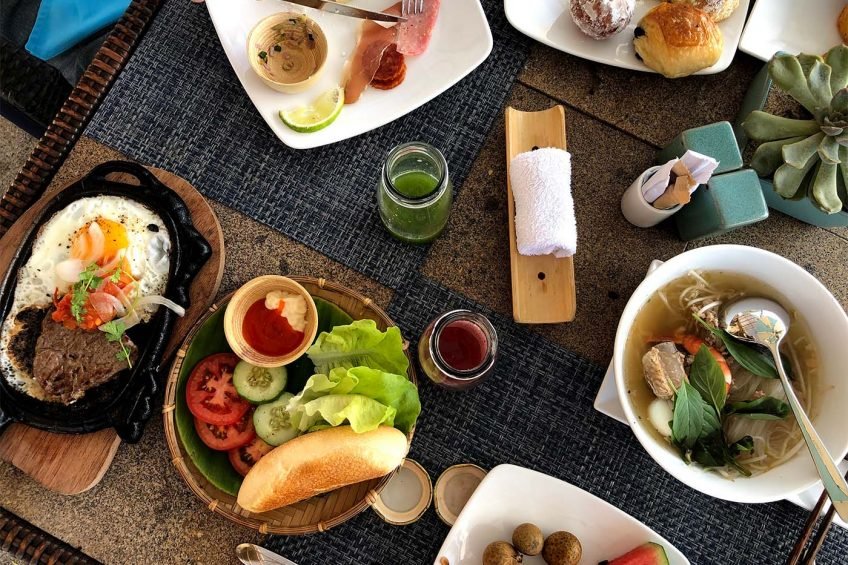 Food is the last slice of the travel expense pie. It's so easy to let your budget fall off the cliff when it comes to food, there are just so many delicious cuisines out there with so many tasty local dishes.
Our first tip to saving money on food is to speak to locals and ask them where they like to eat. Notice we didn't ask where they recommend us to go but rather where they like to eat themselves. This small difference in words is really important as most people will default to recommending places they know have endless good reviews from other tourists who have visited – it's a safe recommendation so why not. But this doesn't necessarily make it the tastiest, cheapest nor where the locals go to eat either. From our own experience, asking where locals go to eat themselves has led us to some really incredible food spots around the world – often relatively cheap too.
Another option for saving on food costs is to just cook local cuisines yourself. When staying at a hostel or Airbnb you often have the option to use a kitchen to cook so why not take advantage of it. We fell in love with the potato dish Rösti as we were travelling in Switzerland, it would have been easy for us to just go out and order it every day but we connected with the local dish more when we went out to the local grocery store to buy the ingredients and cooked it for ourselves. We're not saying eat in every day, but why not add in a few days where you learn to cook the dishes you've been tasting throughout your trip?
---
Feeling inspired to travel? Check out some of our other articles and Discover the World