Nikko Hotels International is a well known international luxury hotel chain with properties located throughout Asia, Europe and North America. Last month, we took a visit to their home turf and stayed at their flagship property, Grand Nikko Tokyo Daiba. Spoiler alert – this is one of our favourite hotels in Japan so far. Read on to find out more about the hotel and our experience.

Disclaimer: Our time at Grand Nikko Tokyo Daiba was sponsored but all words and comments in this post are honest and our own.
Location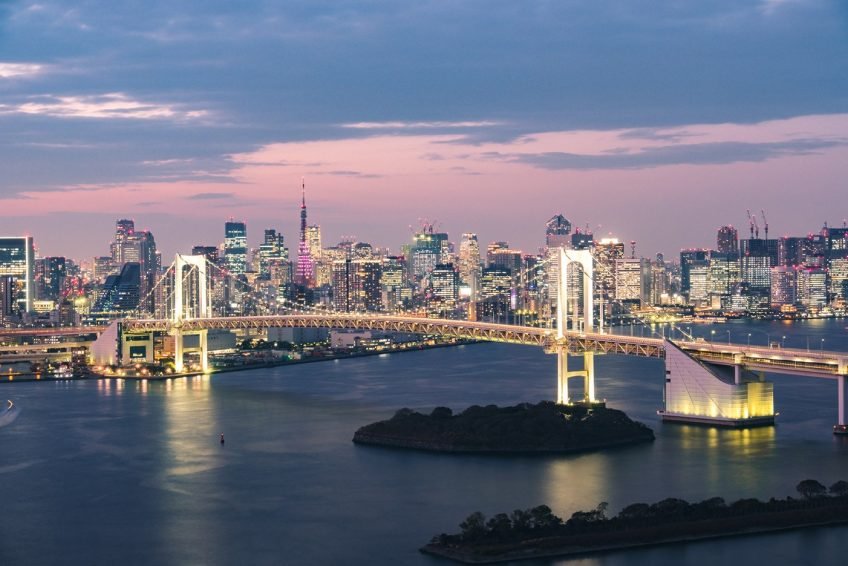 Grand Nikko Tokyo Daiba is located in Odaiba which, if you're flying into Haneda Airport, you can reach via a direct Limousine Bus in just under 20 minutes. The area of Odaiba is the shopping and entertainment hub of Tokyo. We have visited the area on a number of occasions prior and love it for it's laid back-holiday-feel and plenty of activities to keep us busy. Best of all though, it has the most incredible view of Rainbow Bridge and Tokyo Tower in one scene. You guys know we're suckers for a great view.

For times when you're looking to head into the city centre, you can do so via the Yurikamome line which is also conveniently located just outside the hotel. The journey takes little more than 15 minutes and zooms you across Rainbow Bridge – an experience in itself. Tip: The train is driverless so head to the front or back for the best views.
Lobby
Typically we don't include a lobby section to our stay reviews but when you have a lobby as incredible as theirs and a front entrance which leads you in through a red carpet, it would be silly not to.

The entrance lobby is truly beautiful and is designed around a circular podium in the centre of the room. The dome shaped roof and the use of marble around the room was reminiscent of architecture you might find in Europe. It is clear that Grand Nikko Tokyo Daiba lives up to the grand in its name.
Rooms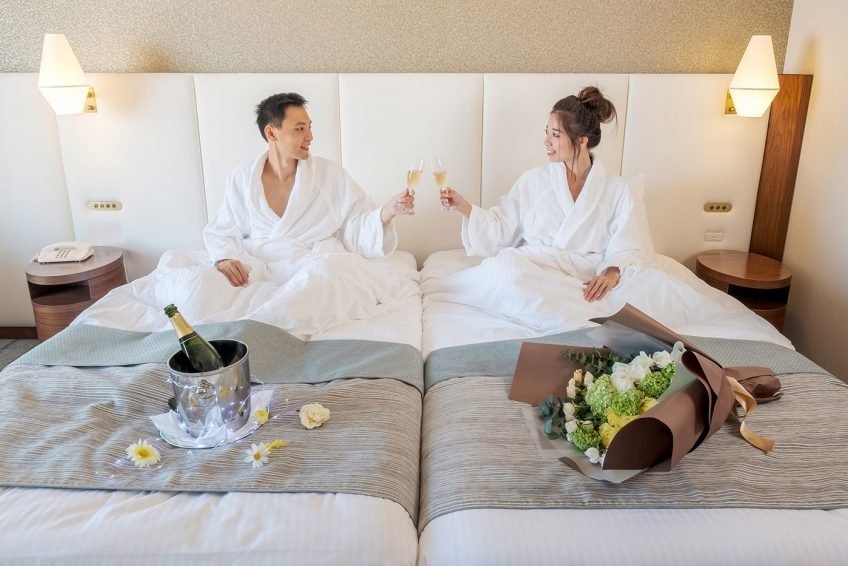 It's difficult to miss Grand Nikko Tokyo Daiba thanks to it's huge property size. The hotel consists of 800 rooms with a variety of different styles. A list of the different room styles can found here.

We stayed in the Breeze Style Deluxe Room on the Executive Floor. At 25 floors up, our room enjoyed a fantastic view of Rainbow Bridge (great views is a running theme for the hotel if you haven't noticed already). The room was comfortable and had an airy and spacious feel to it, plenty of space for two of us and all our luggage.

The beds, to sum it up, were massive! Essentially two double beds per person pushed together to make one mammoth bed. Sarah likes to roll around as she sleeps so there was ample space for her to do so without pushing me off the bed. The mattresses were lovely and soft which made for some of the best nights of sleep we've had in Japan.

Tea, coffee, bottled water and four small cakes came complimentary with the room. Room amenities available included hair dryers, air purifiers, newspapers, deodorizing sprays, TV and a Android smartphone with SIM plus data for you to use while exploring Tokyo.

Facilities
We stayed during October which meant that the outdoor terrace pool was closed but the fitness centre and spa are both open all year-round, note these facilities are for members-only. On the lower floors you'll also find the art gallery, shops and bakery.

If you are staying on the Executive floors you will also be given access to the Executive Lounge (where you'll check-in) and View Lounge. Self-service snacks and drinks are available at the Executive Lounge from 8pm onwards – we spent an extensive amount of time here as it was the perfect place to hunker down and get some work done. As for the View Lounge located on the 27th floor, it has a beautiful view of Tokyo's skyline and became our spot to sip on a cup of coffee and relax after a long day out exploring Tokyo.

Grand Nikko Tokyo Daiba also has one of the most incredible roster of restaurants offered by a hotel we've ever seen. Honestly there's too many to list here so we'll name a few of our favourites below and you can find the full list here.

The Grill on 30th
Teppanyaki HAMAYU
Sushi Tamakagari
Garden Dining
Summary
If you're looking to add a sprinkle of luxury to your stay in Tokyo then we think Grand Nikko Tokyo Daiba is a fantastic accommodation for you. It gets full marks on the comfort, quality, location and service whilst blowing everything else out of the water when it comes to the hotel views. In short, we love it here and really didn't want to leave.