Hillocks Hotel & Spa market themselves as a hotel which offers suites and villas sat in a graceful garden yet still within the heart of Siem Reap. It almost sounds too good to be true, so we spent a few days staying with the hotel to find out.
Disclaimer: Our time at Park Hyatt Siem Reap was sponsored but all words and comments in this post are our own.
Location
Hillocks Hotel & Spa is located about 10 minutes away from downtown Siem Reap, placing it within walkable distance of Pub Street and a few of the city's great markets. But despite its close proximity to central areas, the hotel sits on a quiet road. This meant we could swap the city hustle, when out exploring, for a quiet paradise escape just by returning to the hotel – truly the best of both worlds.

Exterior / Interior Style
Hotels are aplenty in Siem Reap so it takes a lot for one to stand out. Hillocks Hotel & Spa initially caught our attention thanks to its luxury villa concept. The "rooms" themselves are split into several villas scattered throughout the garden, creating a nicely secluded nest for every guest.

For our stay, we were very grateful to have been upgraded to a Presidential Suite. Ours was right at the far end of the garden, surrounded by dense jungle greens with a balcony overlooking the pool. The suite itself is an open plan which made great use of the ample space available. Most of the suite is taken up by the living room but the kitchen, bedroom, and bathroom were plenty spacious themselves.

Facilities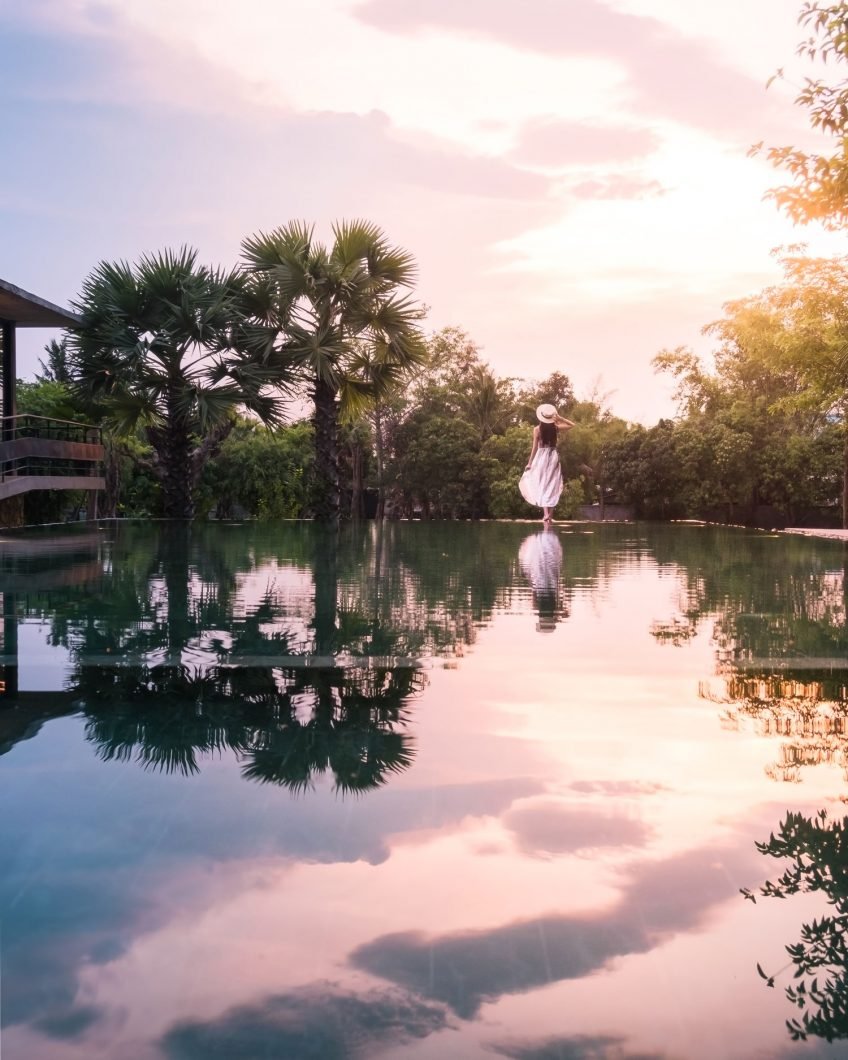 Lounging by the pool is one of the best ways to cool off from the heat of Cambodia, so it's great to find Hillocks Hotel & Spa equipped with an infinity style pool. The pool is even heated to a comfortable warm temperature during cooler evenings. Beside the pool are the gym and spa area, although we didn't have enough time to try out these facilities and services for ourselves.

There is one restaurant on site which offer buffet breakfast, lunch, and dinner. The breakfast is relatively small and simple and there were times we had to wait a few minutes for a fresh batch of food to come out from the kitchen. Having said that, we did enjoy the food especially the eggs cooked to order and the fresh selection of fruits.

Summary
Hillocks Hotel & Spa ended up being the perfect place for us to rest and relax after a strenuous few days of exploring the Angkor Park. Perhaps the best way for us to sum up Hillocks Hotel & Spa is to call it a hotel which offers suites and villas sat in a graceful garden yet still within the heart of Siem Reap 😉
Looking for other accommodations to stay around the world? Check out Where to Stay