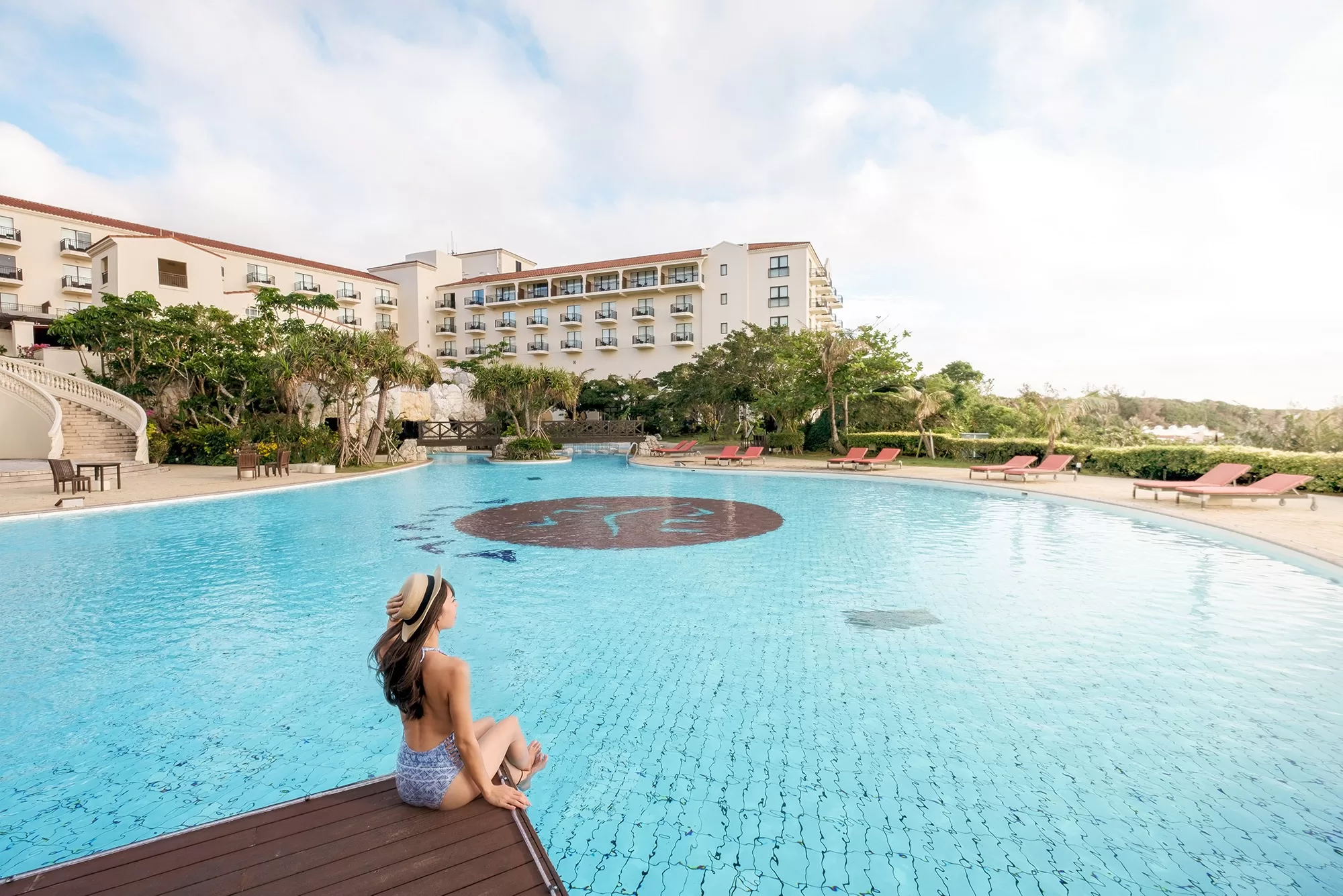 Following a few days exploring the busy streets of Naha, we ventured up towards central Okinawa to a small area called Yomitan. Here you'll find many of the island's most beautiful beaches and resorts including Hotel Nikko Alivila.
Disclaimer: Our time at Hotel Nikko Alivila was sponsored but all words and comments in this post are our own.
Location
Yomitan is very much a dedicated resort area of the island. Upon our arrival, we felt far away from the city and the whole area was quiet besides the calming sound of waves crashing against the shore – perfect for our tropical escape! If you're heading to Yomitan it's likely you're going because you've booked a resort in the area or you're visiting one of the many incredible dive sites nearby.
Hotel Nikko Alivila sits right on the western coast of the island and can be reached within 30 minutes by car from the Okinawa Minami expressway interchange or 1 hour 30 minutes via the Airport Limousine Bus from Naha Airport or Naha Bus Terminal.
Service
We've been lucky enough to stay at a couple of resorts in the magical Okinawa region but what separates Hotel Nikko Alivila from the rest is the meticulous attention to detail when it comes to its service. As soon as we stepped onto the hotel grounds we felt very much in the care of all the staff. You'll always be greeted with smiles and hellos and help is always available. A little touch we especially loved was the fruit platter placed in our room when we checked in.
Interior and bedroom
Hotel Nikko Alivila's design is unique for Japan, taking inspiration from the Spanish colonial-style – red roofs and white walls. Perhaps that's why the name Alivila was chosen as it's a play on the Spanish word alivio (relaxation) and villa. The blend of neutral colours continues through the interior which allows guests to focus on the amazing ocean view wherever they find themselves within the hotel.
After a quick tour, our Superior Ocean Patio Twin room was ready for us to check-in. Inside we were pleasantly surprised to find a break in the neutral tones by the use of a bold pink accented wall and little splashes of colours throughout. The room also has a balcony with a fantastic view overlooking the patio and ocean. It's hard not to wake up with a smile on your face when you slide back those balcony shutters and see the beautiful blues of the sea. The room itself is very spacious and the beds were comfy and soft.
Another feature we really liked and came across by accident was the inbuilt speakers around the room. Playing music through the evening as we laid in bed staring out onto the sea – this was the Okinawan resort experience we wanted.
Restaurants
As previously mentioned, Hotel Nikko Alivila is located in a fairly remote location which means you'll find limited food options outside of the property. Thankfully, inside the hotel, you will find a selection of 6 places to dine.
We didn't get round to eating at every restaurant but the ones we did, we thoroughly enjoyed. For our first breakfast, we opted for Brasserie "Verdemar" where we enjoyed a wide selection of a la carte dishes at the buffet selection. The restaurant has massive windows lining most sides of the walls which let in plenty of natural light but more importantly allows you to dine with a gorgeous tropical ocean view. We highly recommend trying the three unique jams made out of purple sweet potatoes, pineapple, and banana – these were so delicious when coupled with the bread and pancakes.

Come dinner time and we couldn't resist the Wagyu Beef and Agu Pork Shabu Shabu Course at Japanese Ryukyu Cuisine "SAWA". Agu Pork is an Okinawan specialty which comes from a local breed of black pig and is famous for its beautiful marbling when compared to other varieties. The set course finished off with a delicious ice cream which uses another local specialty – black sugar. It was the perfect end to our meal.

We also got the chance to try the Nuchigusui Special at Japanese Ryukyu Cuisine "SAWA". This is a very traditional Ryukun breakfast made up from many small dishes of pickled vegetables, a uniquely chewy textured-tofu, Okinawan porridge and many more. If you would like to try this for yourself you will need to make a reservation as the Nuchigusui Special is limited to 40 persons a day.

Lastly, we enjoyed a few cocktails at Lounge"ARIA CARA". The casual lounge is open most of the day but we really recommend visiting during the evening when the lights are dimmed and on certain days you'll find a live pianist playing. It was a lovely romantic setting to wrap up a day of fun at the beach.
Facilities & Things to do
Speaking of beaches, Hotel Nikko Alivila has its own Narai Beach which is located next to the property. The sand was nice and clean and a suitable size for all guests without intruding on each other's personal space. Over to one side, there are some peculiar naturally formed rock formations which make a great spot for photos and overall adds to the tropical vibe, while on the other is the designated swimming area and beach shack where you can rent floats, life jackets, canoe, and other water gear. We rented a canoe for a couple of hours to paddle around in the sparkling clear water. Our visit fell in December so the water was a little cooler but still warm enough to swim in.
Waves in the area were relatively calm (even on the windier days during our visit) which is fantastic for kids but they're still sizeable enough for some gentle surfing. Surfing newbies may be interested in the surf and bodyboarding school where you can learn to ride the waves. Ages 13+ only and advanced reservation required.
Another great activity offered by Hotel Nikko Alivila is horse riding by the beach. The horse stable is located just a 5-minute drive away from the hotel and offers guests the chance to enjoy a relaxing experience in nature with a horse. This was Sarah's first time riding a horse so she was a little nervous at first but our instructor Mr Degushi-san and our horse Goodie were great. Within a few minutes Sarah and Goodie were down on the beach and enjoying the sea views.
Unfortunately, not all our days here were sunny (such is our luck with the weather when we travel), but this gave us the perfect opportunity to try our hands at a bit of pottery. Okinawa has a long history in ceramics, dating back to the Ryukyu Kingdom when Okinawa was an independent nation to Japan. Walk down any street in Okinawa and you'll undoubtedly notice all the ceramic Shisa (a traditional Ryukun lion decoration) on the roofs and outside of buildings. We joined a Shisa making class recommended by the hotel just 5-minutes drive off-site. The staff can speak English so no worries if your Japanese is not up to scratch. They were also very helpful and gave us the freedom to create our Shisas however we wanted – coming over from time to time to give support. As you can see from the photo, we both opted for very different Shisa designs!
Other facilities available at Hotel Nikko Alivila include an outdoor pool (note that it is closed during Winter), indoor relaxation pool, fishing, scuba diving, snorkeling and many, many, many more (the list would go on forever so check out their full list of activities here)
Final thoughts
If you're looking for a tropical resort getaway, well you've come to the right place. Even for busy travellers like us who love to pack our schedules tight with activities, Hotel Nikko Alivila had us relaxed in no time and kept us busy all through our stay with an endless choice of activities. We really enjoyed Naha but the true Okinawan experience requires you to travel a little further north and a little closer to the sea.
Looking for other accommodations to stay around the world? Check out Where to Stay