The Dolomites is home to some of the world's most impressive natural landscapes, but nestled amongst the mighty mountains is the equally impressive Naturhotel Leitlhof – a beautiful 4-star hotel that offers luxury hospitality while achieving carbon-neutrality.
Disclaimer: Our stay at Naturhotel Leitlhof was hosted but all words, comments and thoughts in this post are our own. This post may also contain affiliate links, meaning we get a commission if you make a purchase through our links which comes at no cost to you 🙂
Location
Measuring at 15,942 km², the Dolomites is a sizable area to cover so choosing a good location to explore from is important if you want to make the most of your time here. Naturhotel Leitlhof is located in the northern parts of the Dolomites, very close to the border with Austria, which places it relatively close to some of the areas big hitters including Lago di Braies (21km) and Tre Cime (32km). Both places are highly popular with visitors so it's wise to arrive early to try and beat crowds – hence why we recommend locating yourself nearby.
For those travelling by train, Bolzano Bozen is the main train station in the Dolomites and from there catch a connecting train out to San Candido/Innichen train station which is a walkable distance to Naturhotel Leitlhof. If arranged ahead of time, Naturhotel Leitlhof also has a free shuttle service.
Property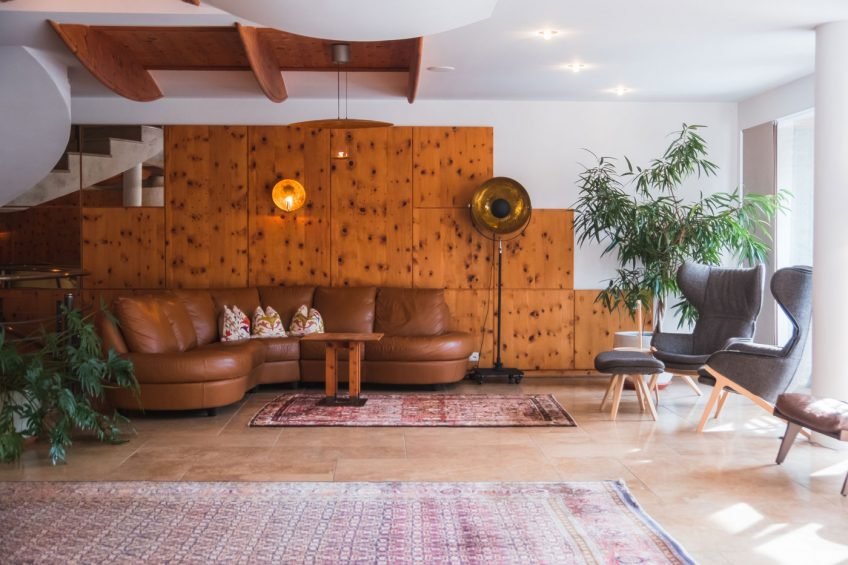 The first thing you notice when arriving at Naturhotel Leitlhof is the copious amount of wood and natural materials used throughout the property. The hotel is certainly beautiful to look at, but more importantly, it reflects the hotel's model to "sustain and protect the natural wealth" of our planet.
And it's not just in the architectural design where you'll find environmentally-focused choices, the hotel also generates its own energy using an energy-efficient heat and power plant. Powered by wood chips produced and dried from Naturhotel Leitlhof's own forests, reduces carbon emissions per guest to as low as 12.2kg per night – as a comparison the average per night emission in some countries can reach 30-40kg. Naturhotel Leitlhof also operates the nearby Mühlhof farm which supplies local and sustainable produce for the restaurant which serves breakfast, Marende (a Tyrolean late afternoon meal) and dinner. All these sustainable choices have led to Natur Hotel Leitlhof winning the World Travel Awards "Europe's Leading Green Hotel" in 2021 and 2016.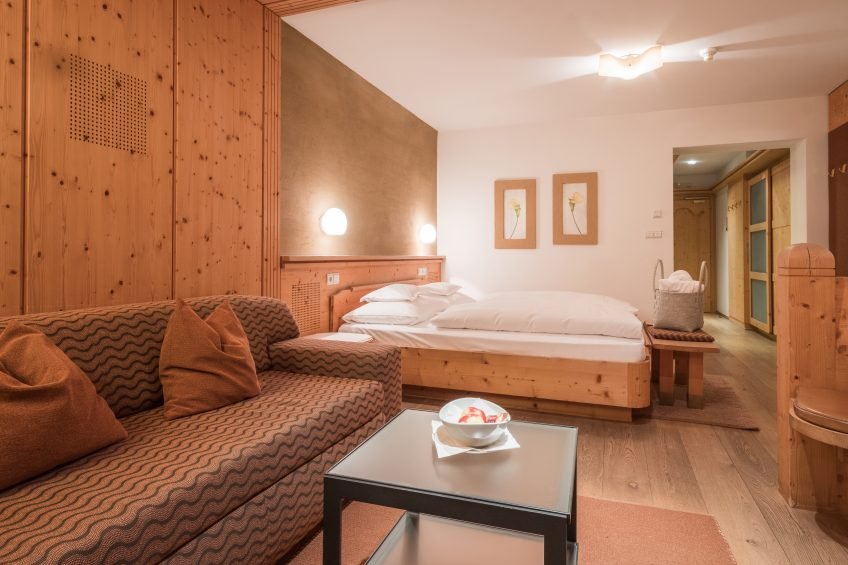 The incredible work Naturhotel Leitlhof has done in sustainability doesn't mean it's skipped out on the luxuries expected of a 4-star hotel. Our massive "Flora Superior" room was homey and comfortable and included a double bed, sofa (which doubles as a bed), well-sized table, modern bathroom with double sink, and a wide balcony with unobstructed panoramic views onto the stunning Haunold mountain. You're very likely in the Dolomites to see mountains, so what better view can guests ask.
For communal spaces, there's a spacious lobby that connects to the lounge area with plenty more comfortable seating arrangements. We were almost at the end of our month-long trip in Europe during our stay, so we highly appreciated the relaxing space to catch up with some of our editing and writing. Further in, there are the spa and wellness areas which include both an indoor and heated outdoor pool. The outdoor pool also enjoys views out towards Haunold mountain which makes for a really surreal experience, almost as if you're floating in the mountains themselves.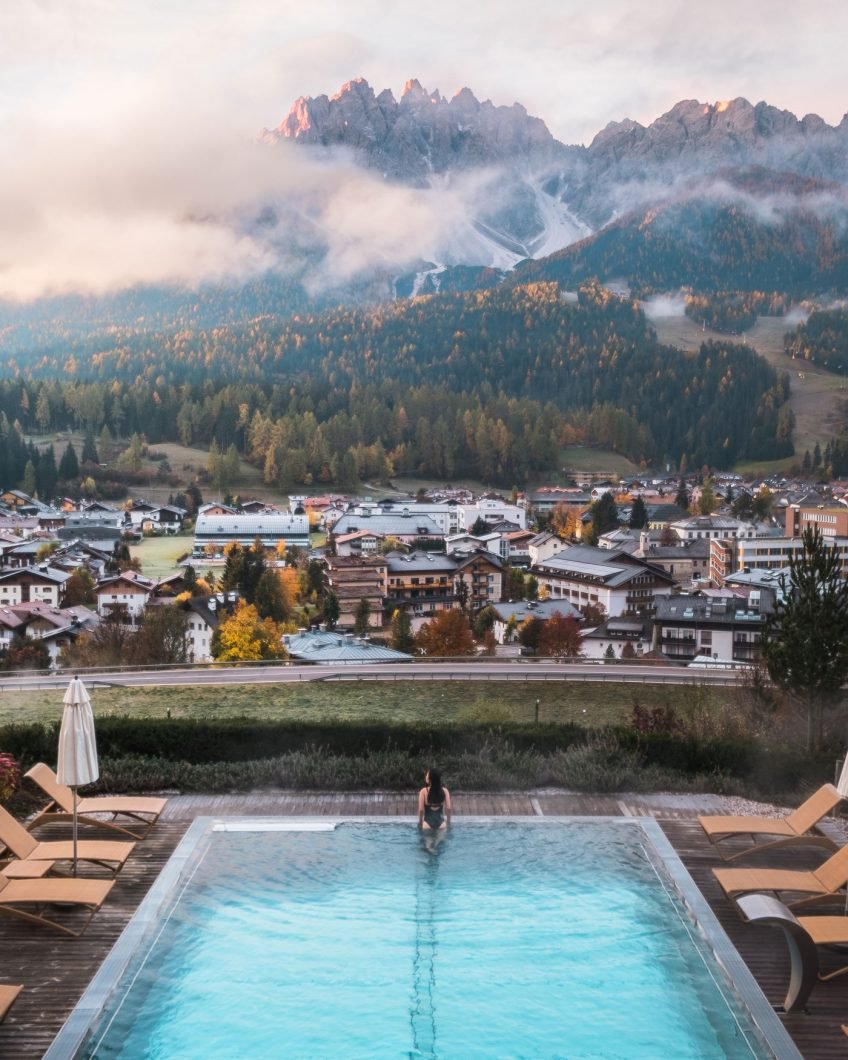 Besides location, we also recommend looking for a Dolomites accommodation that supports and adds to your outdoor experience. Naturhotel Leitlhof has a range of activities guests can take advantage of from skiing, snowshoeing, hiking to bicycling. You can even rent hiking poles, hiking bags, flasks and more for free – this is an excellent service if you're travelling elsewhere before or after the Dolomites as it'll mean you won't need to lug around outdoor specific gear for the entirety of your trip.
Final Words
It's pretty obvious after reading our review of Naturhotel Leitlhof that we deeply love this hotel. It doesn't just impress us with its luxury facilities and mind-blowing views, but it manages to achieve all this while being carbon-neutral. Travel is, unfortunately, a big contributor to environmental damage to our planet. But brands like Naturhotel Leitlhof are leading the way and showing us that we don't have to sacrifice our planet for our love of travel or vice versa.
Book a stay at Naturhotel Leitlhof with Booking.com