Sat along the majestic banks of Lake Bled, Hotel Starkl is a lovely heritage hotel recently revamped for the modern-day traveller.
Disclaimer: Our stay at Hotel Starkl was hosted but all words, comments and thoughts in this post are our own. This post may also contain affiliate links, meaning we get a commission if you make a purchase through our links which comes at no cost to you 🙂
Location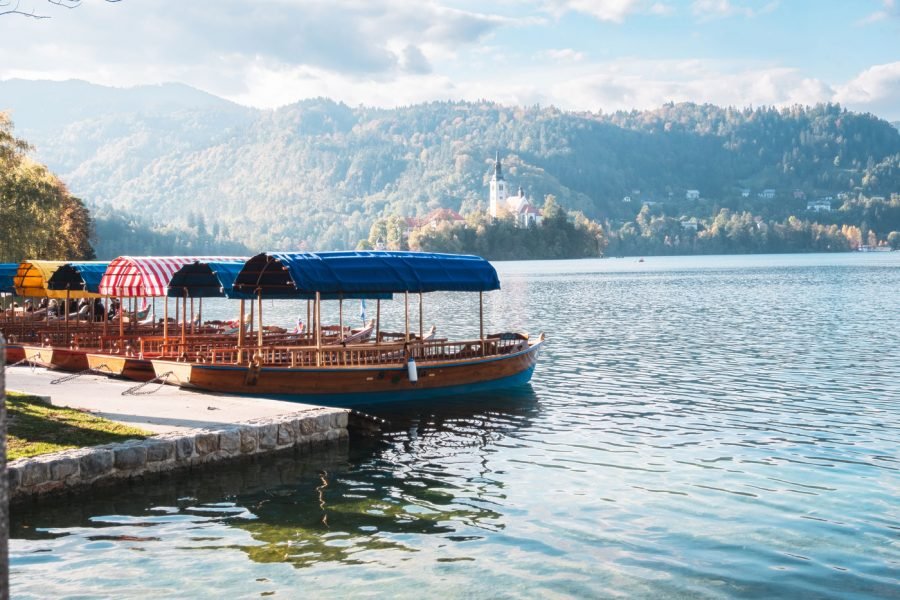 Having started our journey to Lake Bled (Slovenia) from neighbouring Austria, we got off our last train six and a half hours after we boarded our first. To say we were feeling a little tired and delirious was an understatement, but arriving at Bled Jezero we were slapped in the face with crisp fresh air and beautifully warm sunshine. The tired feeling didn't last long.
Lake Bled has two main train stations which serve the region but because Hotel Starkl is located on the south side of the lake you'll need to put some consideration into which one you travel to. Bled Jezero is the closer of the two stations, set 500 metres uphill from the lake itself and 30 minutes walk to the hotel – seems relatively far at first but the entire way is nicely paved and offers absolutely stunning views as it runs around the border of the lake. The other option is to arrive at Lesce station and then hop on a bus which takes you to Bled town, from there you'll need to get on an additional bus or walk 20 minutes. There is onsite parking at Hotel Starkl should you choose to drive instead.
It might take a little effort to reach Hotel Starkl, and we're really emphasising the word little here, but the benefit is that you'll be located in a really beautiful part of the lake that is less crowded with other tourists. Waking up for sunrise and arriving at one of the most beautiful spots on the lake was also a breeze, 10 minutes walk was all it took.
Property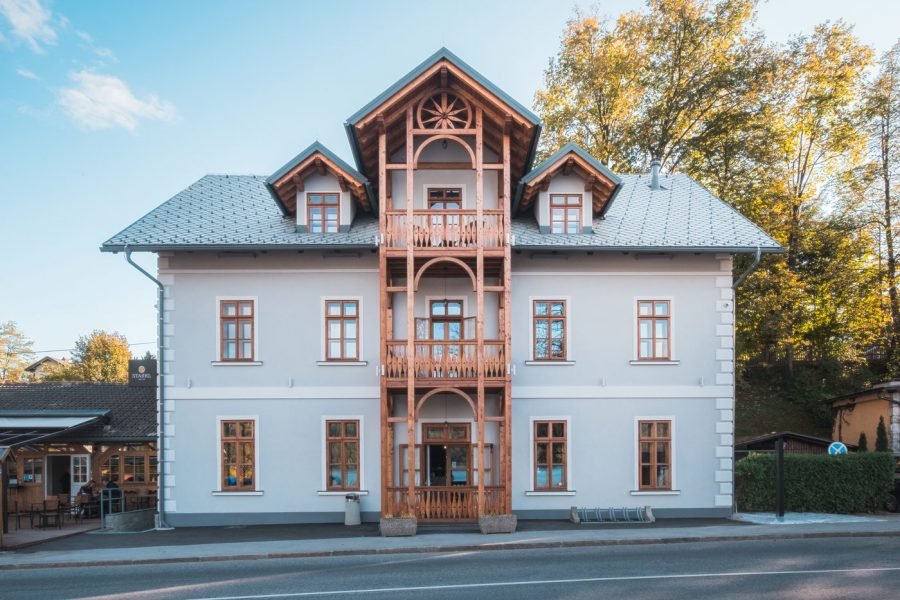 This is a hotel with a long heritage that can be traced all the way back to 1928 when Adolf and Jospina Starkl took over the building and gave it the name Hotel Starkl. Unfortunately, due to World War II, the hotel was confiscated by the state and subsequently changed hands a number of times thereafter. It wasn't until the late 1990s when Hotel Starkl was returned to heirs of the Starkl family but because they had no children of their own it was passed on to the Galičič family at the beginning of the new century. Fast forward to 2020 and Hotel Starkl has just finished its complete renovation which modernises many aspects of the hotel but, thankfully, does so while preserving and celebrating its almost 100 years legacy.
Hotel Starkl's exterior has kept much the same look from its old days, just with a touch of sprucing up done here and there. The big renovations come inside where the lobby and hotel corridors have been beautifully transformed. There's a classic feel to the decor but has been tastefully done so that it doesn't feel aged.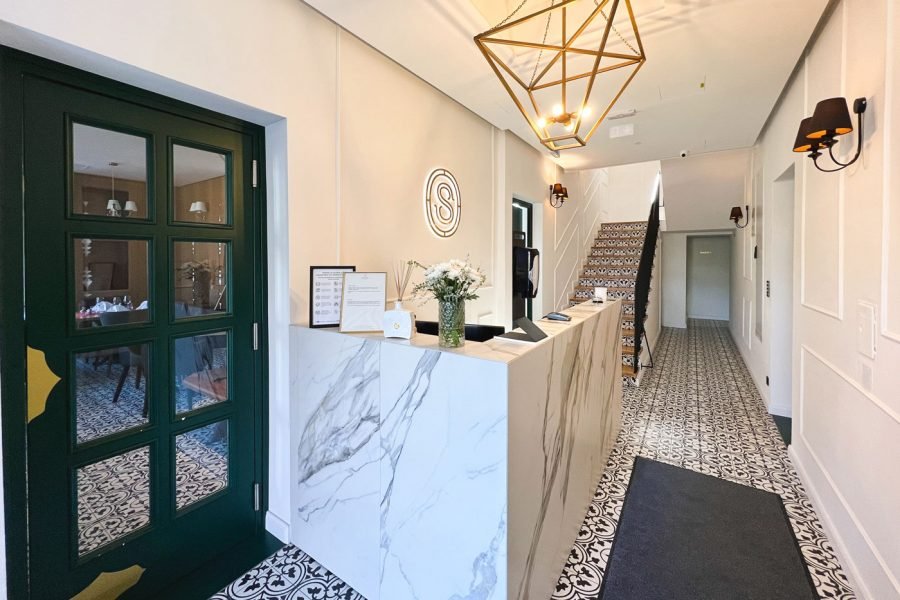 Sizing up between 18-22 square metres, double rooms at Hotel Starkl are smaller than others you might find at similar price ranges, a large part of this is down to it being a heritage building. But what space there is has been used extremely efficiently. There's room for a double bed, ample sized wardrobe, desk and chair. Our room also had the added benefit of a lovely wooden balcony that looks over Lake Bled. There was some road noise coming from the main road that runs in front of the hotel but we heard from the hotel owners that the road will soon close to not allow private vehicles in a bid to prevent over-tourism and preserve the beauty of Lake Bled.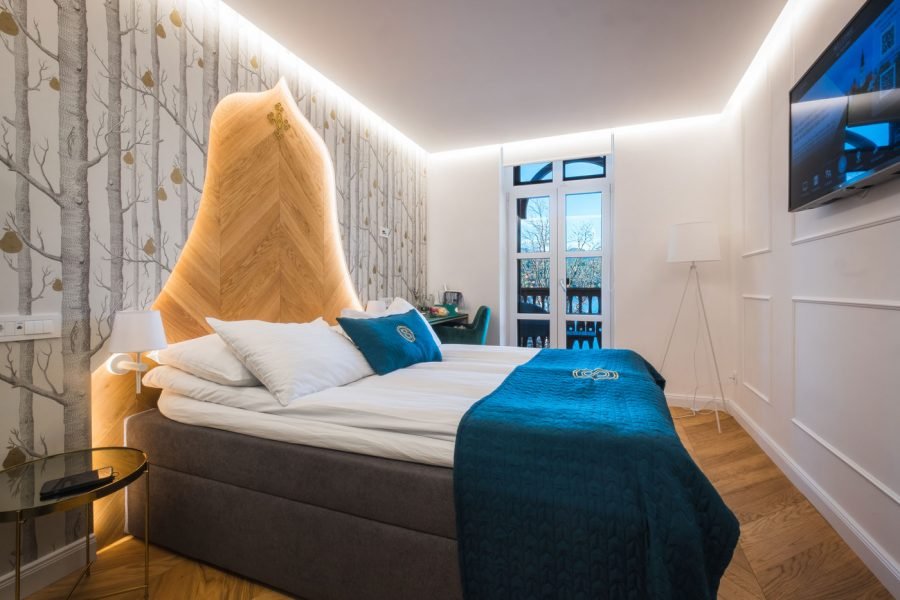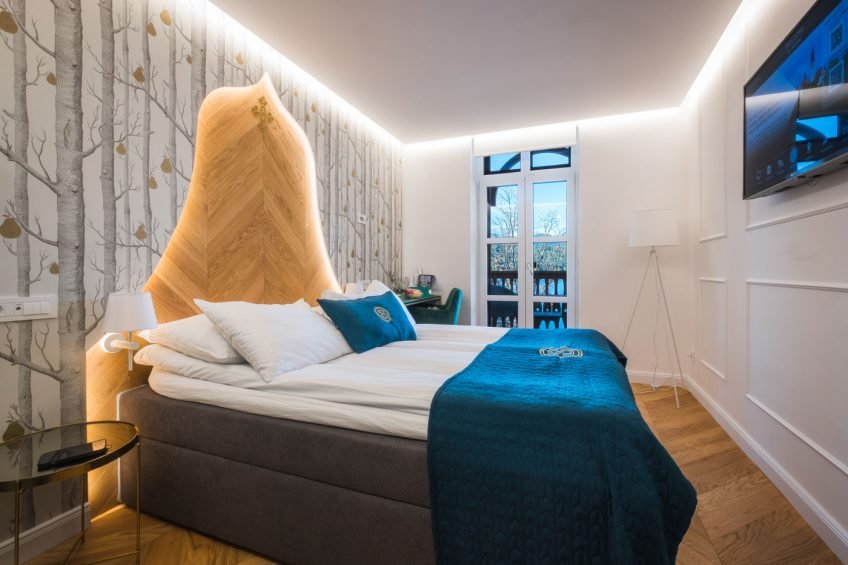 Back on the ground floor, you'll find the restaurant which opens for both lunch and dinner while a continental breakfast is served in the opposite room.
Boat Lunch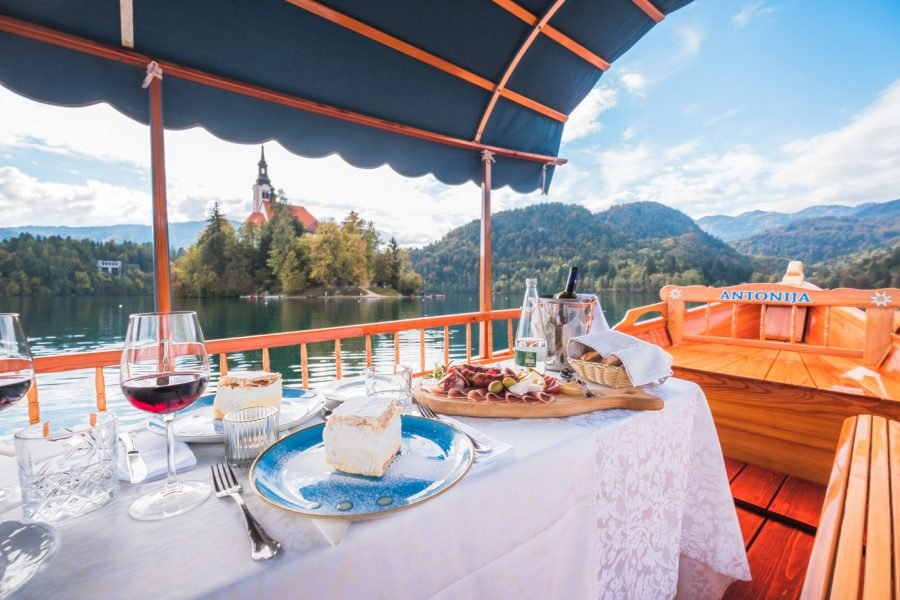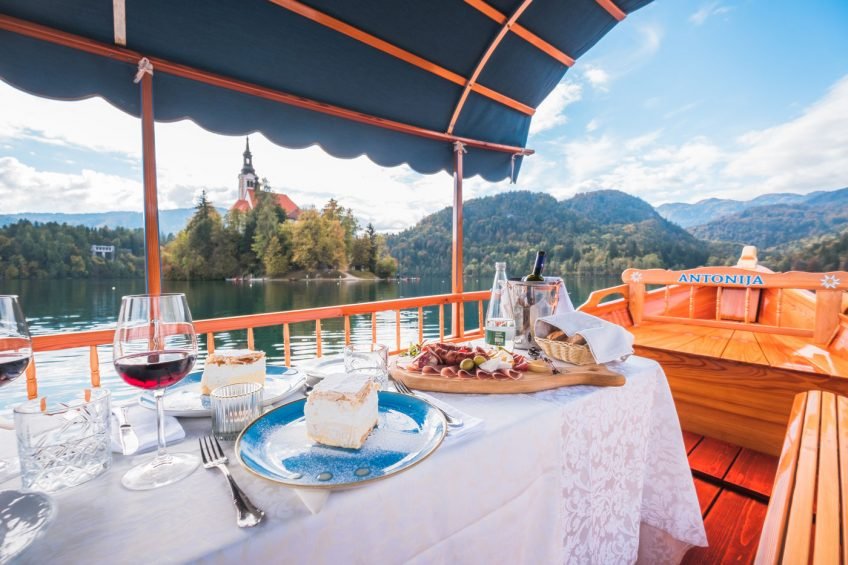 Guests of Hotel Starkl will also be able to book their unique boat lunch which takes you out onto Lake Bled on one of the traditional pletna boats. As we floated around the scenic lake we were treated to an assortment of cold cuts and cheeses and a bottle of red wine. But the star of the lunch is the traditional Slovenian dessert called Kremna rezina – a heavenly rich vanilla cream custard cake sandwiched in light crispy layers of pastry – trust us, it tastes as good as it sounds.
The boat lunch is a special collaboration with local pletna boatmen as not just anyone can steer one. During the reign of Maria Theresa, the ownership rights and titles for pletna boats were given to farmers. These titles have been handed down from generation to generation, carrying on the long tradition. Guests interested in the boat lunch should get in touch with Hotel Starkl before arrival to check on availability as it will largely depend on whether the titled pletna boatmen are also free. One boat has a recommended capacity of four adults.
Final words
We're always seeking accommodations that add to a travellers experience, and Hotel Starkl gets full marks in this area. Staying lakeside and waking up early to watch the sunrise was one of the fondest memories of our month-long trip in Europe, not to mention the boat lunch was easily the most romantic date we've experienced on our travels.