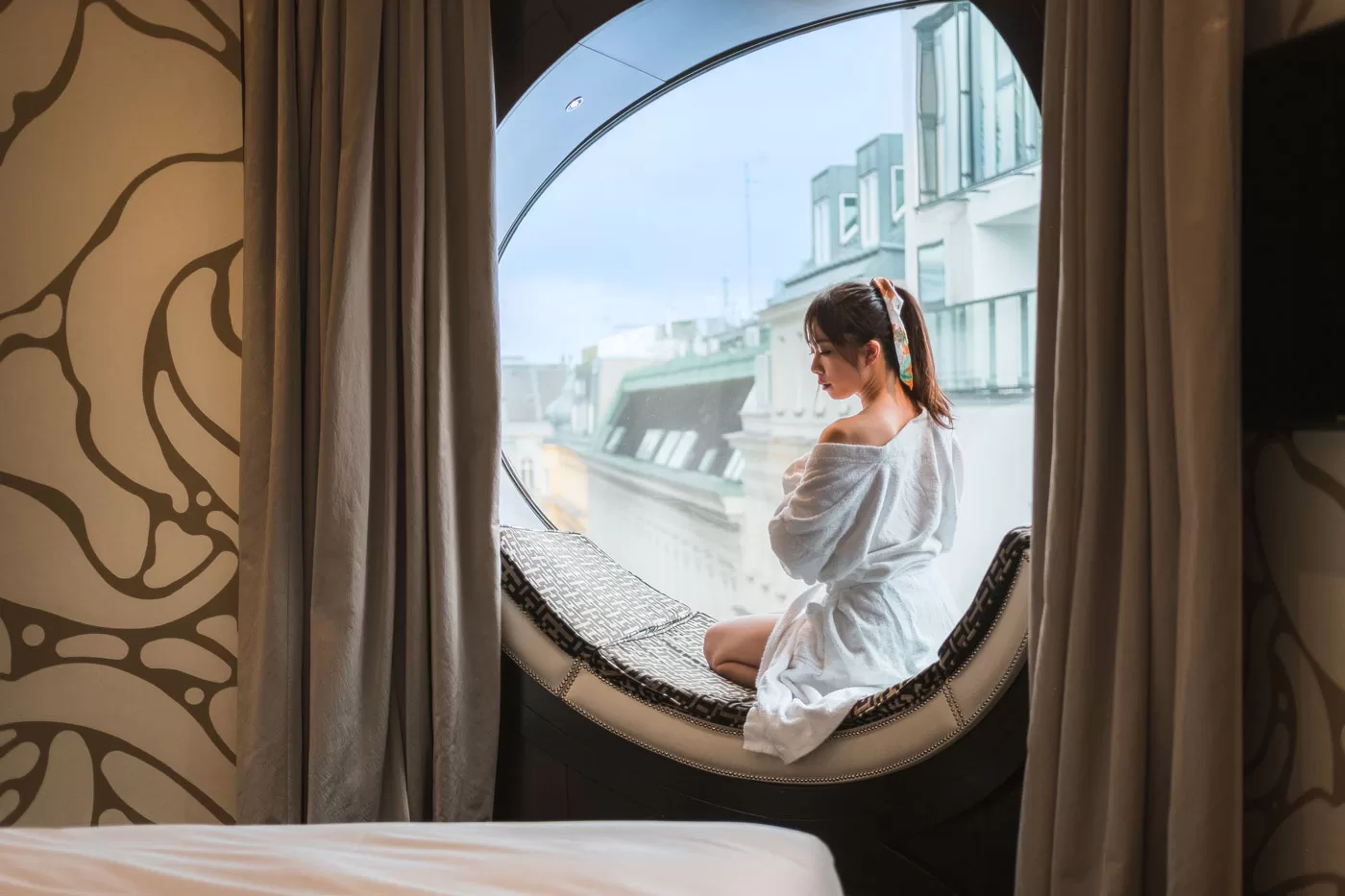 A chic boutique hotel located right in the beating heart of Vienna, Hotel Topazz Lamée offers a premium luxury experience coupled with the personal and attentive service travellers have come to expect from a boutique hotel. 
Disclaimer: Our stay at Amabilia Suites was hosted but all words, comments and thoughts in this post are our own. This post may also contain affiliate links, meaning we get a commission if you make a purchase through our links which comes at no cost to you 🙂
Location
When it comes to location, it doesn't really get much better in Vienna than Hotel Topazz Lamée. On foot, you can reach most of the city's major sights: the Hofburg in 15 minutes, the Austrian National Library in 10 and St Stephen's Chapel right around the corner. There's also the neighbouring street of Graben where you can do a spot of shopping or grab some food or coffee. When it comes to coffee, we recommend visiting Café Hawelka, the cafe has kept its humble but charming decor strikingly constant from when it opened back in 1939 – and of course, their apple strudel and coffee are mighty good.
Property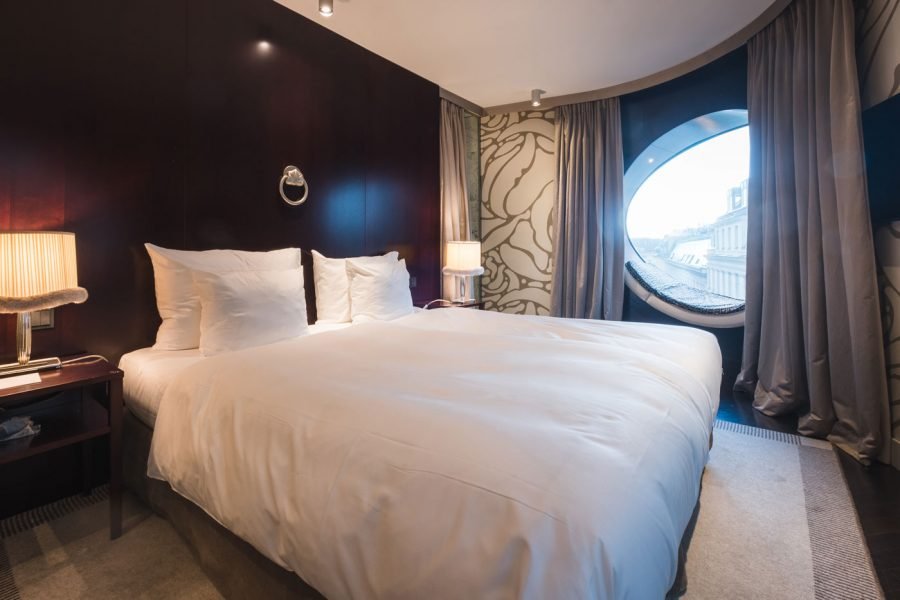 The Hotel Topazz Lamée property is actually the combination of two hotels – Hotel Topazz and Hotel Lamée – positioned opposite sides of a crossroad. Both offer glamourous living but with differences in design. Our own stay was with Hotel Topazz, the quirkier looking of the two, easily identifiable by its darker exterior and oval-shaped windows. A lovely lady at reception had us checked-in in a matter of minutes and before long we were guided up to our "Prestige Room".
Many modern hotels adopt a light and airy decor, perhaps to emphasise and exaggerate spaciousness, but at Hotel Topazz Lamée they've done the complete opposite and gone for dark yet classic colours. Despite the choice in colours, the whole room still feels bright thanks in large part to the lovely oversized oval windows which flood the room with natural light. The two windows also double up as chaise longues and make a perfect spot to relax and watch the city go by below. Besides the Prestige room, guests who opt for the Deluxe room will also have unique oval-shaped windows to enjoy in their rooms.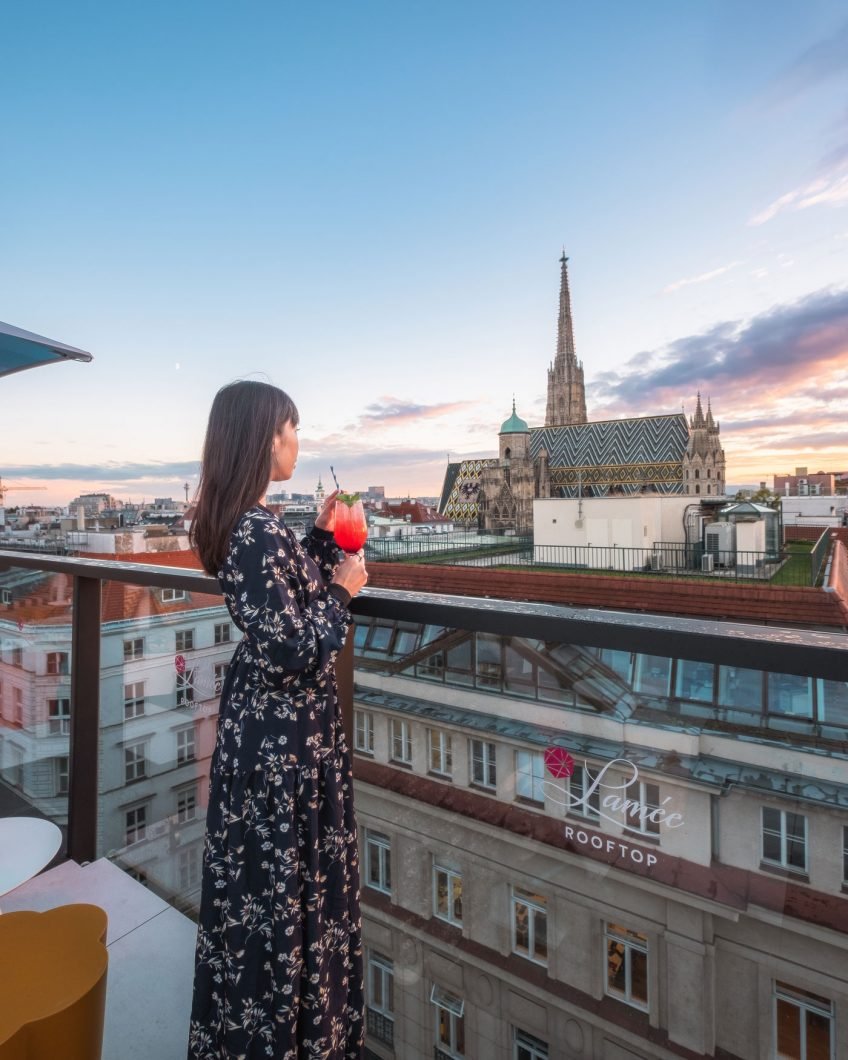 Breakfast is served on the lowest floor of Hotel Topazz and offers a nice selection of pastries, teas, fruits and breakfast bars. But what we loved most were the options off their à la carte. Scrambled eggs, pancakes, smoked salmon with avocado, and cold cuts with a selection of cheeses – all sound like dishes you might find at other continental breakfasts but it's not how exotic the choices are that make the breakfast here so great, it's how delicious each of the dishes tasted. Over the other side of the road at Hotel Lamée, guests can enjoy a few cocktails at the rooftop bar. We highly recommend coming around sunset to get some of the best views over Vienna.
Summary
There's so much to love about Hotel Topazz Lamée, from its bold and chic design to the central location perfect for exploring on a city break. But it's the friendly and very personal service from all the staff at Hotel Topazz Lamée that really makes the hotel shine.
Book your stay at Hotel Topazz Lamée with Booking.com