Imagine sleeping in the comfort of a palace bedroom or sipping tea under the chandelier of a grand banquet hall, these sound like experiences reserved for royalty. But at Schloss Leopoldskron, hotel guests are able to enjoy such grand moments, memories and heritage for themselves.
Disclaimer: Our stay at Schloss Leopoldskron was hosted but all words, comments and thoughts in this post are our own. This post may also contain affiliate links, meaning we get a commission if you make a purchase through our links which comes at no cost to you 🙂
Location
Schloss Leopoldskron can be found on the outskirts of Austria's romantic city of Salzburg. Set inside a 17-acre private park right beside a tranquil lake frequented by swans and ducks. The whole setting is idyllic enough to conjure up feelings of a fairytale but guests need not worry about travelling somewhere far, far away (pun very much intended). The hotel is easily reachable from Salzburg Old Town – taking 25 minutes on foot and just over 10 minutes by bike. Schloss Leopoldskron offers free bike rentals which is perfect considering Salzburg is one of the most bike-friendly cities in Austria.
Property
The name Schloss Leopoldskron translates from German to "Palace Leopolskrun" and was commissioned as a family estate in 1736 by Prince-Archbishop of Salzburg, Leopold Anton Freiherr von Firmian. His love for the palace ran so deep that he decided to leave his heart in the chapel at Schloss Leopoldskron after he passed away while his body was buried in Salzburg's cathedral.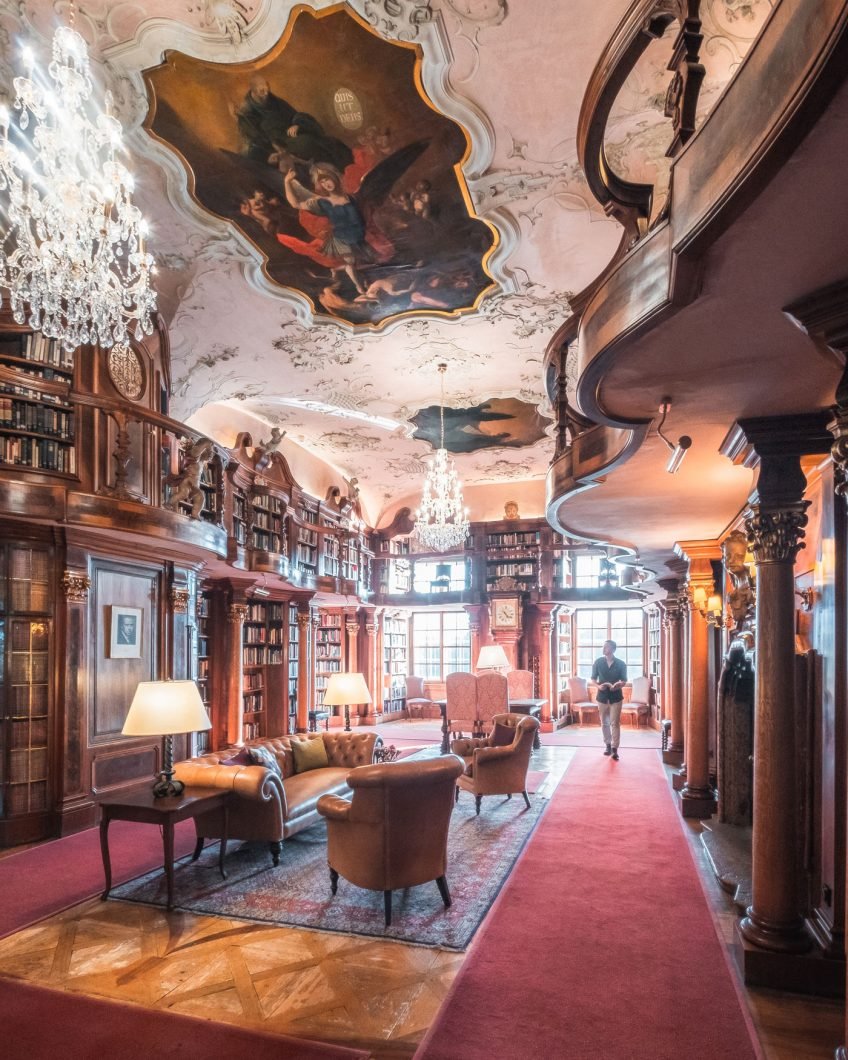 After exchanging ownership many times, the palace was neglected and fell into a state of disrepair. That was until it was sold off to Max Reinhardt, a world-renowned theatre director (also founded the annual Salzburg festival which still runs today). Reinhardt restored the palace to its former glory but also included his own wonderful additions in the form of the Library and the Venetian Room. Both are incredibly beautiful rooms guests can enjoy when staying at Schloss Leopoldskron. Reinhardt used these rooms and others at Schloss Leopoldskron as theatre stages for his plays, moving audiences from room to room to bring his plays to life.
Today, Schloss Leopoldskron welcomes guests to stay and walk the halls as Reinhardt once did. From the Chinese room to the banquet hall, each truly took our breaths away. One of our favourite moments was having breakfast in the impressive banquet hall. One feels like quite the royal while sipping down their breakfast tea here, well at least we did. Often staying in a hotel is quite a separate experience, we stay within our own groups with few opportunities to interact with other guests. But at Schloss Leopoldskron you share a big round table with other guests during breakfast and are able to have a friendly morning chit chat before you go about your day. Of course, we're living in unprecedented times so social distancing is very much still a thing. But tables were plenty large to still adhere to social distancing.
Spend some time in the library and you'll even discover a secret stairway hidden behind a fake bookshelf. This staircase leads to the second floor and further up to the former apartment of Reinhardt which has now turned into the Max Reinhardt suite guests can book a stay in. The other suites have also taken on names of other previous owners – a sentimental nod to the deep history of the palace.
We stayed in the Ralph Waldo Ellison suite (standard suite) which has a generously sized living room, separate from the bedroom, and features a direct view out to Hohensalzburg Fortress – handily, a pair of old school binoculars hung on our window shutters. The suite itself is elegantly decorated, simple and traditional, retaining much of the feeling of staying in a heritage palace. If guests opt for non-suite rooms, these will be located in the Meierhof annexe building. But you'll still be able to enjoy the rooms and have breakfast in the palace building.
The Sound of Music
Fans of the oscar-winning film The Sound of Music will also be delighted to know Schloss Leopoldskron was one of the places used for filming. The scene where the Trapp children fall off the rowboat and into the water is out in the back garden of Schloss Leopoldskron. The Venetian room also plays a part in the film. Although not directly used, it was the base of inspiration for the ballroom scene and was rebuilt in the studio for filming.
Summary
Waking up in a palace and enjoying the private grounds was like something straight out of a fairytale. Every room holds so much history and charm that you wouldn't be alone in thinking it was preserved like a museum. But as the staff at Schloss Leopldskron say, "the rooms here are very much alive, guests use them every day".
Book your stay at Schloss Leopoldskron with booking.com