Our visit to Milan came straight after our hectic road trip around the Dolomites. As you can imagine, we were a tad tired and in need of a quiet space to relax, get a little bit of work done but still be able to do a bit of exploring around the city. So we decided to ditch the traditional hotel experience and booked ourselves into a private suite at Amabilia Suites.
Disclaimer: Our stay at Amabilia Suites was hosted but all words, comments and thoughts in this post are our own. This post may also contain affiliate links, meaning we get a commission if you make a purchase through our links which comes at no cost to you 🙂
Location
Amabilia Suites is located in the heart of the city, tucked away just above the lively Piazza del Duomo. To reach, it takes 36 minutes to walk from Milano Centrale Train Station – the way is pretty much straight all the way so it's very easy to navigate. But if you would prefer not to lug your luggage around the city then you can also catch the M3 underground (yellow line) and get off at Duomo.
The entrance is a little inconspicuous so don't expect to find large logos or signs hanging out on the main street to point you in the right direction. Look for Palazzo Carminati, the restored 19th-century palace that houses Amabilia Suites, keep to the building's left side (facing Piazza del Duomo) until you arrive at an undercover passageway called Passaggio Duomo. Walk halfway down to find Amabilia's entrance on the right.
Property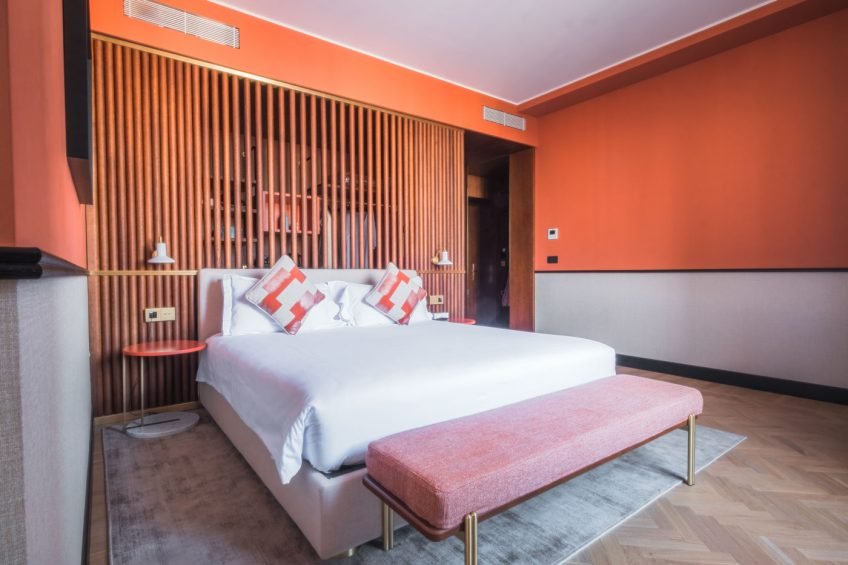 As we were checking in rather late, 10:04 pm to be exact, we arranged to meet Mr Monglin from Amabilia Suites by the street entrance. After a quick friendly greet, we proceeded inside and into an old-traditional elevator, the type where you manually close a metal gate behind you before the elevator works. Probably unintended, but the classic elevator adds a touch of historic charm which felt rather appropriate given the history of the building.
Once through Amabilia's impressive green door, you'll enter a space that feels secluded from the bustling activity below. The reception area that first awaits is modern but has touches of classic style throughout. Typically you won't see anyone behind the reception but you can reach staff at any time of day through the phone. Further in is the communal lounge shared by the four private suites.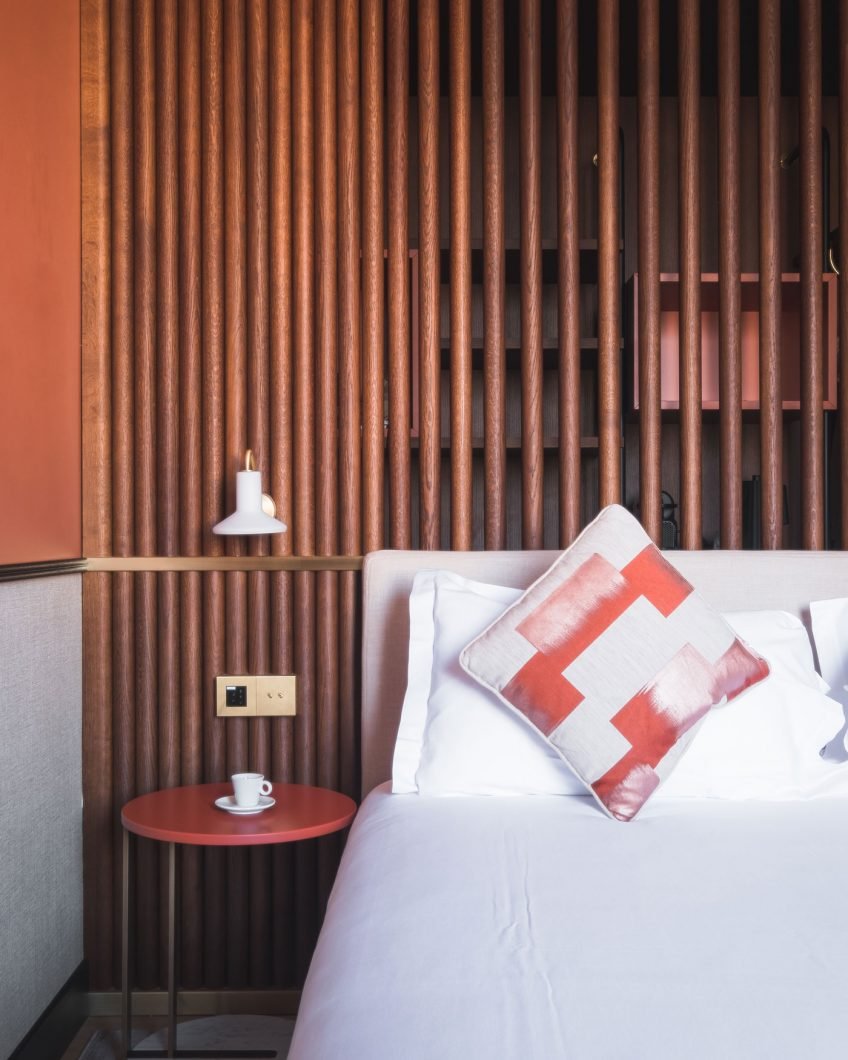 Each of the suites has been given a unique name that reflects key places around the city paying homage to fashion, design, culture and ultimately Milano itself. We stayed in the Montenapoleone Suite which shares the same name as the city's important luxury shopping street. The room itself is bold, elegant and – much like the communal areas before – balances beautifully between modern and classic. All trimmings of luxury are included: king-size bed, walk-in wardrobe, 43" TV with Netflix installed, Nespresso Coffee machine, an impressive assortment of natural bath products,​ and a welcome bottle of Milanese Gin.
As impressive as the room was, it is still the view out of the suite windows that steal the show. Few, if any, places will have better views in Milan as three of the four suites at Amabilia look over the Piazza del Duomo and the iconic Duomo di Milano. If you find yourself staying at Amabilia Suites, we highly recommend setting your alarm in time for sunrise. Make yourself a cup of coffee while you enjoy the first light hit onto the Piazza del Duomo – all in the comfort of your dressing gown.
Summary
Amabilia Suites doesn't pretend to be what it isn't. It isn't a full-service hotel. You won't find a swimming pool, there is no spa, nor staff walking around waiting to offer assistance. Instead, you get a private luxury space that feels comfortable enough to call home away from home. And let's not forget that view!
Book your stay at Amabilia Suites with Booking.com