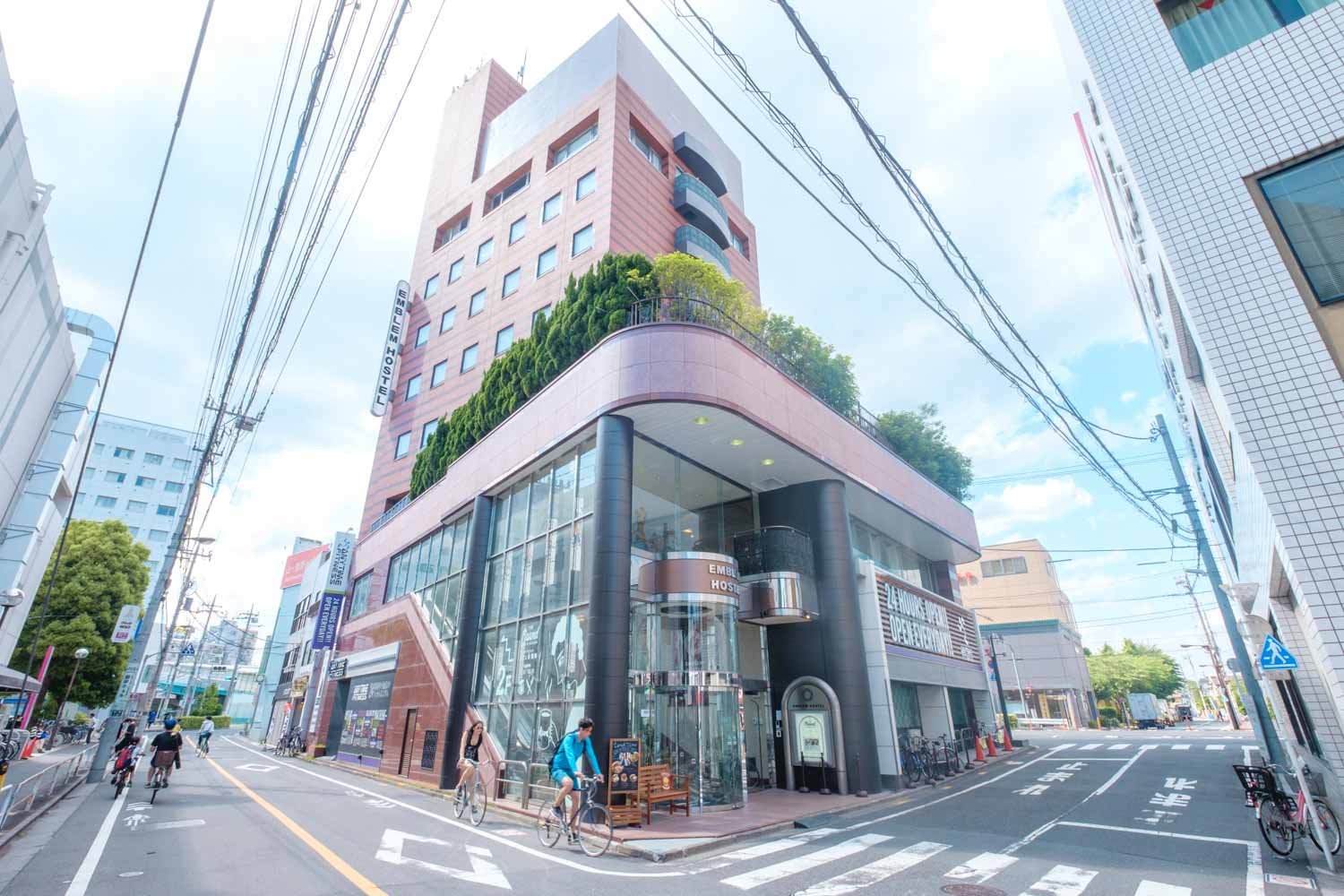 We take a step out of central Tokyo to stay in Emblem Hostel Nishiarai, a hostel we believe to be perfect for travellers to meet like-minded travellers.
Disclaimer: we were invited to stay at Emblem Hostel Nishiarai during our visit to Tokyo but all words and comments in this post are our own.
Location
Emblem Hostel Nishiarai is located in the northern part of Tokyo city with its closest train station being Nishiarai station just one minute walk away. Never heard of Nishiarai? Don't worry, neither did we and nor do many who live in the city, but we believe it's an area well worth choosing for your next stay in Tokyo. Those travelling from the airport can take the Skyliner to Ueno station before taking the Hibiya Line straight up, it should take just over an hour to reach Emblem Hostel Nishiarai.
As soon as we stepped out of the Nishiarai station we noticed a completely different pace in the locals. It provided us with a comforting respite from the crowded streets of central Tokyo which we so welcomed after a long day of exploring. Despite the stark contrast in atmosphere, Emblem Hostel Nishiarai is less than 30 minutes by train to main attractions such as Senso-ji temple, Ueno Park and Tokyo Skytree.
Rooms
Emblem Hostel Nishiarai offers three different types of room: Dormitory, Group Dormitory and Private. For all four nights we stayed in the Dormitory room, although we didn't stay in the others we will give a rundown on their differences.
Dormitory
Dormitory rooms come in various sizes which can accommodate 4, 6 or 8 guests. These are shared rooms. The beds are all pod styled bunks, each with its own single electrical and single USB socket. There is a rack to hang your towels and a narrow shelf perfect for your wallet and other small miscellaneous items.
Each bed will also have its own separate locker which is big enough to fit a large backpack. Toilets and showers are located outside of the room and are shared with other dormitory rooms.
Group Dormitory
These are also shared rooms and are very similar to the Dormitory except they can accommodate 8 or 12 guests. The only other difference is that the toilets and showers are located inside the room and is shared only between the 8 or 12 guests. These rooms can be booked as a private room but are subject to availability.
Private Room
Fairly self-explanatory from the name. The private room accommodates up to three guests and is only available for private bookings. These rooms can either come with a large double bed or a twin bunk. There is room for an extra bed if three guests are staying. Toilets and showers are private.
Facilities
You'll find all your hostel necessities such as laundry and storage, but Emblem Hostel Nishirai goes the extra mile by offering a daily voucher (one for each night you stay) which allows guests to pick from a complimentary bike rental, gym pass or breakfast. The breakfast on offer may vary as time goes by but we had scrambled eggs, sausages, toast and soup. You also get a complimentary drink with the breakfast.
On the second floor is a communal area for guests to hang out and chat. Computers are also available should you need them. Just outside of the communal area is a large patio where Emblem Hostel Nishiarai hold barbecues when the weather gets warmer.
Things to do
We highly recommend spending at least half a day exploring Nishiarai. Walk around the local area and experience a quieter side of Tokyo. Nearby you can find Nishiarai Daishi or you can go exploring the many picturesque streets and alleyways.
What we especially loved about Emblem Hostel Nishiarai was the effort they made to bring together guests. On most days you will find activities such as meet and greets, film night and sushi making which help travellers meet one another. We booked ourselves in for the Sumo Tour which lets you sit in on a Sumo practice session. Unlike regular sumo matches which are over in a few seconds, the practice session allows you to watch multiple bouts between the wrestlers and at a much more affordable price. A full list of activities can be found on their website.
Places to eat
Around Emblem Hostel Nishiarai we found a large selection of food offerings from small ramen shops to a very budget friendly yakitori corner shop. If you're looking for something more western, there's a McDonalds and a KFC at Nishiarai station.
Our thoughts on Emblem Hostel Nishiarai
Having stayed at multiple hostels throughout Asia and Europe, Emblem Hostel Nishiarai gets full marks when it comes to cleanliness, comfort and cost. Where we thought it might drop points was in its location, but this turned out fine too. What really differentiates Emblem Hostel Nishiarai from the other offerings is its activities and socials. Whether you're travelling solo or in a group, one of the best parts of travelling is making new like-minded friends and Emblem Hostel Nishiarai does a great job of fostering a great environment for this.
If you're interested in booking a stay with Emblem Hostel Nishiarai, we are happy to announce they are offering you guys a 10% discount on your bookings when you use our promo code.
10% promo code: ChopsticksTokyo18 
Visit emblem-group.com to make your booking today.