We almost always cater our itineraries around destinations and activities. But on very rare occasions, there are times we plan our travels around staying at unique and special accommodations; AQUA DOME is one such accommodation.
Disclaimer: Our stay at AQUA DOME was hosted but all words, comments and thoughts in this post are our own. This post may also contain affiliate links, meaning we get a commission if you make a purchase through our links which comes at no cost to you 🙂
Location
Nestled in the stunning Ötztal valley of the Tirol region, the AQUA DOME resort is on the doorstep to some of Austria's most beautiful natural landscapes. It's a region well known for its ski areas in the winter but also benefits from immediate access to endless hiking and biking trails throughout the rest of the year.
We travelled in from across the German border, which made our arrival to Ötztal Banhof (the closest train station) a little late in the day but just so happened to coincide with sunset. After several hours cooped up on a train, the warm sunset glow on the surrounding valley mountains made for quite the welcome spectacle. Connecting buses can be found outside the station which takes 45-minutes to reach Langenfeld Gemeindeam and from there a few minutes additional walk to AQUA DOME. Tickets for the bus were €7.90 each or you can arrange a pickup service with AQUA DOME ahead of time.
Property and Room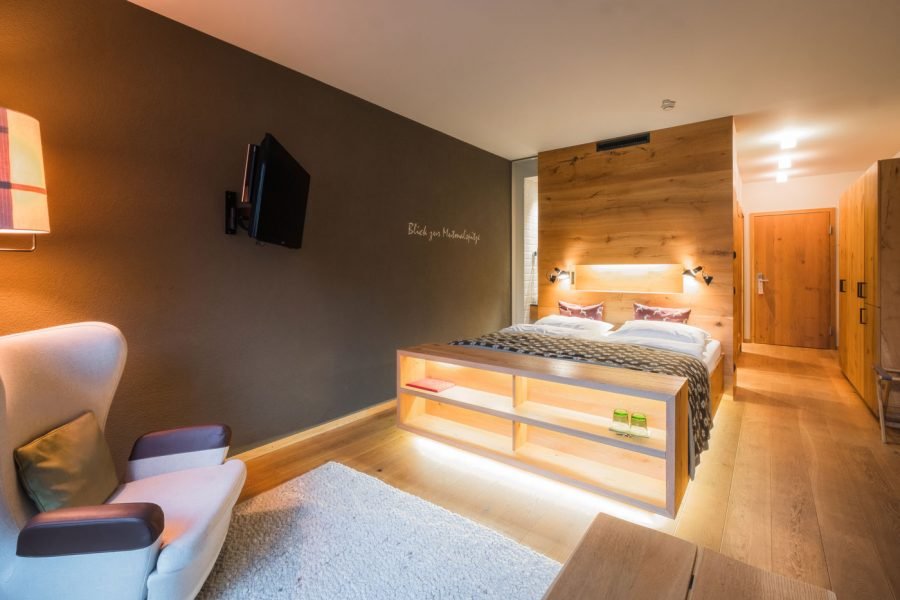 By the time we got off the bus, the sun had long set leaving behind a dark clear sky. Clear enough you could pick out any number of stars with just a quick upward glance. But even in the dark, it was straightforward finding our way from the bus stop to AQUA DOME. The resort grounds cover a massive 65,000 acres so you only need to look for the town's largest buildings to know you're in the right direction.
Check-in was quick and once our COVID vaccinations were confirmed, we enjoyed complimentary glasses of chilled apple juice as the receptionist explained how the resort works. AQUA DOME is a half-board resort which means breakfasts and three-course dinners are included with each guest's stay.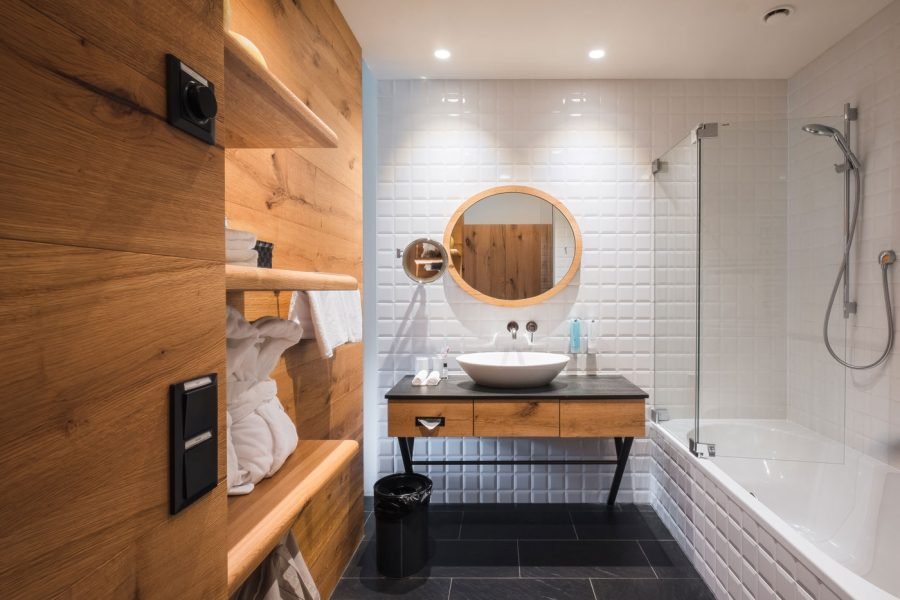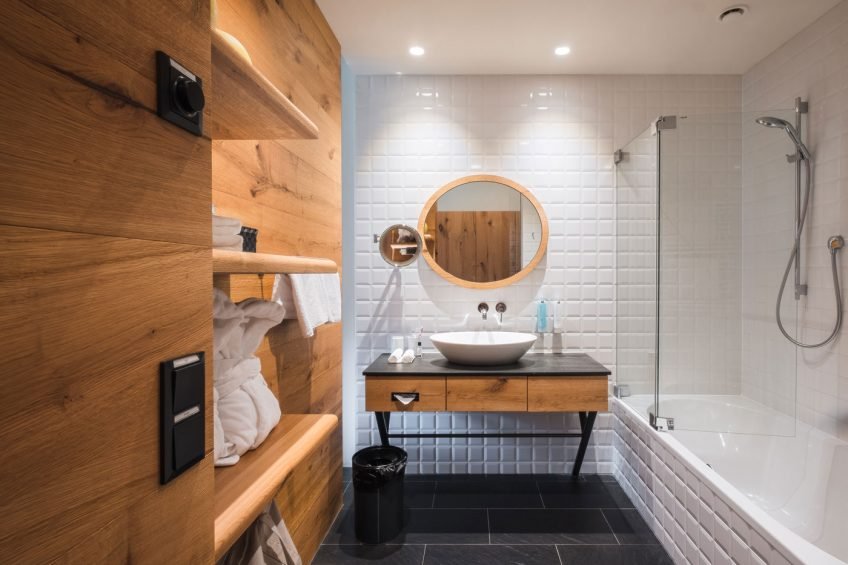 We were booked into a Double Room with Alpine Views and were really impressed by the size and decor. Calling it a double room is underselling how spacious it actually is. Similar to the rest of the property, a lot of wood and natural materials are utilised throughout the design which clearly takes inspiration from AQUA DOME's surrounding nature. It was also a lovely surprise to find the minifridge complimentary too.
Thermal Spa
AQUA DOME is a beautiful resort but it's the unique pools fed with thermal spring water straight from the nearby valleys that really separates it from its competitors. There are 12 indoor and outdoor pools at AQUA DOME all of which are heated to 34-36 °C warm water. The thermal pools of AQUA DOME are also accessible for non-staying guests too (€38 for an adult day ticket). Guests who have booked a night stay can change into their swimsuits and bathrobes in their own room before walking an underground passage (heated might we add) to the pools themselves.
Our visit fell in mid-autumn so it was already a chilly 4 ºC outside that morning. So we opted to start with the indoor pools and use the connecting pools to swim our way outside under the protection of the warm water.
Bathing in thermal pools with the backdrop of alpine mountains already makes for a unique experience, but AQUA DOME takes it a step further with a conical glass-shaped dome that provides access to three bowl-shaped basin pools. The whole structure looks like it could have come straight out of a James Bond film. Each of the three basin pools is also unique. The top-level basin has a water rapid fountain, the second level has a massage basin, and the lower level basin has slightly salted water with gentle underwater music and lighting (our favourite of the three). full of stars.
But our favourite moments from our stay came from the relaxing hours we spent at SPA 3000, a wellness area open only to guests staying at AQUA DOME. The main floor features stunning panoramic views of the surrounding landscapes out of the floor to ceiling triangular windows. SPA 3000 also features more pools, mineral baths, saunas and a lounge area with an assortment of tea drinks.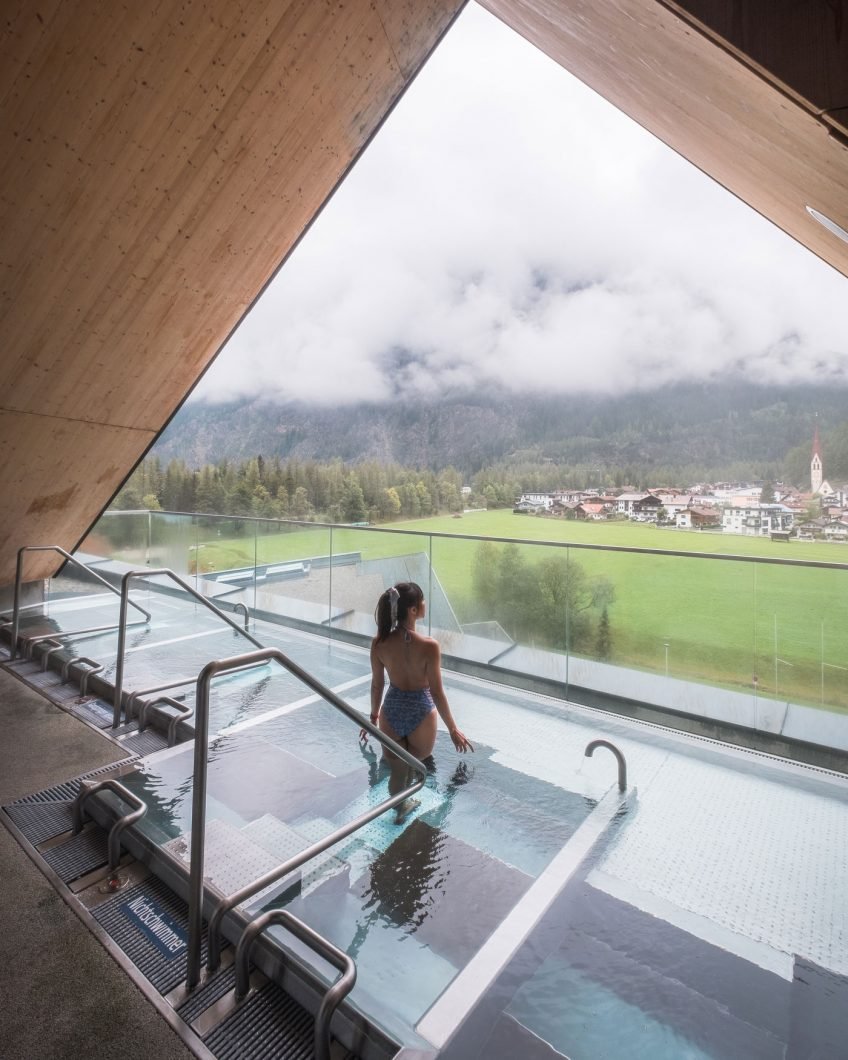 Things to do
As mentioned earlier, Ötztal Valley has plenty of outdoor activities to entice outdoors and adventure seekers. We hiked up to a nearby suspension bridge which offered a stunning vista view down onto the valley. The trail itself isn't actually on Google Maps, but the reception staff are well informed of the local area and mapped out a route for us to take.
There's also a daily itinerary provided by AQUA DOME. Every day they have different excursions and activities from outings to local wool farms to yoga and HIT classes. They even had an evening barbecue by the pools so there's always something to keep you occupied throughout your stay.
Final Thoughts
AQUA DOME isn't located next to any significant landmark or close enough to be used as a base to explore nearby major cities – but that's exactly why we love it. It's a resort that feels remote with an abundance of nature around yet has all the trimmings of a luxury experience.
Book your stay on Booking.com