Da Nang is a city that has undergone rapid development over the last few years with restaurants, shopping centres and hotels springing up all across the city. Counted amongst these newcomers is Danang Golden Bay Hotel, but in just a few short years they've managed to become one of the city's most well-reputed hotels.
Disclaimer: Our time at Danang Golden Bay was sponsored but all words and comments in this post are our own.
Location
Danang Golden Bay is located near the entrance of the Hàn River. In Danang Golden Bay's own words, "it's position is situated right at the junction where the Earth, the Sky and the Ocean blend, combining the philosophy of feng shui."
From the hotel, it takes under 10 minutes by taxi to reach the city centre. But Danang Golden Bay also offers a regular free shuttle bus service to and fro if your timing works out. No booking required, just be at the lobby or pickup point a few minutes prior to the bus departure. Find their bus schedule here.
There's also the option of walking which takes a pleasant route along the Hàn River but note that it can take up to an hour or more depending on where you're going in the city.
Property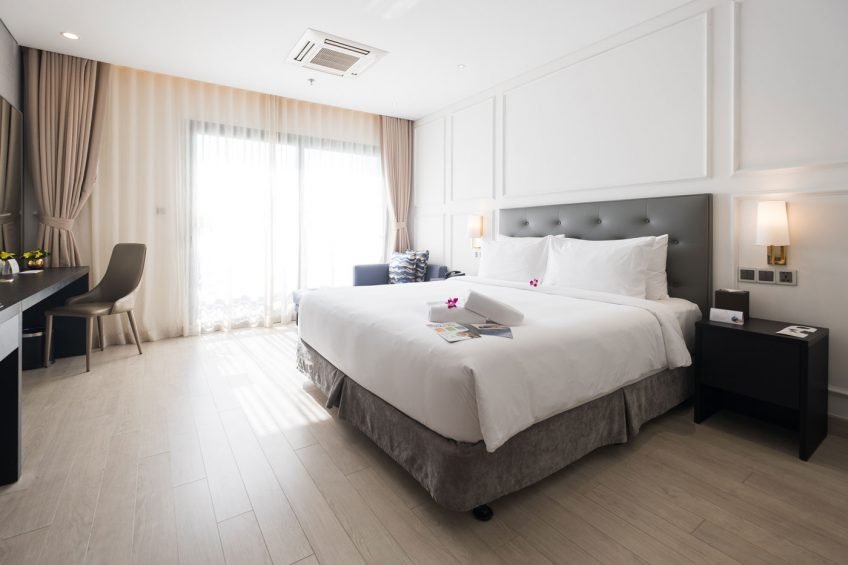 The first thing you'll notice once you step inside the property is how much gold is used in its interior. Although this may surprise you at first (especially to non-gold lovers), Danang Golden Bay has done a great job of making it all look classy.
For our stay, we chose the Executive King Room with Balcony and Bay View. The room was very spacious opting for a clean modern design to further maximize the space. Touches of gold were found throughout the room including the bathroom sink.
As the name suggests, our room came with a balcony which overlooked the bridge, river and bay. During the evening, the bridge will light up which made for a really beautiful view to come back to after a day exploring Da Nang.
The staff at Danang Golden Bay were also kind enough to show us around the other rooms including the Presidential Suite which has two bedrooms, a living room complete with golden cutlery and the flashiest bathroom we've seen yet.
Facilities/Services
Guests can enjoy a buffet breakfast on their 3rd floor Horizon Restaurant. There was a wide selection of food from international to local dishes to choose from. There are also a few restaurants on the first floor which are open throughout most of the day should you feel hungry.
Though, the star of the hotel is located on their rooftop (29F). There you'll find their award-winning infinity pool which looks out onto the mountains, Da Nang city, Thuan Phuoc Bridge, rivers and the sea – all in one go. It's a truly breathtaking view which is sure to impress all guests who stay, and this is before you consider the pool is made from 24K gold! We came for a swim during sunset and the colours of the sun reflecting off the water and golden pool made for a really magical experience. A bar and restaurant can be found on the other side of the pool.
Summary
Danang Golden Bay Hotel is the most eccentric hotel we've been lucky enough to stay at. Gold is absolutely everywhere here which makes for a very unique stay. Personally we wouldn't decorate our home this way, but perhaps that is what makes it perfect for a hotel.
We loved the location of the hotel as it was a little distance away from the city centre. This meant it was never too noisy yet close enough we could easily travel in if we needed to.
But if you're thinking of staying at Danang Golden Bay, you're likely to have a swim, or two, or three in their infinity pool. Much like how the Marina Bay's infinity pool has become an attraction in itself for Singapore, Danang Golden Bay's infinity pool is an experience you shouldn't miss when in Da Nang.
Looking for other accommodations to stay around the world? Check out Where to Stay