Ho Chi Minh City (also known as Saigon) is a city that can overwhelm first-timers. That's why finding a good base to call home during your visit is definitely a good idea. Playing it safe, we went with Sheraton Saigon Hotel & Towers because of its stellar international reputation – read on to find out our thoughts on this hotel.
Disclaimer: Our time at Sheraton Saigon Hotel & Towers was sponsored but all words and comments in this post are our own.
Airport Transfer
We landed in Ho Chi Minh City late in the evening, feeling a little dazed and weary as we had missed our original flight due to visa issues and spent over 22 hours inside Hong Kong International Airport (more on this story another day). Frankly, we just weren't feeling up to navigating the public transport system, nor were we in the best mindset to be wary and avoid taxi scams that are notorious in Vietnam. It was such a blessing to know Sheraton Saigon Hotel & Towers arranged an airport transfer for us. As soon as we stepped out of Ho Chi Minh City Airport, we were greeted by our smiling chauffeur who swiftly took us to his car where cold bottles of water and cool hand towels were waiting. It took just under 20 minutes to reach the hotel.
Location
Located in District 1 of Ho Chi Minh City, Sheraton Saigon Hotel & Towers is found right beside the popular Nguyen Hue Walking Street and the Saigon Opera House, while the Notre Dame Cathedral and Central Post Office are both just a short walk away. District 1 is where you'll want to be located if you're looking to be efficient with your sight-seeing. It was also an added benefit that we were able to pop back to our hotel to freshen up anytime we felt like we needed to.
Check-in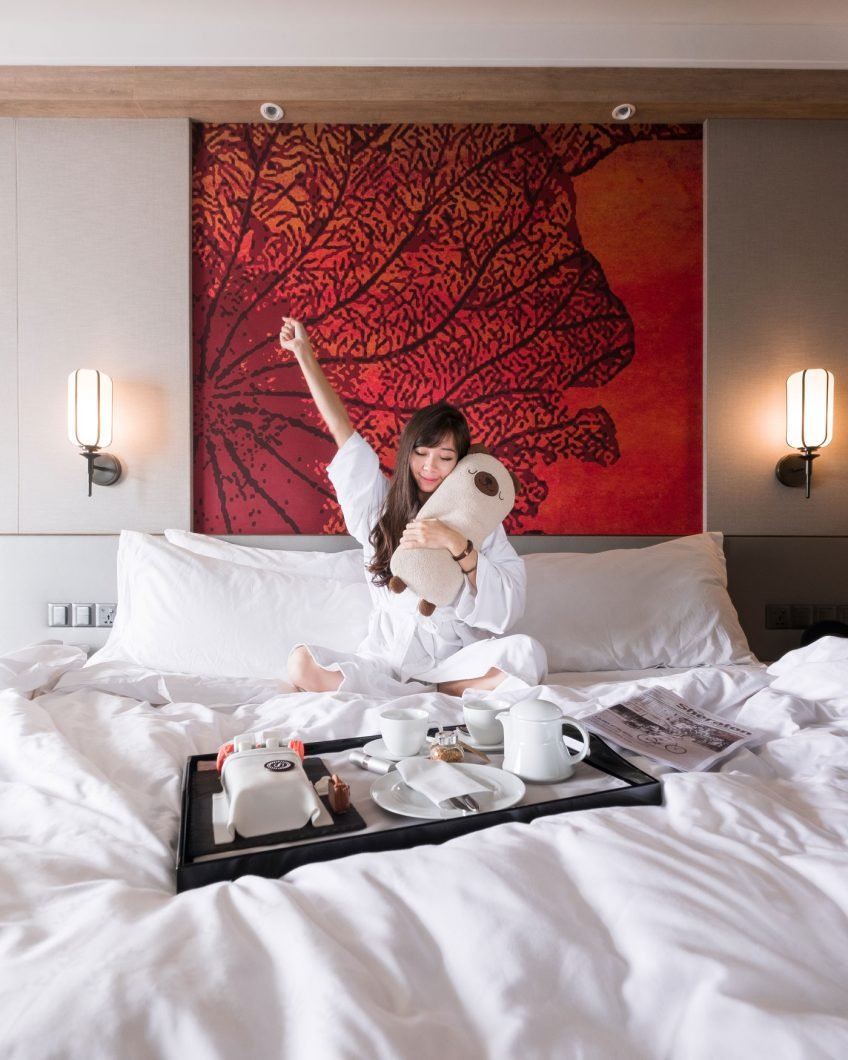 The check-in process at Sheraton Saigon Hotel & Towers went just as smoothly as our airport transfer. A bellboy was ready and waiting to pick up our bags while another guided us into the lobby to be handed over to the check-in staff. But unlike other hotels, we didn't stop to sit and wait for the check-in process to start/complete. Instead, we continued walking towards the elevator and up 20 odd floors – all the while no mention of check-in was uttered, just genuine friendly chit-chat about our flight and plans travelling around Vietnam.
It wasn't until we arrived in our room and got comfortable, were we eventually asked for our passports for the check-in process. It took just a few minutes more and we were checked-in and ready to enjoy our stay.
Club Studio Room
Our visit timed well for us as Sheraton Saigon Hotel & Towers had just finished re-designing their Club Rooms. Now, these rooms adorn a lovely modern yet chic finish that fits the Sheraton's luxurious brand. Making the most of this opportunity, we opted for their Club Studio King Room which came with an extremely comfortable and soft king-sized bed and ample amounts of room space – including a corner sofa seating area, large wardrobe, and small office space. The room was easily one of the largest we've stayed in. Out of its large paneled windows, our room enjoyed a city view overlooking the popular Nguyen Hue Walking Street.
Services and Facilities
Food lovers will be happy to know their 1st-floor restaurant, Saigon Cafe, offers delicious food in a buffet-style all day, every day. There is a good selection of both local Vietnamese and international choices so there'll be something for everyone.
We also had the opportunity to enjoy their well-loved seafood buffet during dinner time. We were blown away by the freshness of the seafood and the sheer number of choices available. We particularly enjoyed the steamed crayfish and crab dipped in the homemade chili sauce.
Those who stay in their Club Rooms will also have access to the clubhouse which serves breakfast in the morning and drinks and cakes throughout the day.
Once night fell, we made our way to their 24th-floor bar which offered some of the best views of Ho Chi Minh City – unfortunately, we didn't have the best of luck with the weather but we were told by bar staff that sunsets here are magical. Nevertheless, we still enjoyed our evening as we kicked back a few delicious cocktails and watched the city lights begin to glow. A swimming pool and gym are also available for guests if they're looking for a workout while away.
Final Thoughts
Sheraton Saigon Hotel & Towers' recent renovations align the property to today's luxury standard yet retains a classic charm that is iconic of the long-standing Sheraton brand.
The hotel's location is one of the best in the city, and perfect for first-time visitors like us who will be looking to see local touristic spots.
Lastly, all the facilities one would expect from a high-end hotel are present. The service is also top-notch but, more importantly, warm and personal. We both agreed that the service we experienced at Sheraton Saigon Hotel & Towers was the best yet.
Looking for other accommodations to stay around the world? Check out Where to Stay