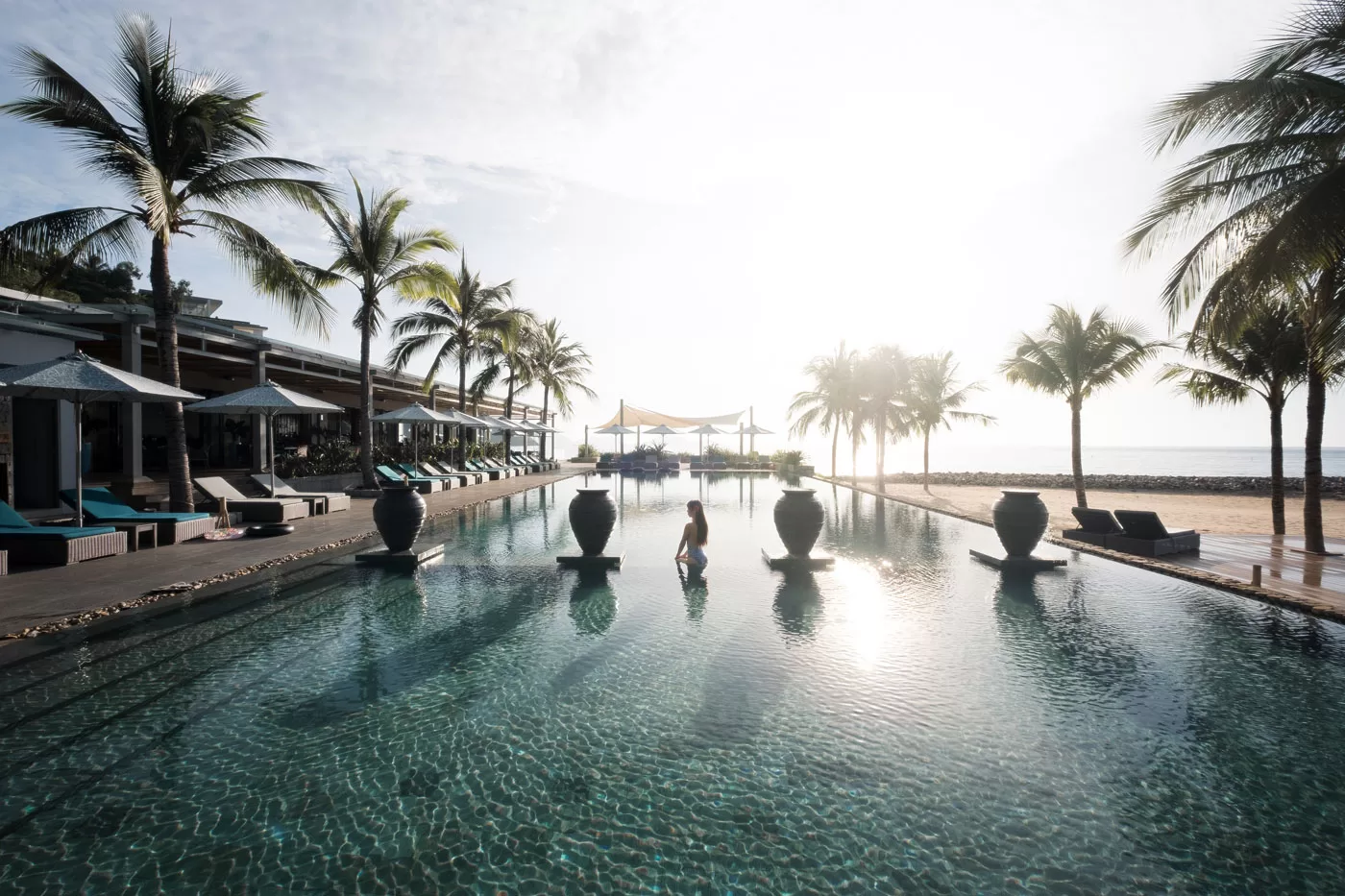 We escaped the surprisingly busy streets of Nha Trang and made our way to Mia Resort Nha Trang, a luxury resort set on a quiet stretch of coastline 18km outside the city center.
Disclaimer: Our time at Mia Resort Nha Trang was sponsored but all words and comments in this post are our own.
Location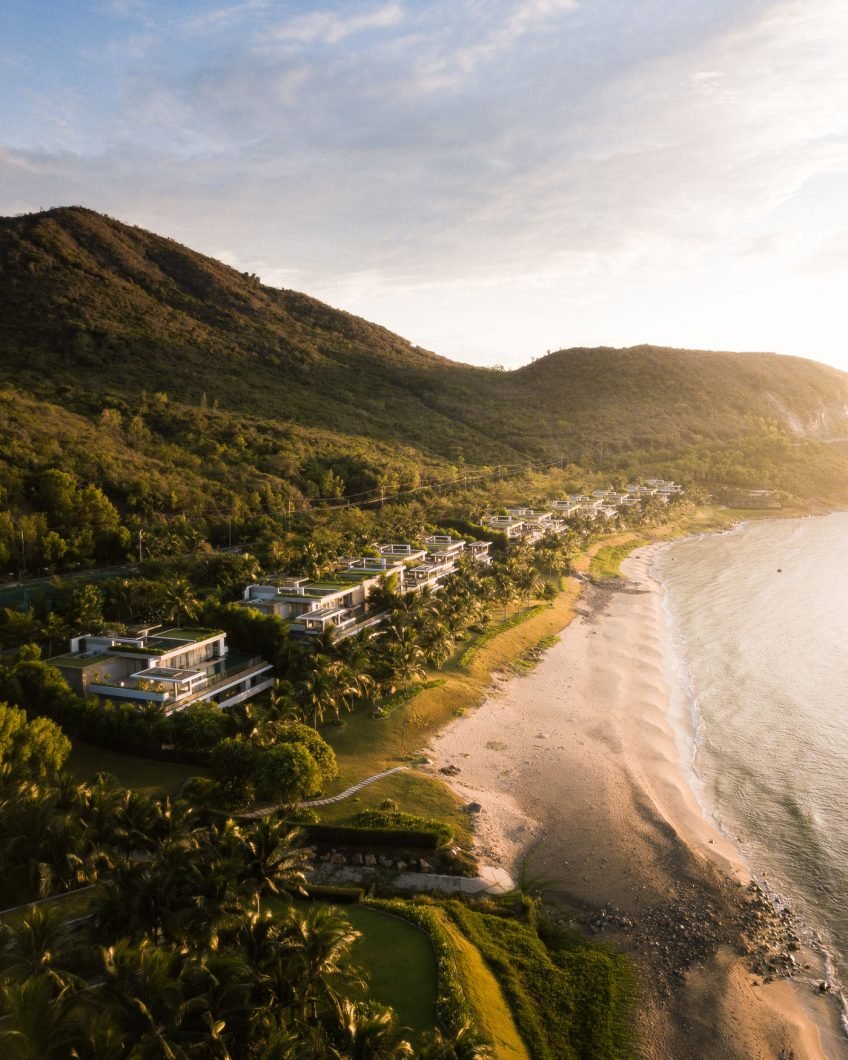 We're often choosing our accommodations based on convenient locations as we like to optimize our time to efficiently explore an area, but Nha Trang was different. Our original research on the city honestly left us a little underwhelmed. There isn't much to do in the city besides beaches and overpriced shopping and dining. Plus it's getting ever crowded with tourists. Despite knowing this, we still wanted to spend at least a couple of days here as we were flying out to Da Nang from Nha Trang airport and wanted to rest a little after our Saigon, Mui Ne and Da Lat adventures.
Taking all this into consideration we moved our search to find resorts. We wanted to be located far enough that we could enjoy a tranquil environment, yet close enough so that it wouldn't be too much hassle to reach the airport. And that's how we came across Mia Resort Nha Trang, situated between Nha Trang City and Nha Trang (Cam Ranh) Airport. The resort placed us closer to the airport than if we had stayed somewhere within the city, and because we didn't have much interest in exploring the city itself, we weren't bothered being further out.
To reach Mia Resort Nha Trang you can catch a taxi which will take just over 25 minutes and cost about 380,000 VND. Alternatively, Mia Resort Nha Trang offers a complimentary shuttle service which runs three times a day from and to the Sailing Club (72-74 Trần Phú, Lộc Thọ, Thành phố). Reservation is not required. See below for schedule:
Mia Resort to Nha Trang: 10am, 3pm, 8pm
Nha Trang to Mia Resort: 10:30am, 3:30pm, 8:30pm
Check-in
The shuttle bus dropped us and a few other guests at Mia Resort Nha Trang's lovely lobby where the staff welcomed us with refreshment towels, a lemongrass honey drink, and coconut pannacotta as we checked in.
At the lobby, they have a stunning view out onto a reflection pool and further out to the blue sea.
After check-in was completed, we were guided over to a buggy that drove us to our suite. Yes, that's correct. The resort is so big that buggies are needed to get around.
Property and Suite
Mia Resort Nha Trang is spread out across two private beaches with suites located along the whole way. Every property is completely surrounded by lush tropical greenery, even the rooftops are covered in perfectly manicured grass.
Our stay was in one of their second-floor Garden View Condos. We immediately noticed how much natural materials were used throughout the interior. They haven;t tried to be too flashy with the decor, instead, the materials and neutral colours allowed the stunning natural beauty of the area to do all work. The beds were impressively large, think two queen-sized beds side-by-side, while the open-plan bathroom provided ample space for two. Our room also had a large balcony complete with chairs, a small table, and views of the palm treetops. We enjoyed in-room breakfast (no extra fee) on our last day as we had to catch an early flight.
Facilities/ Services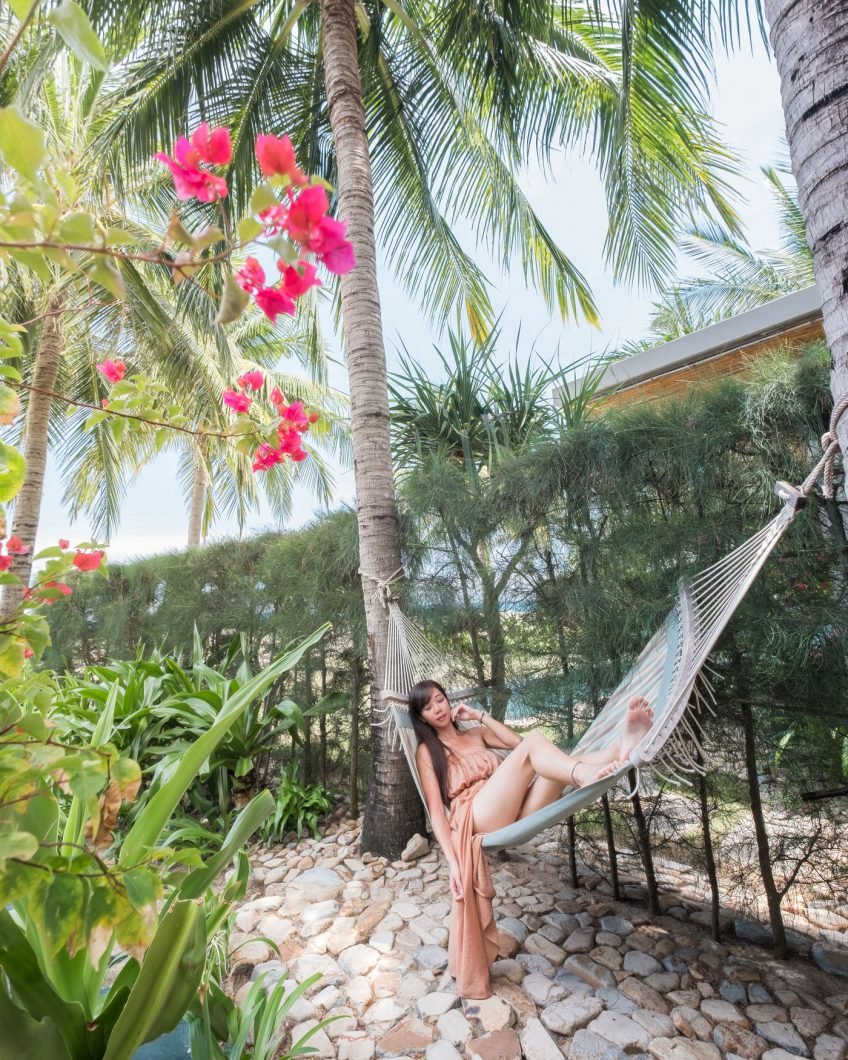 Located on either side of Mia Resort Nha Trang's grounds are the two restaurants – Sandals and La Baia. Sandals offered a nice selection of seafood (a specialty for Nha Trang) and many other Vietnamese favourites. La Baia serves authentic Italian including Naples-style pizza. Both restaurants have infinity pools beside them so you can "swim-up" an appetite before enjoying breakfast, lunch or dinner.
We spent most of our time at just relaxing by the pool and catching up with work. But if you're feeling active, there are a whole host of activities available including guided scuba diving at nearby coral reefs, snorkeling, Stand up paddleboarding, Tai Chi classes, boat trips, motorbike excursions, trips to hot springs and much more.
We also enjoyed a lovely oil massage at their Xanh Spa. This was a full body massage using an essential we personally selected based on the health/relaxation benefits. Our one-hour treatment left us feeling super relaxed and rejuvenated.
Summary
It's really difficult not to love Mia Resort Nha Trang. It's the perfect tropical escape we, and perhaps many others, are looking for – beautiful private beaches, clear blue seas, palm trees, 5-star service, infinity pools, and delicious food.
We came feeling a little tired after a couple of weeks exploring Vietnam, but we left feeling 100% and ready to continue our Vietnam adventures.
Looking for other accommodations to stay around the world? Check out Where to Stay