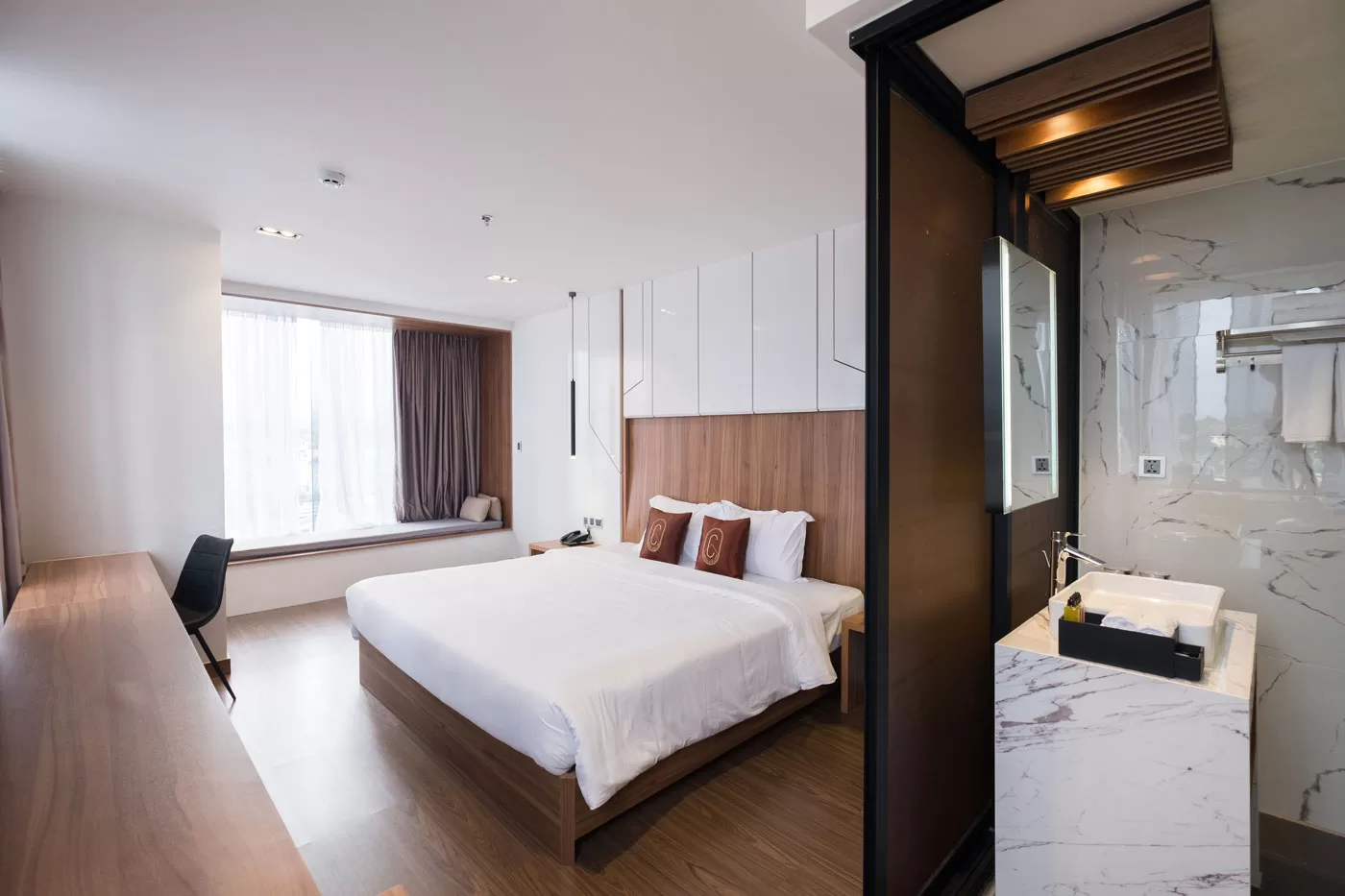 We spent a few days in the hill town of Da Lat where we stayed with Hôtel Colline. Find out our thoughts on one of the town's top-selling accommodations.
Disclaimer: Our time at Hôtel Colline was sponsored but all words and comments in this post are our own.
After our stay with Sheraton in Saigon, we wanted to experience a local Vietnamese hotel brand. With that in mind, we conducted our research which eventually led us to Hôtel Colline. This hotel initially caught our interest after we noticed it was rated booking.com's best-selling hotel in Da Lat (at the time).
Location
Hôtel Colline is, in our opinion, located in the best location inside Da Lat town. It's found right on top of the night market, which is reachable through a set of stairs just beside the hotel entrance. It's also located nearby the Da Lat bus stop (no more than a couple of minutes walk) which is likely your drop off point when arriving into town.
As Hôtel Colline sits on higher grounds and is one of the tallest buildings in town, it's very easy to spot the building so its never too difficult to find your way home.
Room
As a new hotel, we were expecting clean and modern interiors – and that's exactly what we got. Our Deluxe Double Room was simple in design but very functional. Deskspace stretched the width of our room so the both of us could get work done, while comfy cushions were placed beside the windows so we could enjoy the views over the market below.
The bathroom completes the modern-look and if you're into open plan designs you can even slide open the panels to make the room one big space.
Facilities
The hotel has a food court on its grounds so you'll have a selection of restaurants to choose from. They do have an outdoor restaurant area but unfortunately, this was under maintenance during our stay.
Many come to Da Lat for the natural environment surrounding the region but it's also hard to reach these places unless you rent and ride your own motorcycle. That's where Hôtel Colline is on-hand help, they have partnerships with tour operators that cover all the major spots. But to be clear, we didn't take any of the tours as we spent our few days mostly within Da Lat town.
Summary
All-in-all, we were impressed by Hôtel Colline. Though it's not the cheapest accommodation in Da Lat (though still inexpensive for a four-star hotel), we really appreciated the comfort the property gave us after a day of exploring.
Though we can be more lenient in other areas, the location of the accommodation is very important to us. Hôtel Colline gets full marks here as it was located nearby practically everything in town. We were also caught in a sudden rainstorm so it was nice being able to pop back and change into dry clothes (and grab our umbrella) before going to dinner.
Most of Hôtel Colline's guests are Vietnamese travellers, therefore, you might find staff and services are catered to a more local flavour. But if you're looking to experience and better understand the Vietnamese hospitality while taking advantage of the awesome location then this is the hotel for you.