The stunning scenes of Ha Long Bay have captivated travellers from all over the world – having missed the opportunity to visit on our first trip to Vietnam, we knew we couldn't make the same mistake on our second try. We joined President Cruises for a 2-day experience floating in between the karst limestone mountains and here are some things to know.
Disclaimer: We were hosted by President Cruises on this trip but all words and thoughts in this article are strictly our own.
Best time to go to Ha Long Bay?
Much like the rest of Vietnam, peak season to visit Ha Long Bay are during the dry season between October and April. But for the very best months, opt for October or April as temperatures will be warmer so you can fully enjoy water activities and be out on the water. Try and also plan your visit during weekdays as crowds will generally be much less too.
Why luxury cruises for Ha Long Bay?
There are a whole host of cruises that offer trips to Ha Long Bay including day trips, overnight, budget and luxury – literally something for every type of traveller. But, if you have the time for an overnight trip, we would highly recommend opting for a luxury cruise like President Cruises.
Unlike most hotels you book, you will be spending the majority of your time in Ha Long Bay aboard the cruise so spending the extra money on a luxury cruise will, in our opinion, offer better value and provide an overall better experience.
How to get to Ha Long Bay?
Ha Long Bay is located along the coast of northern Vietnam and most travellers, including us, make their way from Hanoi which is 3 hours away by road.
For transport, we opted for President Cruises' own transfer service which is available for an additional fee. This provided a hassle-free solution that picked us up from our hotel in the Old Quarters of Hanoi and dropped us directly at the check-in location for President Cruises. Importantly, the transfer service ensured we'd be on time for our cruise – there's nothing worse than arriving at the port to see your cruise departing without you.
Water bottles and USB charging ports are provided for each passenger. Transfer service includes the return journey too.
How many days in Ha Long Bay?
Ha Long Bay can be visited on a day trip, which is perfect for those on a tight schedule, but doing so will mean missing out on the full experience of staying at Ha Long Bay. Our preferred option is President Cruise's two days, one night itinerary as it's a great balance between activities, experience, and cost.
President Cruises also offer three days, two nights itinerary.
Activities with President Cruises
The linked itineraries above will provide an update-to-date list of the activities you'll do when you embark on your own cruise but we'll give a rundown on our thoughts on the ones we did below: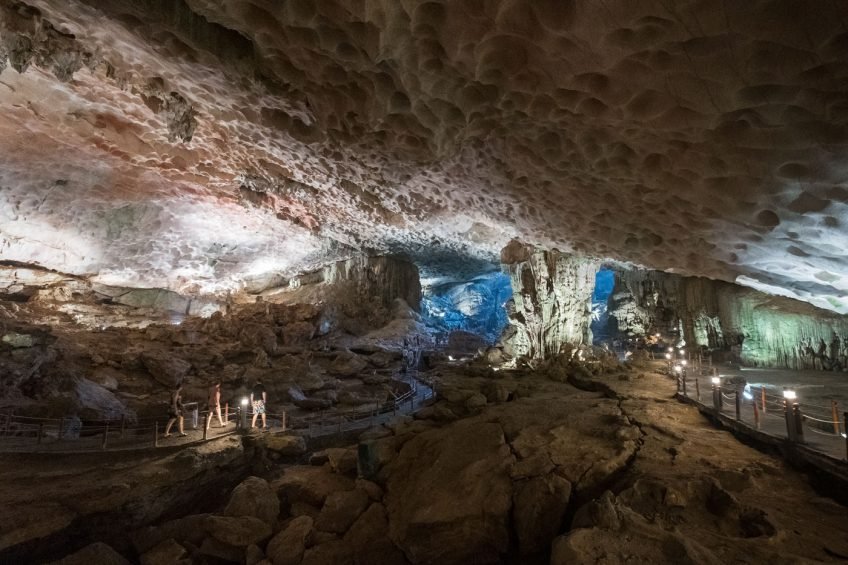 Explore Sung Sot Cave
Ha Long Bay's largest cave with many beautiful and fascinating cave formations. It takes around 30 minutes to walk from one end. Look out for the phallus-shaped rock worshipped by the locals.
Bamboo Boat or Kayaking at Luon Cave
A scenic ride aboard a large bamboo rowing boat that goes through a cave before coming out to a lake surrounded by high karst mountains. Though we didn't see them ourselves, we were told monkeys can sometimes be seen along the mountain-face. For an additional fee, we chose to kayak ourselves around the area instead.
Sunset drinks at the deck
After our kayaking excusrion, we enjoyed a few cocktails on the deck as the sun started to set. This was one of the most romantic places we've been lucky enough to watch a sunset.
Cooking class
Just before dinner, we joined a fun group cooking class to learn how Vietnamese Spring Rolls are made which you will chow down after. Resist eating too many as dinner was served straight after.
Spa and Massage
Sarah enjoyed a 90-minute massage using a sugar scrub. In her own words, "That was the best massage ever. My skin is feeling silky smooth."
Squid fishing
This was a surprise addition to the itinerary on the first evening. Although we didn't manage to catch anything it was lovely relaxing on the lower deck, watching the squid and fishes swim below and just enjoying being out at sea.
Morning Tai Chi
Wake up early and join a Tai Chi session on the cruise deck. We didn't manage to join the class due to being busy photographing sunrise but we're sure this would have been an amazing experience.
Swim or hike at Titov Island
Titov is a small and tall island that offers a panoramic view of the bay itself. Reaching the top requires hiking up 400 steps but the view will be well worth it. If hiking isn't your cup of tea, relax and enjoy a swim at the island's beach.
Hot tub
One of the facilities which make President Cruises unique is its hot tub on deck. We were able to squeeze a quick dip in the morning so we had the whole tub to ourselves.
Food on President Cruises
Food is included in the booking fee with President Cruises and if you go for the two days, one night itinerary – like we did – this will include a buffet lunch and fine-dining dinner on the first day and buffet-breakfast and pho for lunch on the second.
When we were doing research we found the food was a common complaint against some of the other cruises in Ha Long Bay. Thankfully this is not the case with President Cruises who have enlisted the help of British Celebrity, Michelin-starred chef John Burton-Race to craft a Michelin dining experience onboard. For dinner, we highly recommend going for the seabass and steak dishes which were both excellent.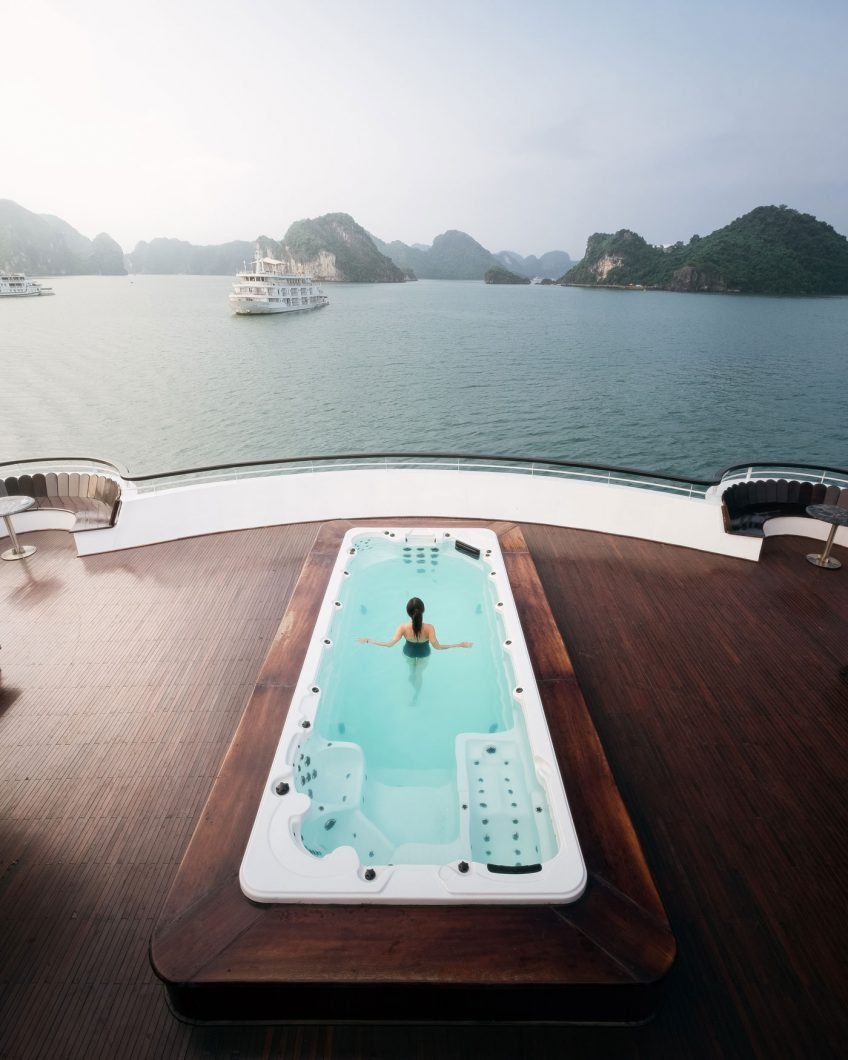 Summary
President Cruises offered everything we were looking for in a luxury Ha Long Bay cruise and then some. The itinerary is chockablock full of activities that are perfect for those looking to maximise their trip, though note these are not compulsory so you can choose to enjoy a more laid-back experience if you would like to do so.