Easter has always been one of our favourite holidays. Aside from it being Spring season when nature blossoms to life, it's also a season where we can scoff chocolate eggs without a guilt in the world and proudly unleash our inner child in celebration. And what a way to do so by visiting Chimelong Ocean Kingdom; a newly opened amusement park which hosts the largest aquarium in the world?!
Those who know us personally will no doubt notice that we are slightly obsessed with marine life. Back in London, we even installed a 35-gallon freshwater aquarium in our apartment which you can check out here: The Nature Aquaria. There's just something captivating about sea creatures, and so you can imagine our excitement when we discovered that this ocean-themed resort is located just a few hours away from us, in a place called Zhuhai.
Chimelong Ocean Kingdom opened in 2014 and consists of eight themed zones inside the park – Ocean Avenue, Dolphin Cove, Amazing Amazon, Ocean Beauty, Polar Horizon, Fun Zone, Mount Walrus and Hengqin Ocean. Surprisingly, there's plenty to keep you busy in this park, so we would highly recommend arriving early to fully experience all the attractions.
---
Ocean Avenue & Fun Zone
As our coach made its turn into Chimelong, a colourful scenery unfolded before us like a picture from a story book. Eyes fixated at the view out of the window, we couldn't wait to get off to explore. When the coach finally pulled to a stop, we hopped off like little kids on a school trip and strode excitedly towards the park opening. Thankfully, there were only a handful of visitors in the queue during entry, so it didn't take long before we were in!
The entrance was impressive, featuring a grand LED digital canopy which displayed vivid and animated colourful sea world above our heads. From here, we could already catch a glimpse of the gigantic whale shark statue in the distance. With a camera in one hand and a park map in the other, we raced our way through the rest of the tunnel and headed directly to our first attraction, the Chimelong Ocean Parade!
Packed with beautifully decorated large parade floats accompanied by lively music, the atmosphere really set the scene for the day for us. The performers were fantastic as they waltzed around in their sparkling costumes and engaged with the crowd as they came round to pass balloons. Everyone was having a great time!

---
Dolphin Cove & Mount Walrus
There were plenty of animal theatre shows throughout the day; our favourite being the Dolphin Show and the Sea-Lion Show. They were conducted all in Mandarin, and although we couldn't fully understand it, it wasn't difficult to grasp the context and it certainly didn't detract from our enjoyment of the dramatic stunts. The venue was also not too crowded given the season, and this was perfect as it meant we could get great seats with great views up close.
On our way out, we also dropped by at the Dolphin Conservation Centre, which provided an underwater viewing platform for a close encounter with the dolphins.
After the shows we headed for the Castle 5D Theatre for Kaka's Great Adventure. Stepping into a 5D theatre for the first time, we were taken aback as we scanned the venue which boasted over a thousand motion seats facing a 180-degree curved 3D screen. During the 15-minute short movie, we were thoroughly immersed by how realistic the movements of our seats as well as the use of an advanced 360-degree stereo system. The storyline had a well thought out plot to incorporate various theatre effects such as water spray and smoke. We would highly recommend checking this unique attraction out.

---
Ocean Beauty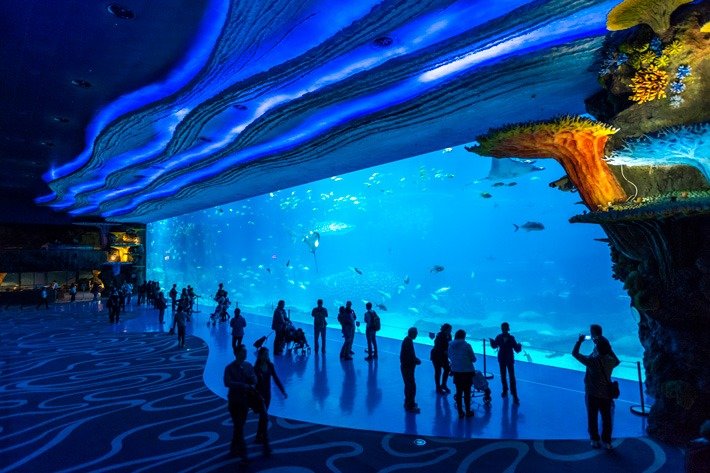 Following the crowd out of the theatre, we made our way to the most anticipated attraction of all: The Whale Shark Exhibit Aquarium. As of today's date, this aquarium is the largest in the world according to the Guinness World Records and showcases magnificent whale sharks, four-metre long manta rays and many more rare species. There was also Deep Sea Odyssey ride which travelled inside the aquarium as we watched the sea world become our sky.
We totally lost track of time inside this zone whilst we admired the beauty and peacefulness of these gentle giants swimming alongside shoals of fishes. We'll let these photos speak for themselves: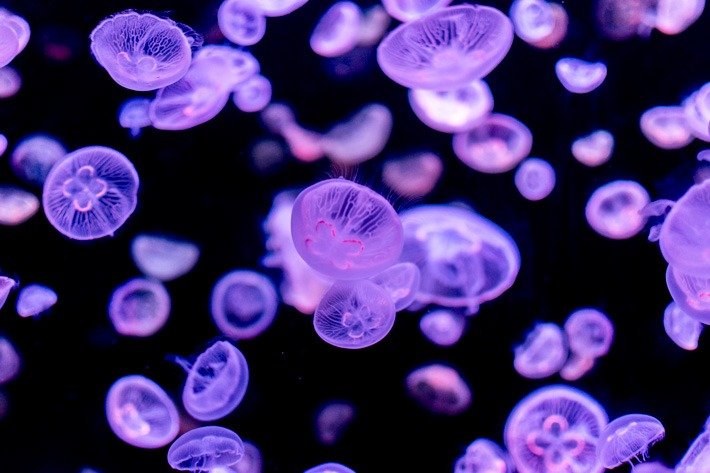 ---
Polar Horizon & Amazing Amazon
By the time we came out of the whale shark exhibit, the sun had already set and the theme park lights glowed vibrantly creating an enchanting atmosphere around us. We still had two more zones yet to visit, so we picked up our pace towards our next habitat at the Polar Bear Village.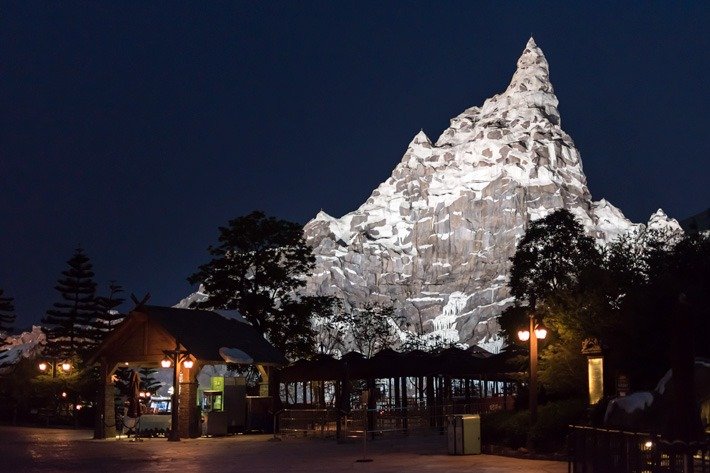 It was our first time seeing Polar Bears and we were very excited at the opportunity to finally meet the world's largest predator in real life. From a distance, we spotted two white blobs against the white landscape. As we watched from behind the glass, one of them headed towards us giving us an excellent photo opportunity. Since we were rushed for time, we weren't able to stay too long in this zone; nonetheless, they were surely a breathtaking sight!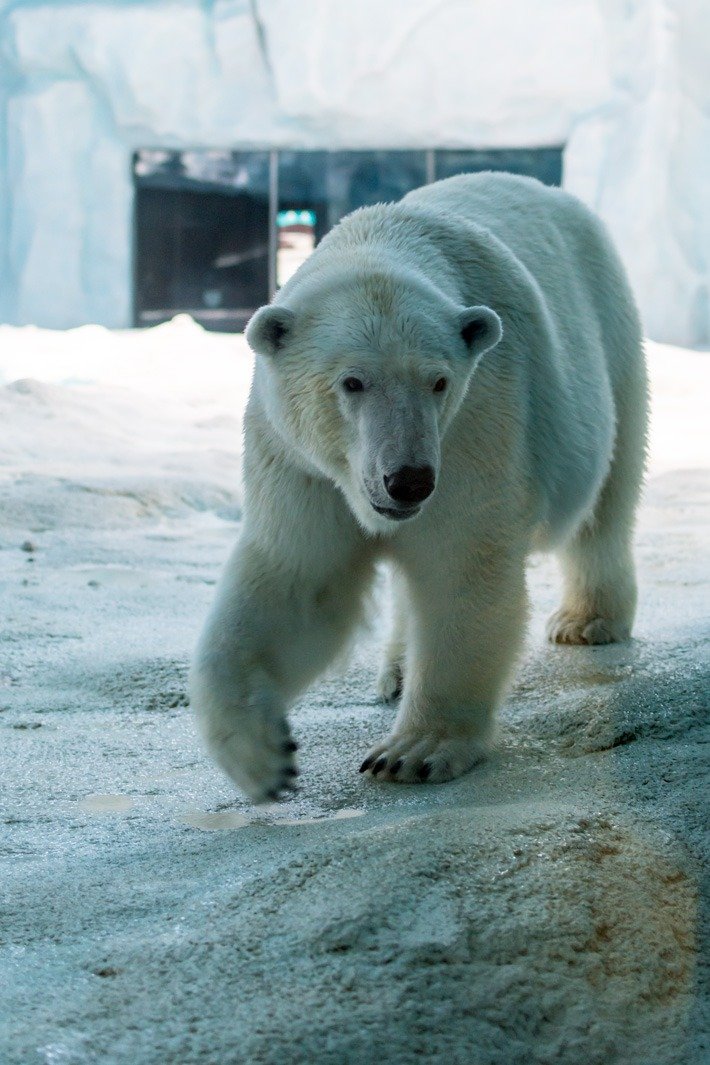 With just under half an hour to go until the night parade and grand finale started, we managed to squeeze in a ride on the Parrot Coaster in Amazing Amazon. Stretching nearly 1,300 metres long, it is one of the longest roller coasters in the world. Luckily, by this time there was no queue for the ride, so we were able go straight for front row for the full visual experience. At the very top, with our legs dangling in mid-air, it provided a heart-stopping panoramic view of the park lit up at night right before plunging nearly twenty storey into a 360-degree spiral!
It was definitely one of the best wing coasters we have been on and the speed of it was immense as it flew past tunnels and forests throughout the three minute experience. Fully pumped with adrenaline after the first go, we hopped back on for a second go, this time sitting at the very back which proved to be even faster!

---
Hengqin Ocean
After almost having a heart attack (Eric is scared of heights), we could hear loud upbeat music in the distance. It was exactly 8:30pm and the "Glamorous Sky Over Hengqin" grand finale show had begun! Sprinting towards the spectacular light projections in the night sky, we reached the end of the path opening and were immediately greeted by the first burst of fireworks scattering in the sky!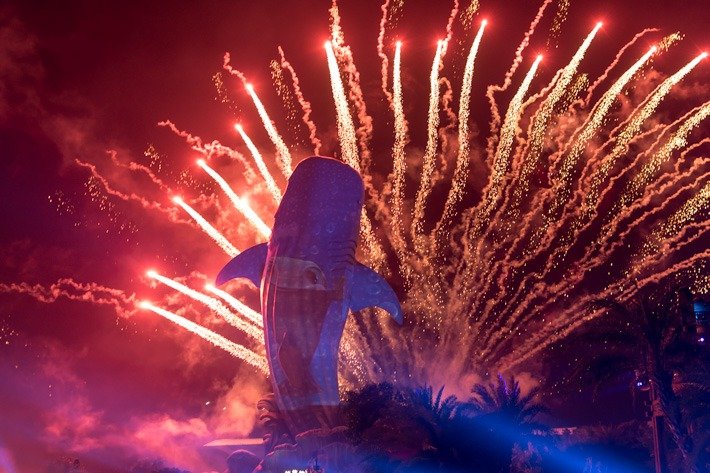 Everything in Hengqin Ocean came alive all at once! On one side, there were mesmerising visuals on the gigantic whale shark sculpture, on the other side the music fountain danced in rhythm to the beat, on the waters were stuntmen on jetskis and water jetpacks accomplishing daring feats; all the while the sky continued to light up with dazzling fireworks and laser lighting in the background.
There was just one word to describe the whole scene: Overwhelming! But in a good way! The fireworks were definitely much more than an amusement park standard; it was more like a firework on National day, and we couldn't believe it as we soaked in the visual feast before us.
Overall, Chimelong Ocean Kingdom has raised the bar for ocean-themed amusement parks in our opinion and no-doubt left a lasting impression. From Hong Kong, a lot of people have asked us if Chimelong is like Ocean Park; it's a tough one to answer. To us, Ocean Park will always have a special place in our heart having pretty much grown up with it whenever we visited Hong Kong. Nonetheless, Chimelong did exceed our expectations and we fully enjoyed our time there!
We hope this post has given you guys an insight into Chimelong Ocean Kingdom! If you have any questions or would like to get in touch, please feel free to drop us a comment below, shoot us an email or find us on instagram and facebook!