Macau is often dubbed as the "Vegas of the East", and rightly so considering that it is home to some of the most extravagant casinos and hotels in Asia.
But those like me, who simply lack the luck or the mathematical intelligence to win big shouldn't be too disappointed. Exploring any back street and little roads in the Macau Peninsula and you will discover that Macau is full of delicious street foods! Money better-spent in my opinion!
As a former Portuguese colony which only returned back to the People's Republic of China back in 1999, Macau fuses the East and West through the blending of Macanese and Portuguese cultures. This makes Macau an epicentre of the exotic synthesis between the two traditions. Time to get feasting!
---
Portugese Egg Tarts (葡式蛋撻)
Lord Stow's Bakery (安德鲁葡挞 ), 1 Rua da Tassara, Coloane Island, Macau
Margaret's Cafe e Nata (玛嘉烈蛋挞店), 17B, Goldlion building, Rua do Comandante Mata e Oliveira, Macau
The most famous street food in Macau would have to be Pastéis de Nata, or Portuguese egg tarts. Served piping hot with a buttery flaky pastry shell and topped with a caramelised glazed finish, the rich custard within oozes out with each bite. Mmm…delicious!
Credited to bringing Portuguese-styled egg tarts to Asia in the 1980's, Lord Stow's Bakery is said to make the best around. It's direct competitor, Margaret's Cafe e Nata, is also very well known for its Portuguese egg tarts. In fact, the owner – Margaret – is the ex-wife of Andrew (Lord) Stow!
Anyhow, whichever bakery you decide to visit, Portuguese tarts remain a classic that truly delivers.
…Or so we thought…until we stumbled upon Durian King.
Yes! It was possibly the most amazing egg tart we have ever tasted. Complete with a succulent durian centre, these special Portuguese tarts were instantly elevated! Why? Because we love durian. And you should too.
---
Durian Ice Cream (榴莲雪糕)
Mok Yi Kei ( 莫義記 ), 9 A, Rua do Cunha, Taipa ( 官也街 )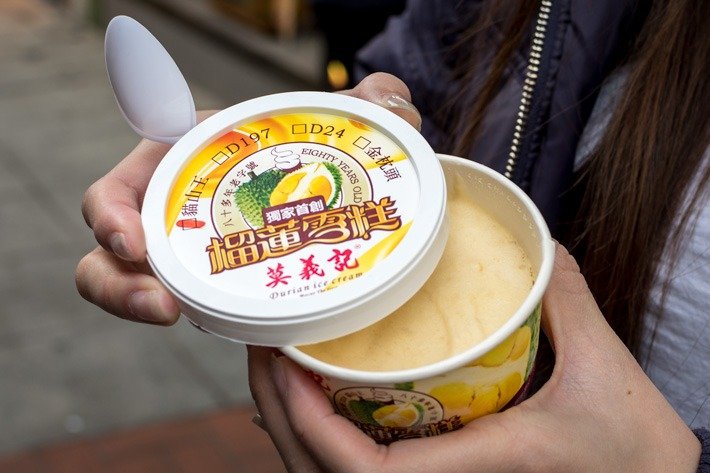 Following on from our durian hunt, it would be a crime not include the most famous of durian snacks!
Mok Yi Kei is a shop well-known for its special Chinese snack bites; most notably the variety of gelatine dessert puddings, jellies and durian ice-cream.
Opened for more than eight decades, this shop has no excuse when it comes to perfecting its durian desserts recipes. Obviously we opted for the Musang King (猫山王) flavour – the strongest tasting of them all.
Bursting with absurdly rich and creamy flavours, the ice cream melts sweetly straight in the mouth. Just don't speak to anyone for the next few hours and you'll be okay, I promise.
---
Serradura Pudding (木糠布丁)
Mok Yi Kei ( 莫義記 ), 9 A, Rua do Cunha, Taipa ( 官也街 )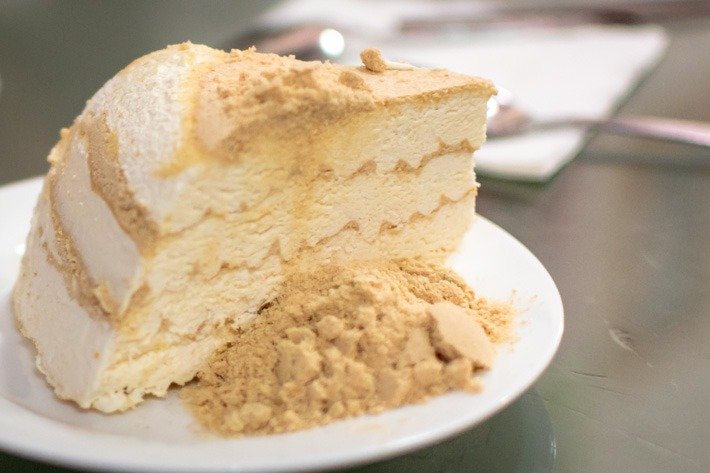 For those who can't tolerate durian (you guys are missing out!), another popular treat people opt for is the Serradura Pudding (木糠布丁), also known as Sawdust Pudding.
Whilst it might not have the most appealing name nor does it conjure the most pleasant image of a dessert, please don't let the name throw you off! When you see it you will understand.
Essentially, the sweet tasting biscuits are super finely crushed to resemble "sawdust". It is then beautifully layered with tons of whipped cream, condensed milk and vanilla. What it creates is an airy texture with every spoonful and a smile on your face. Dreamy…
---
Pork Chop Bun (猪扒包)
Tai Lei Loi Kei (大利來記), 25 R. de São Paulo, Macau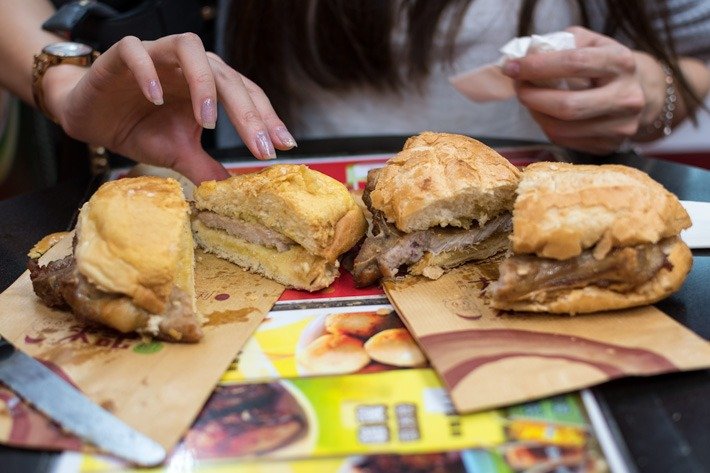 Despite its simple appearance, the winning combination of juicy pork chops sandwiched in toasted piggy buns makes for a truly scrumptious snack. Chewy, greasy but hugely satisfying.
Aside from the use of traditional buns, there is also a pineapple bun option. We tried both to compare and were definitely not disappointed; and we especially dig the unique contrast of savoury-spiced pork chop with the sweet and crumbly crust of a buttery pineapple bun!
---
Egg Crisps (减蛋金錢餅)
Largo do Senado, Macau
Nestled in Senado Square, a crowd gathers around a street vendor making Egg Crisps. The sweet aroma of freshly cooked dough is enough to attract the attention of passers-by, including us.
These cute little chips are made on the spot and only takes a few seconds to turn golden before being served fresh from the pan. With only simple ingredients of egg, flour and sugar, they make a light and tasty snack to hit the road with.
---
Double Steamed Milk Pudding (雙皮燉奶)
Yee Shun Dairy Company (義順牛奶公司), 7 Senado Square, Macau
Situated a short walk away from the Square is Yee Shun Dairy Company, home to a range of dairy products; such as their signature double steamed milk pudding (雙皮燉奶) and hot milk with ginger juice (薑汁撞奶).
Served either hot or cold, the dish is rich, creamy and extremely fragrant which makes it a great comfort food of all times.
For those who find steamed milk pudding a bit too overpowering, we would recommend a cold papaya milk drink which is also super delicious.
---
Almond Cookies (杏仁餅)
Koi Kei Bakery (鉅記手信), 46-50 Rua Do Cunha, Taipa, Macau
Pastelaria Fong Kei (晃记饼家), 14 R. do Cunha, Macau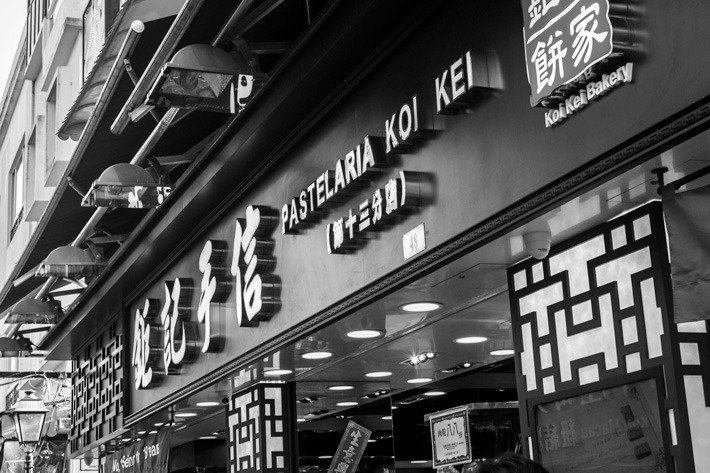 If you have a sweet tooth for pastries or all kinds of confectioneries for that matter, then head to Koi Kei Bakery! Their distinctive chain stores are scattered all over Macau for a reason!
Koi Kei Bakery is renowned for its extensive collection of delicious confectioneries such as almond cookies, egg rolls, crunchy peanut candies and beef/pork jerky.
You will see their street-side bakers make traditional Chinese almond cookies by first compressing the dry batter in a special mould, then roasting them over a charcoal oven, before slapping it on a table to release the perfectly shaped cookies. Good news is that they provide plenty of free samples, so we are always eager to pop in!
Alternatively, we recommend a visit to Pastelaria Fong Kei, a traditional Chinese bakery which has been around since 1906. Operating as a single shop, the queue is understandably long all day, everyday. However, the service is fast and their products are equally as tasty as the commercialised Koi Kei Bakery's if not more due to it's century-old preserved roots.
Meat Puff Pastry (肉切酥) are also their local speciality as well as bridal biscuits (老婆饼), so be sure to snap up a few boxes for your friends and family. They will thank you for these unique and tasty souvenirs!
We hope this post has given you a tasty guide of the street food in Macau! If you have any questions or would like to get in touch, please feel free to drop us a comment below, shoot us an email or find us on instagram and facebook!