When a destination holds the title of England's largest AONB (that's Area of Outstanding Natural Beauty to you and me), it's a good indication that a trip is well worth considering. The Cotswolds—an area totalling almost 800 square miles—lives up to its grand title with its many charming villages, an abundance of stunning nature and endless picturesque scenes. After our travel hiatus and a whole year stuck mostly indoors, a weekend away in the Cotswolds was just what we were looking for.
How to reach the Cotswolds
The Cotswolds is located in southwestern and west-central England, sitting over the five counties of Gloucestershire, Oxfordshire, Warwickshire, Wiltshire and Worcestershire. With three days to our trip, we decided on a road trip to best maximise our time and cover the large distance we'd be planning to cover. Driving also gave us the flexibility to squeeze in visits to the nearby cities of Oxford and Bath—something we recommend for your own trip If you're driving as long as several hours to the Cotswolds (like we did).
For public transport, there are several main train stations in and around the Cotswolds. These include Cam and Dursley, Cheltenham, Gloucester, Kemble (serving Cirencester), Moreton-in-Marsh, Stonehouse, Stroud and Ashchurch (for Tewkesbury). From there, you'll have access to a wide network of buses heading further into the Cotswolds.
When to visit and how long
There's really no bad time to visit as long as you're fine with being outdoors in the weather, each season will bring its own charm. Our own trip fell in Spring which was right around the time when the weather was warming and flowers were blooming. Do note that summer will be the busiest period for the Cotswolds so if you prefer to enjoy the quieter moments then consider Autumn, Winter or Spring. A weekend will be enough to see much of the Cotswolds beauty and get a taste of the English countryside experience. If you're driving, you can cut all the time waiting for buses and squeeze everything into an overnight trip.
What to do and places see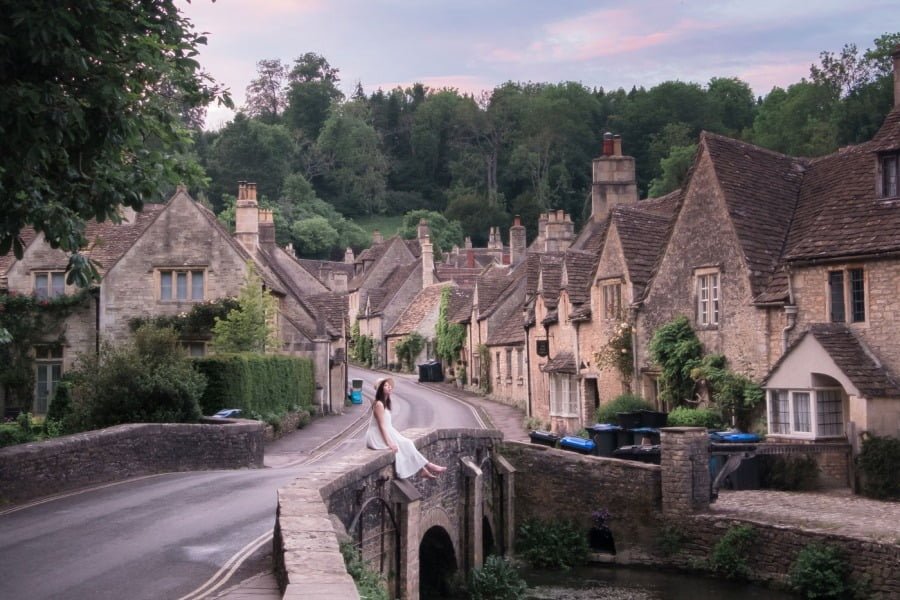 Pretty villages can be found all over the Cotswolds but why settle for pretty when the area also holds the prettiest? Castle Combe is often named "the prettiest village in England" and it's easy to see why with its picture-perfect story-book setting.
Stow-on-the-Wold – 📍Location
This charming market town has plenty of cute cafes and restaurants to discover, just remember to find time to visit St Edward's Church. Hidden here is a medieval door framed by two yew trees, rumours credit this door as the inspiration for the Doors of Durin in J.R.R Tolkein's Lord of the Rings.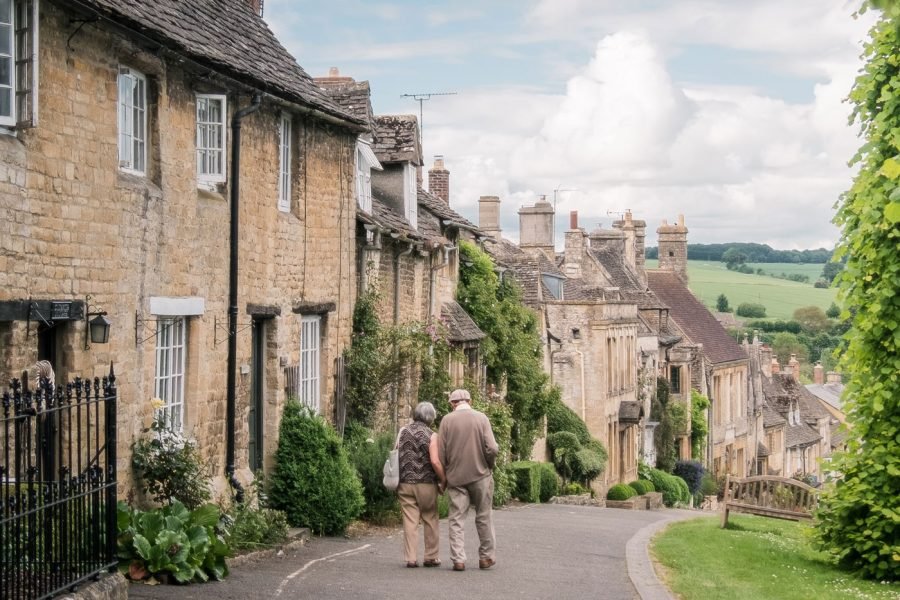 Visit Burford for its vibrant high street full of unique shops selling local goods and produce. We stopped by Huffkins Bakery for some afternoon tea and scones. Head up to the top of the hill to get the best views of the high street with the rolling hills in the back.
Bibury and Arlington Row – 📍Locatiion
Set inside the village of Bibury, Arlington Row dates all the way back to the 14th century and is one of the country's most famous streets of houses with its picturesque scenes. Most of the houses along this street are occupied by residents but number 9 is available for guests to stay—just make sure you book way in advance. If you're searching for food, a short walk around the field and you'll come by The Swan Hotel, a hotel that serves seasonal delights through lunch and dinner.
Bourton on the Water – 📍Location
Charmingly nicknamed "Little Venice" of the Cotswolds thanks to its scenic waterway and five bridges crafted from local stone. There are plenty of restaurants, shops and pubs lined along the river which makes Bourton on the Water a perfect stop for lunch. We had lunch at Duke of Wellington and have to say their fish and chips were top notch. Unfortunately, the village is suffering from over-tourism so expect huge crowds and difficulty finding parking spaces.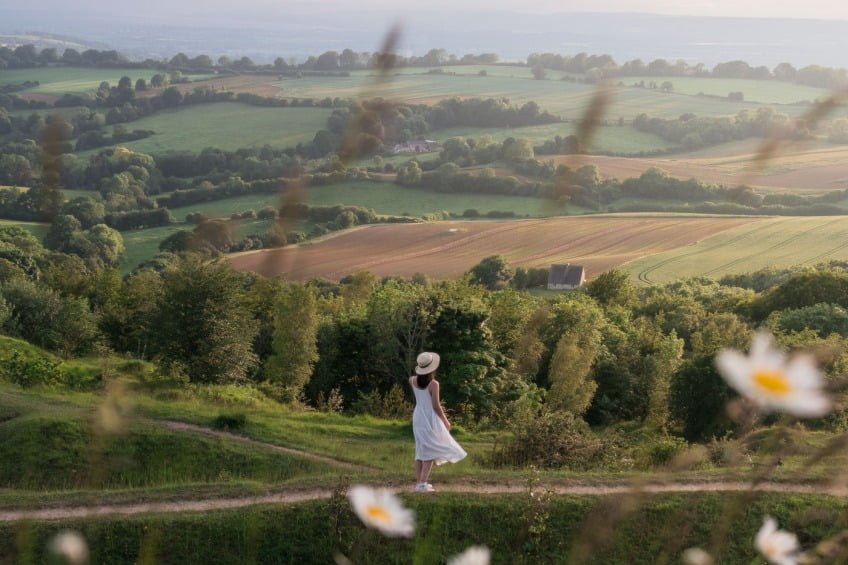 This hilltop village is home to St Mary's Church which has a unique and beautiful churchyard with 99 yew trees planted. There's a legend that says a devil will destroy the 100th yew tree if it is planted. A beautiful spot to take photos just remember to be respectful as this is a churchyard. A little further out you can find Painswick Beacon a brief stroll here and you'll find sweeping views of the nearby hills. We recommend coming for sunset to really enjoy the beauty of the landscape.
---
Check out some of our other articles and Discover the World