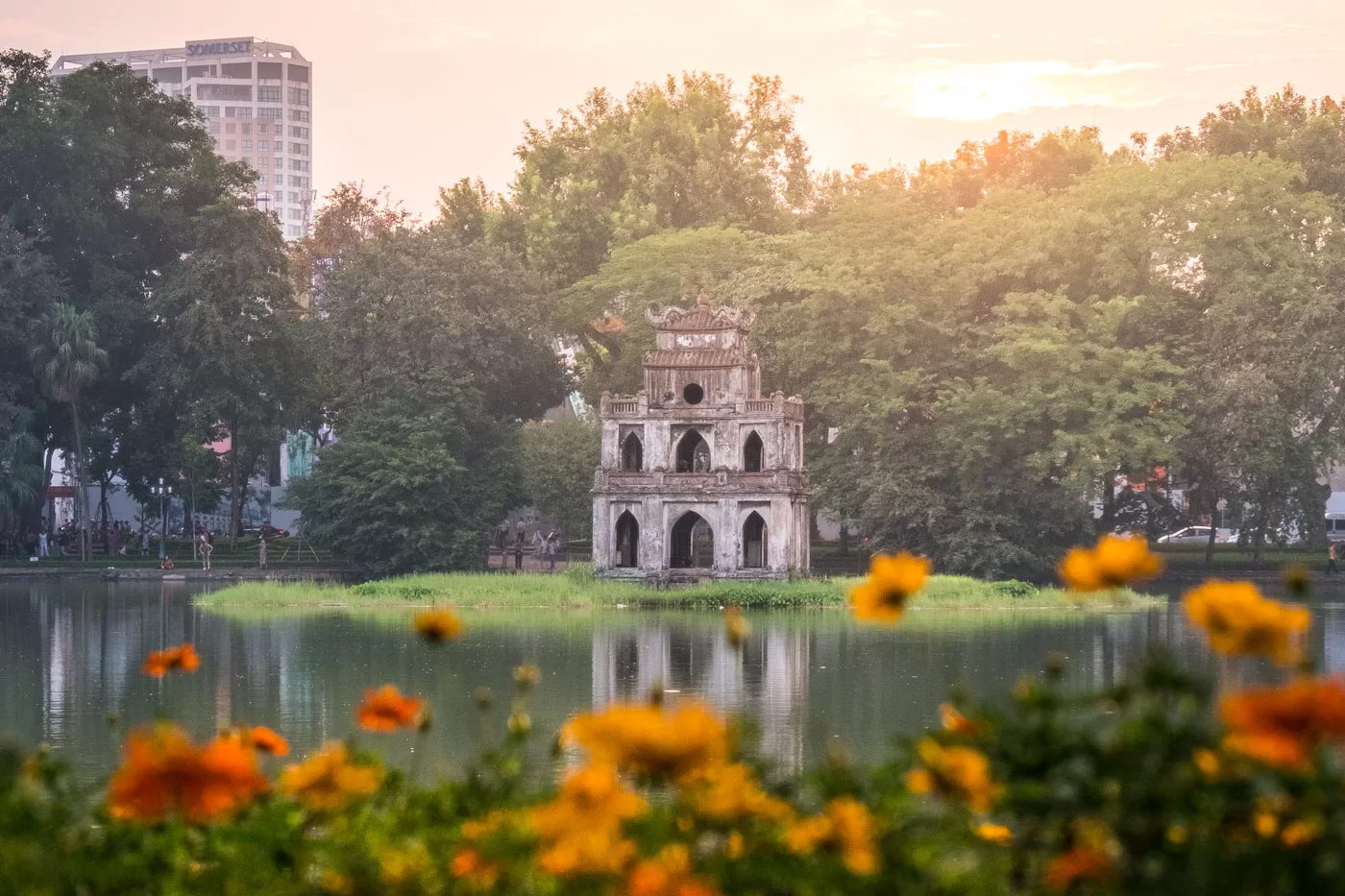 Hanoi is a city which perhaps best encapsulates the energy of Vietnam. It takes just a few seconds on the streets before you're welcomed by the crazy flow of motorbikes, wafting smells of delicious food, and smiling faces of passing locals. Hanoi is a traveller's favourite and a city you won't want to miss.
Best times to visit Hanoi
While choosing when to visit Hanoi, you'll want to be aware of the wet season which starts in April and lasts until September – during this time expect more rain and higher changes of monsoons. Hanoi is situated up in the north so you can also expect cooler winters than other parts of Vietnam. The winter sees average temperatures of around 18℃ while the summer reaches average temperatures of around 28℃.
If you're planning to be in Hanoi for less than a week, we'd highly recommend coinciding your trip with the weekend. On weekends they close off the roads in the city centre so that locals can gather to socialise, dance and play games while street markets open up nearby.
Where to stay
There are many great hotels to choose from in Hanoi, ranging from budget to 5-star hotels. Two options we'd recommend are Little Charm Hanoi Hostel (budget) or Sofitel Legend Metropole Hanoi (luxury) as they're both situated in excellent locations and offer great value for its price.
How to get around
The easiest way to get around Hanoi is to just walk. The city is large but most of the city's main interests will be centred around the Hoan Kiem Lake in the city centre. If you are venturing a little further out or just don't feel like walking, then we'd recommend using Grab (the Uber equivalent for South-East Asia) as it's safer and more convenient.
Things to do in Hanoi
Walk around Hoan Kiem Lake
Hoan Kiem Lake is situated right at the heart of Hanoi, providing a quiet sanctuary to what is otherwise a crazy hectic city. There's a walking path which loops all the way around with great views of Thap Rua Tower (Turtle Tower) sitting on a small islet in the middle of the lake. Ngoc Son Temple and the iconic red Cau The Huc bridge are also found along the lakeside. To best experience Hoan Kiem Lake, drag yourself out of bed to watch sunrise at the lake where you'll be joined by hundreds of locals dancing and doing their morning exercises.
As mentioned earlier, the roads around the lake are closed during weekend evenings for everyone to enjoy the public space.
Visit West Lake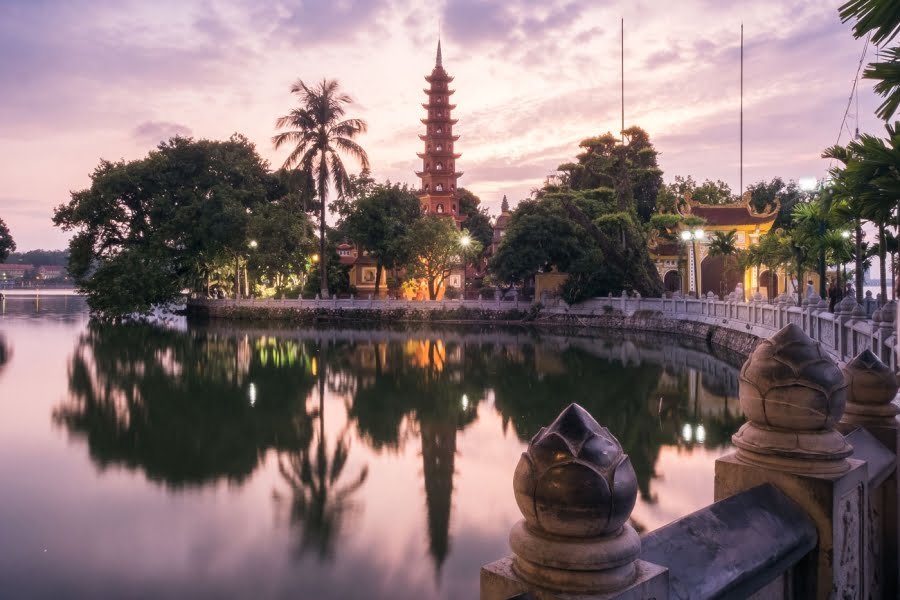 West Lake is another famous lake you'll want to visit in Hanoi, but this one is much larger and found on the northwestern side of the city. The lakeside's are lined with restaurants and cafes but the main reason to visit is to see the beautiful Tran Quoc Pagoda. Afterwards, you can head to the nearby Pan Pacific Hotel's rooftop bar for the best views of the lake while sipping on some cocktails.
Enjoy a cup of egg coffee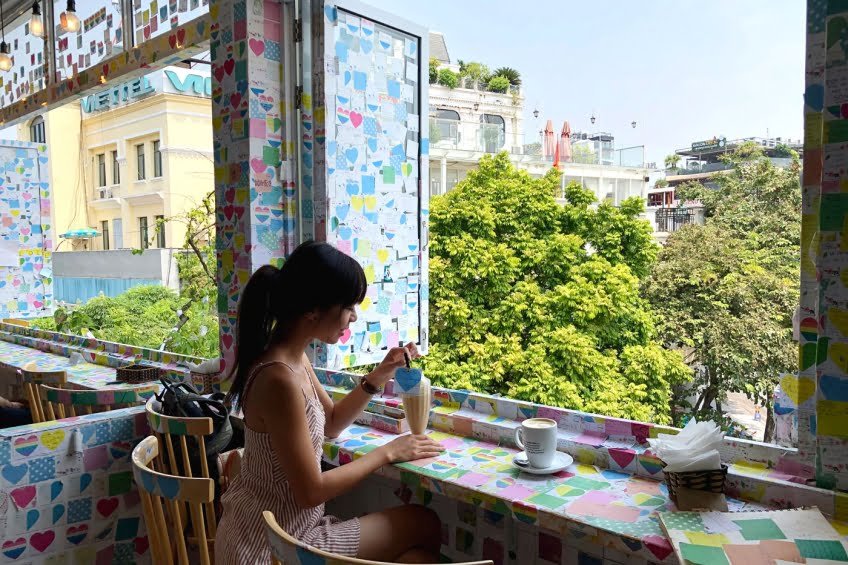 Vietnam is one of the world's largest coffee exporters so it comes as no surprise that it's coffee culture is strong. Walk down any street in Hanoi and you're bound to come across a cafe with people seated outside on stool seats. Hanoi does their coffee a little different to the rest of Vietnam as the locals (and visitors) love their Vietnamese egg coffee. If egg in coffee sounds strange to you, we hope you'll still give it a try. You'll be surprised at how the velvety texture and creamy taste of the whipped egg compliments the sweet and bitter coffee perfectly. Some of our favourite coffee shops include:
Visit Temple of Literature
The Temple of Literature is one of the oldest and most beautiful examples of architecture across the whole of Vietnam and well worth a visit when you're in town. It was built as a university in 1070 which originally only accepted aristocrats, the elite and royal family members as students, only later did they start accepting other candidates. Inside the complex is still a list of graduates engraved on a stone stele found above the stone turtles. Today the university has become a temple of memorial to education and literature.
Taste the local food
Once you touch down in Hanoi there will be so many things you will want to do, but slurping up a hearty bowl of pho or bun cha should be at the top of your list. And it's not just noodles, Hanoi offers such a great variety of delicious food at low prices – banh mi, banh cuon and many more. Below are just a few of our favourite places to eat:
Train Street (no longer open to tourists)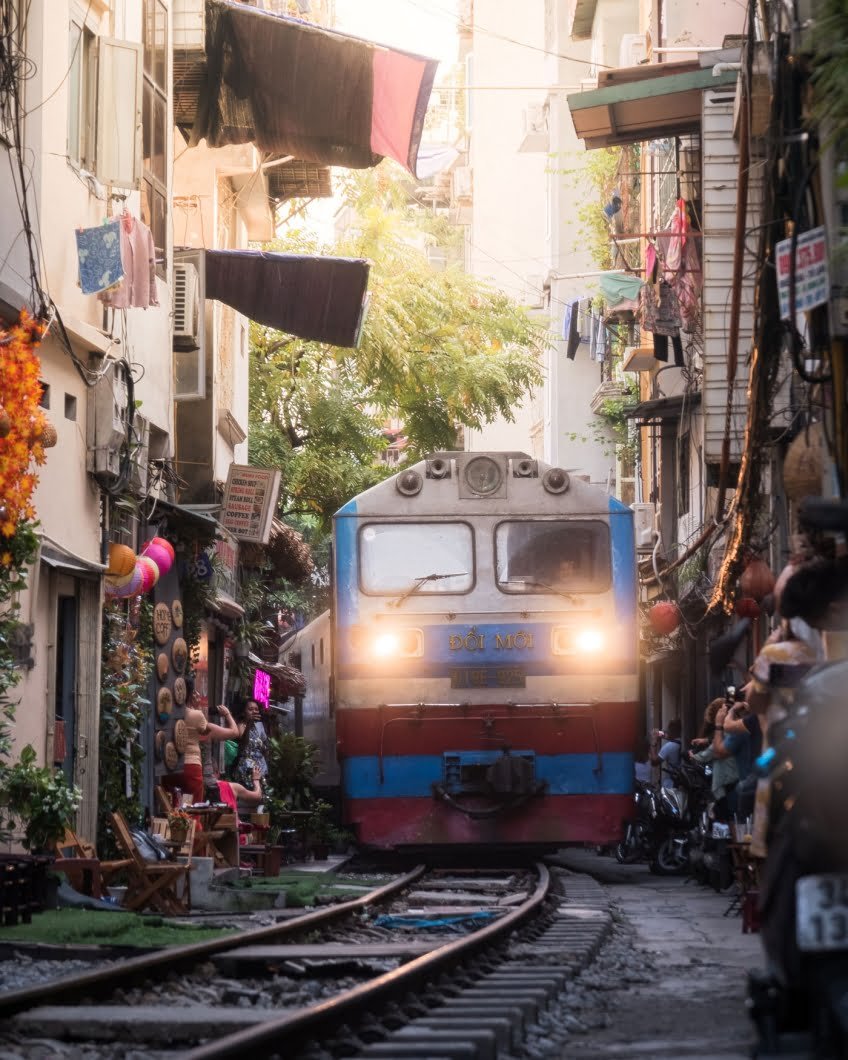 At the time of writing, Train Street has been closed to tourists indefinitely due to safety concerns as some tourists were not adhering to safety rules. But we still wanted to include it in our Hanoi Travel Guide in case the local authorities come up with a solution which keeps everyone safe.
A few times during the day, you can witness trains squeezing between a narrow street of Hanoi Old Quarter. What makes the place really unique is that the street is lined with cafes which pack up their chairs and tables just before the train arrives. Makes for a great photo spot but please adhere to safety rules of the location.
Planning your trip to Vietnam? Read our Complete Vietnam Guide before you go!