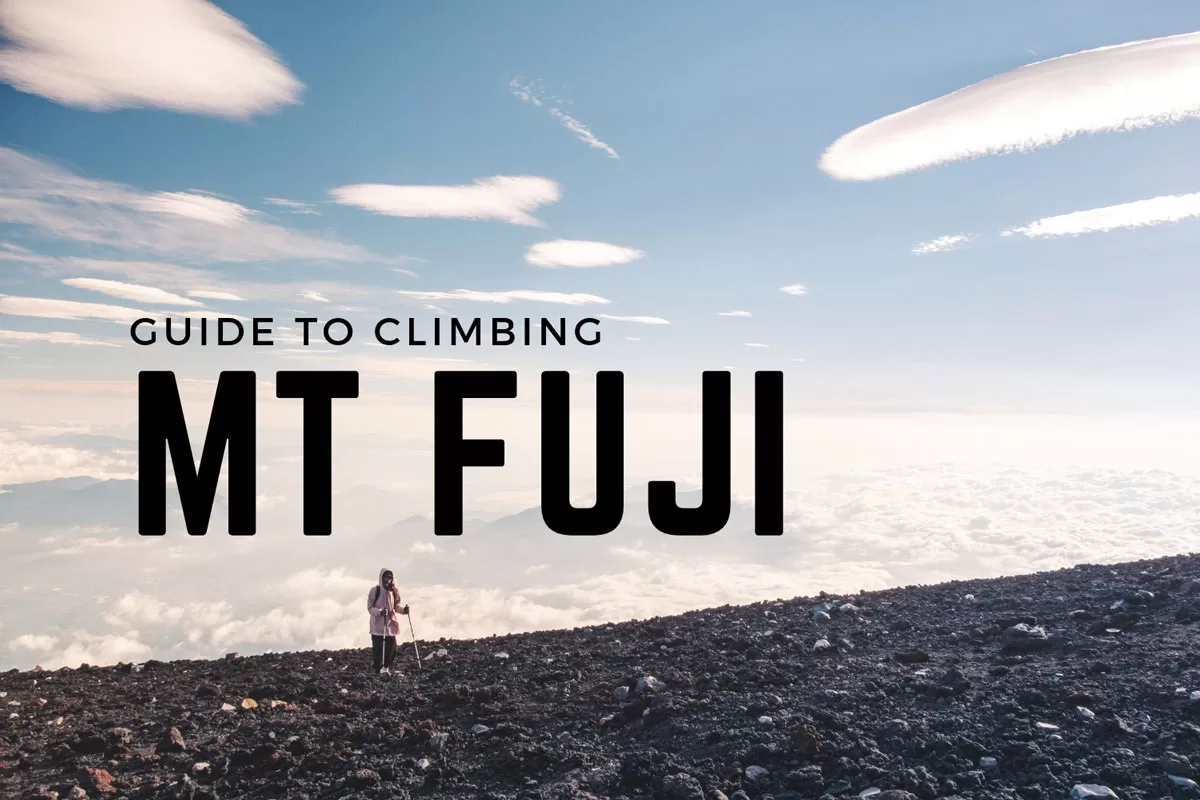 What to pack, how long, what's the cost, and everything else you need to know before climbing Mt Fuji.
Standing at 3,776 metres tall (12,389ft), Mt Fuji is Japan's tallest and most iconic mountain. Its beautiful symmetrical shape is revered by people from all over the globe, many of which set their eyes on summiting the mountain. To Shinto practitioners, Mt Fuji is a holy site and climbing the mountain is seen as a pilgrimage to purify themselves. In this post, we go through everything you need to know before embarking on your own pilgrimage so that you're as prepared as possible for the challenge ahead.
---
Climbing Season
Mt Fuji is open to climbers all year round but it is highly recommended for people to do their climb during the climbing season (typically early July to early September). The reason is mainly due to weather conditions near the summit and the closure of the mountain huts which can provide emergency aid/supplies/evacuation. Only experienced mountain climbers should consider anytime outside of climbing season. You can check the official dates of the climbing season on fujisan-climb.jp
---
Which Trail?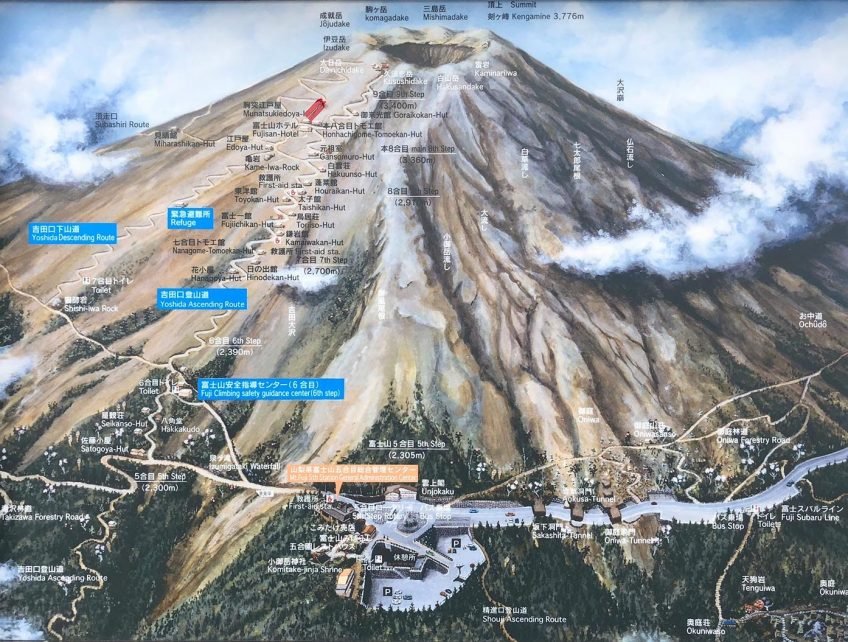 Altogether there are 4 main trails which lead to Mt Fuji's summit:
Yoshida
Fujinomiya
Subashiri
Gotenba
The Yoshida trail is by far the most popular trail – 172,657 people hiked the Yoshida trail in the summer of 2017, coming in second with less than half the numbers was Fujinomiya with 70,319 people (statistics from fujisan-climb.jp).
Yoshida's popularity can be credited to its convenient access from Kawaguchiko station, many mountain huts selling supplies, more first aid centers along the trail and because it is the true pilgrimage route taken by Shinto practitioners. We have only climbed via Yoshida so the rest of the post will only go into detail for this trail. However, we spoke to an experienced Fuji climber who said he prefers climbing Fujinomiya due to the shorter distance, but he warns it is very steep and for recommends Yoshida for first-timers. More information on the trails can be found on fujisan-climb.jp.
---
Where to Start Your Climb
This all depends on where you decide to start your climb. Very few climbers start from the base of the mountain and instead opt to start at the 5th station halfway up the Yoshida trail. Why? Well, the main reason is that it's the highest point reachable by vehicles which makes the climb easier. Also, before 5th station the trail runs below the treeline so there is little to see along the way. From the 5th station it is still around 6 hours to the summit.
To reach the 5th station you can hop on a 1-hour bus from Kawaguchiko station (2,200 yen return) which you buy on platform 7 before boarding. The return ticket is valid for multiple days so those looking to do a 2-day climb can rest assured. Expect long queues for the bus after 10am and even longer on weekends.
---
How Long is the Climb?
Hiking the Yoshida trail from the 5th station took us 6 hours to ascend and 3 hours to descend, this included time for photos, food and plenty of breaks along the way. You will also need to factor in around an hour prior to the climb to acclimatise to the altitude at 5th station – we can't stress enough how important it is to take the time to acclimatise.
---
Bullet Climb vs 2-Day
The next step in understanding how long your climb will be is to decide whether you're going to split it into 2 days or do it in one shot (a.k.a bullet climb). Bullet climbing is rather challenging as you're not giving your body much time to rest and acclimatise before reaching the summit, but it is the best method if you're either tight on time or if you want to save money as you won't need to book a night stay at one of the mountain huts. We don't recommend bullet climbing if you're not an experienced hiker or if you're thinking of watching the sunrise from the top as this will mean hiking in the dark most of the way.
We decided to do a 2-day climb so that we could easily watch sunrise the next day. It's also important to remember that summiting Mt Fuji is great but most of the enjoyment comes from the climb itself, so why rush it?
---
Accommodation on Mt Fuji
Most mountain huts along the Yoshida Trail provide accommodation but generally, these need to be booked in advance due to high demand. We stayed at Fujisan Hotel as it was one of the closest mountain huts to the summit – this meant we had less of a hike the next morning. The mountain huts are expensive for what essentially is a sleeping bag alongside many others on a bunk, we paid 7,200 yen each plus 1,000 yen booking fee for a night stay including dinner. Dinner was a delicious hamburger and sausage curry with pickled radish, but the portions are fairly small. Additional food and drinks are available 24-hours at Fujisan Hotel but expect higher prices than normal (fair considering you're 3,000 plus metres up a mountain).
After dinner, we were squeezed (we mean this literally) into a sleeping bag along a row of many others. Our tip would be to bring a pair of earplugs to block out snorers and an eye-mask or equivalent to block the lights which are on throughout the night. We're fairly accustomed to both these problems from our travels but one we didn't expect was how stuffy the room became. Because of the lack of ventilation, understandable as to keep the heat in, it made breathing difficult and this was on top of the thinner air from high altitude.
Despite this, we still recommend booking a night stay as the alternative is to rest outside where temperatures easily drop below zero when the sun sets. There were a few people who opted to do this but they honestly looked like they were really suffering. We're all for saving money and budget travelling but this, for us personally, was a step too far. Please note you are not allowed to set up tents on the mountain.
To book Fujisan Hotel visit fujimountainguides.com. Payment is made upon your arrival and Fujisan Hotel do accept credit cards.
---
Do I need to be an Experienced Hiker?
In short no, we saw people of all fitness and ages challenging the climb and summiting. The availability of supplies and access to emergency aid from mountain huts also reduces the difficulty of climbing Mt Fuji. But there are a few challenges which you should know before you go:
High Altitude
The biggest challenge and the most common reason why people fail their climb is due to altitude sickness. Altitude sickness is the result of climbing in altitude too quickly. Symptoms include nausea, vomiting, muscle aches and dizziness. Both Sarah and I experienced altitude sickness during our climb at different points and this was even with an hour of acclimatizing at 5th station and spending a night at the 8th station. Please note, your level of fitness does not necessarily correlate with your likelihood of altitude sickness.
The best way to prevent altitude sickness is to give yourself plenty of time to acclimatise, preferably at each station. Also drink plenty of water, take many breaks, climb at a slower pace or buy one of the oxygen cans available from the mountain huts.
Very Cold Temperatures
It's really difficult to imagine how cold it is at the summit of Fuji during the summer months, but temperatures are generally 0°C and below – it is often very windy at the top so temperatures may feel even colder than recorded. You might feel fine on the way up but remember your body would have been warmed up from the hiking. If you're hoping to watch sunrise you might have to sit and wait several hours in freezing conditions.
Bring plenty of extra layers: thermal top and bottoms, down jacket, windbreakers, hats, and gloves. Don't be the fool shivering in shorts and t-shirts, yes there were a few.
You can check Mt Fuji summit weather reports using tenkura.n-kishou.co.jp. Note the website is in Japanese so you will need to use Google Translate. We recommend this site because of its forecast accuracy and a handy grading system to determine whether it is safe to climb Mt Fuji.
Uneven/Slippery Rocky Terrain
The majority of Yoshida Trail is along very uneven rocky terrain so you will need to wear shoes with good grip, preferably hiking shoes. There are some steeper sections that will also require you to clamber using all fours but nothing too strenuous nor too difficult. The way down is especially slippery and dusty so you might want to consider bringing along hiking poles for balance and a bandana or buff to cover your mouth and nose.
---
What to Bring/Pack
Here's a packing list of gear and items we wore/brought along (excluding camera gear):
Clothes
Short sleeve top – it's hot hiking most of the way up
Shorts – same as above
Long sleeve thermal top – cold when you reach the summit
Thermal trousers – same as above
2x Pairs of socks – in case it rained, hiking in wet socks sucks
Hiking shoes – or shoes with good grip
Gloves – your hands will be freezing in the morning
Down jacket – lightweight and warm. Sarah brought a hoodie which was fine too
Rain jacket – rain protection and windbreaker
Optional items
Cap – as you reach above the clouds the sun will be very strong
Sunglasses – so you're not squinting the whole climb and helps prevent dust getting in your eyes
Sunscreen – UV rays are stronger at higher altitudes
Bandana – shield mouth and nose from the dust on descent
Portable charger – there are no charging points anywhere along the hike
Hiking poles – makes the climb easier
Head torch – a torch would also be fine but it's nice to have your hands free
Compass – getting lost will be very difficult but this was useful to tell where the sun was rising from
Rain cover for bag – protects everything inside your bag
Plenty of 100 yen coins – for toilets
Food & drinks (optional as you can always buy at mountain huts)
2 litres of water – if this is too heavy bring 1 litre and restock when needed
A bunch of bananas
4 onigiris
Chocolate bread rolls
Calorie Mate
Sweets – Sarah refuses to hike without them
We recommend bringing a 30L backpack which will easily fit all these items.
---
Can I Rent Gear?
If you forgot to pack your hiking gear and just don't want to pack the extra weight, you can rent equipment ranging from hiking boots, hiking poles to head torches and extra warm layers. Rental shops can be found at both Kawaguchiko and at the 5th station.
---
What about my luggage?
If you're travelling to Japan with a suitcase you're obviously not going to want to bring it with you to the summit. There are lockers available at the 5th station but we don't recommend counting on using these as they are generally full during climbing season. There's nothing worse than turning up with your suitcase and luggage only to realise there's nowhere to put them.
Alternatively, you could use the lockers at Kawaguhiko Station. These are also typically full during the climbing season but you can speak to a member of staff who will be able to keep it in a secure office if all lockers are taken.
Another option is to contact hotels and hostels in Kawaguchiko and see if they have luggage storage facilities available. Even if you're not a guest it is worthwhile contacting a hotel as often they will charge less than the rates of the lockers and locker room at Kawaguchiko Station.
We ended up contacting the accommodation we were staying at after our climb and they were happy to keep our luggage for free, it never hurts to ask 😉
---
How Much Does it Cost to Climb Mt Fuji?
This will vary depending on the trail you choose, how you decide to get there and what you decide to buy while on your climb. We've summarised our cost for 2 people below but please note prices were from climbing in 2018 and are subject to change:
| | |
| --- | --- |
| Item | Cost (¥) |
| Fujisan Hotel + dinner | 15,400 |
| Bus: Kawaguchiko to 5th station | 4,400 |
| Voluntary donation | 2,000 |
| 2L water before hike | 100 |
| Extra food supplies before hike | 2,500 |
| Mini Mt Fuji walking stick | 700 |
| Stick stamps (4 times) | 1,200 |
| Toilet (4 times) | 800 |
| Coffee at mountain hut | 500 |
| Hot Chocolate at mountain hut | 400 |
|   |   |
| Total for 2 | 28,000 |
---
Mt Fuji Walking Stick
You might be wondering what a Mt Fuji Walking Stick is exactly, well it's arguably one of the best souvenirs you can get to remember your climb and proof of your accomplishment. The sticks themselves aren't anything special, in fact they're literally just an octagonal wooden stick with either a bell or a flag tied on. But as you ascend Mt Fuji you will notice most mountain huts offer a stamp service (200-300 yen) to brand your walking stick – each one unique to others.
You can purchase the walking sticks from combinis at Kawaguchiko, 5th station (where it's cheapest) and at several other mountain huts along the trail. The sticks come in various sizes but if you are looking to get every stamp along the way you will need the largest size – note the walking sticks are huge and will need to be checked in as luggage when flying home. We decided to go for the smallest size (as we still have over half a year left backpacking Japan) which cost us 700 yen. You can only get about 4-8 stamps on the smallest stick but we felt there were only 4 stamp designs worth getting anyway. The choice is obviously up to you.
---
Voluntary Donation
This is an optional donation of 1,000 yen which you pay right before departing the 5th station. Donators will be given a small wooded charm with Mt Fuji carved into it (pretty neat souvenir too). We do recommend donating as this goes towards environmental conservation plans and safety measures. You can find out more on fujisan-climb.jp.
---
Mt Fuji app
To ensure more climbers don't get lost on the trail, an official Mt Fuji Climbing app has been launched on both Android and iOS. With the app you can check your current location on the trail even without phone signal, it also provides information on how long the next portion of the climb is and the quick details of the services and facilities provided at each mountain station. There's even a handy bus schedule for when you reach back down to the 5th station and want to head down the mountain.
You can download the app using the following links: iOS, Android
---
Was it Worth it?
Summiting Mt Fuji was a goal we set ourselves around 3 years prior to our climb, so was it worth the wait (and effort)? Our answer is a resounding yes. There is definitely a sense of achievement having summited Japan's tallest mountain, one I'm sure hikers and climbers of all backgrounds can understand. Sure, there are more challenging, scenic and fun hikes you can do around the world – but few are as symbolic as Mt Fuji.
We hope you enjoyed our Guide to Climbing Mt Fuji. If you have any additional questions please do drop us a comment or send us an email at [email protected] and we'd be more than happy to answer!
Happy climbing! 😀