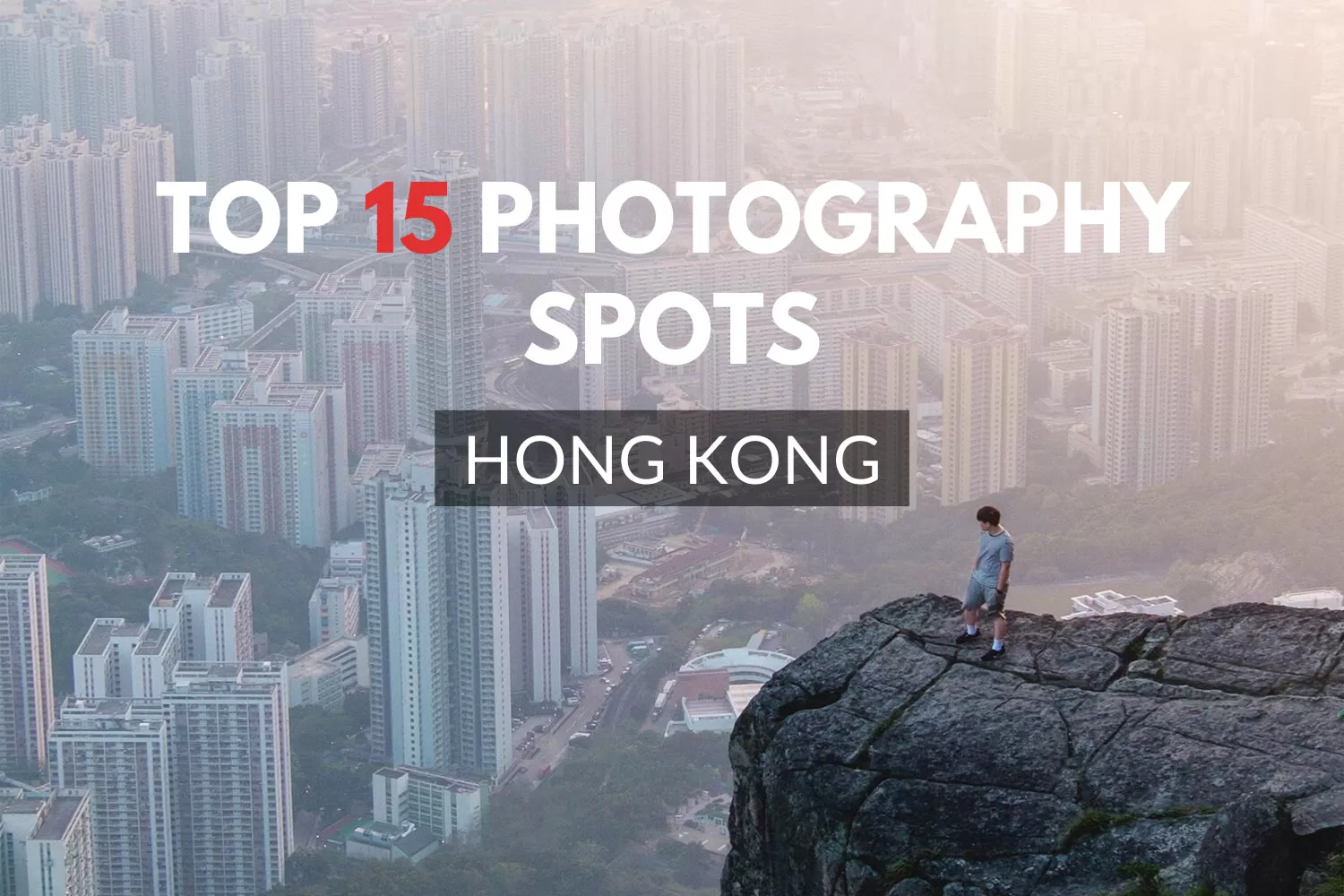 Hong Kong is truly a photographers playground, from soaring skyscrapers to wild country parks, the Far East city has it all. Over the course of two years, we explored the city inside out with our cameras in hand; and after these two years we've come up with our top 15 Hong Kong photography spots including how to get there and when you'd want to go…
1. Lion Rock (獅子山) – Location
How to get there: Alight at Wong Tai Sin MTR station and head to Fat Jong Temple to start the hike
Best time to visit: Sunrise or sunset for the best light. Avoid weekends if possible
Lion Rock is not only one of Hong Kong's best hikes but it's also one of the best spots for photography. The unusual name comes from the mountain's form which, if you haven't guessed already, is shaped like a lion perched on a hill. The very top of Lion Rock offers a stunning view which looks down on all the towering skyscrapers of Kowloon. But before going, do make sure to check visibility conditions as you'll want to see the view extend all the way over to Tsim Sha Tsui and Central.
---
2. Xiqu Centre (戲曲中心) – Location
How to get there: Alight at Austin MTR station
Best time to visit: Evening
Opened at the start of 2019, the Xiqu Centre is Hong Kong's newest home for Cantonese Opera. But photographers will likely take most interest in the building's ultra-futuristic design. It's exterior is inspired by the shape of a Chinese lantern, while the inside looks like it came straight out of a sci-fi movie. The building's atrium gets very busy throughout the day but starts to quieten down in the evening so it's best to plan your visit then – plus there's the upside of seeing the building illuminate at night.
---
3. Tsim Tsa Tsui [harbourfront] (尖沙咀) – Location
How to get there: Alight at Tsim Sha Tsui MTR station
Best time to visit: Sunrise or sunset
Tsim Sha Tsui's harbourfront is a long-time favourite spot for photographers. The sight of Star Ferries shipping back and forth between the harbour with the iconic city skyline as a backdrop is seriously hard to beat. Note that this is easily one of the busiest areas when it comes to the number of tourists around. To avoid this, visit first thing in the morning where you'll usually find yourself in the company of locals doing their tai chi. But if you're looking to photograph the Star Ferry or Junk Boats then around sunset will be best.
---
4. Red Incense Burner Summit/Braemar Hill (寶馬山) – Location
How to get there: Alight at Tin Hau MTR Station and take minibus 49M and alight at Braemar Hill Bus Terminal
Best time to visit: Sunset. Avoid weekends if possible
Another one of Hong Kong's impressive hilltop viewpoints. This one requires a little hiking to reach the summit but nothing too difficult. Once you arrive at Braemar Hill Bus Terminus head to the left of the nearby school where you'll find some steps leading down to a pathway – this will be the start of the trail. The hilltop is actually rather small as many areas have trees blocking the view, so you want to make sure you either get up there a little early to find some space or avoid going on the weekends.
---
5. Fortress Hill (炮台山) – Location
How to get there: Alight at Fortress Hill MTR station
Best time to visit: Avoid rush hour and lunchtimes
Hong Kong is well known for its shiny tall skyscrapers, but explore deeper and you might find yourself surprised at how colourful the city can actually be. One of the best examples of this is right outside Fortress Hill MTR Station where you can find a beautiful checkered painted staircase. It's best to visit this location outside of rush hour and lunchtimes due to its close proximity to the MTR station.
---
6. Shing Mun Reservoir (城門水塘) – Location
How to get there: Minibus 82 from Tsuen Wan, alight at Shing Mun Reservoir
Best time to visit: A few days after plenty of rainfall to allow the reservoir to fill up
It's not often you find Shing Mun Reservoir on a Hong Kong visitor's must-see list – but we think it should be. Located in the New Territories, Shing Mun Reservoir is a far cry from the bustling city typically associated with Hong Kong. Instead, Shing Mun Reservoir offers an oasis of greenery home to numerous wildlife including lush Fung Shui woods and wild monkeys. For the best photography spots head down to the banks of the reservoir, but please note it will be very muddy in certain areas.
---
7. Ma Tso Lung (馬草壟) – Location
How to get there: Minibus 51K from Sheung Shui, alight at the Police Post. It's a 10-minute walk from there
Best time to visit: Arrive before the sun sets to watch Shenzhen's lights turn on
Up until 2013, Ma Tso Lung was part of a restricted area used as a buffer zone to help prevent illegal immigrants crossing into Hong Kong from mainland China. Now that the entry restrictions have been lifted, visitors can head to the border and find one of Hong Kong's most beautiful photography spots. What we love most about Ma Tso Lung is the contrast between the wetlands and fishponds to the towering skyscrapers of Shenzhen. As it is fairly remote, do check conditions before you go, in particular, visibility as the area commonly suffers from haze coming in from Shenzhen. Also, please note the last minibus times or have a taxi number saved as it'll be very difficult to get back otherwise.
---
8. Temple Street Night Market (廟街) – Location
How to get there: Alight at Jordan MTR station
Best time to visit: After 4 pm when most of the market stalls are open
Temple Street Night Market is one of our favourite night markets in Hong Kong. Here you'll find stalls packed with trinkets, fortune tellers and street karaoke all in one place, and the best way to capture the vibrant energy of Temple Street Night Market is to get a birds-eye view. Head over to Kansu Street to find the multi-story car park. Any floor will work here, but we liked the lower ones for the better angle. Please keep in mind that tripods are not allowed here and this is a car park so be aware of moving vehicles. Also, we've caught wind that the car park may be torn down later so go soon!
---
9. Choi Hung Estate (彩虹邨) – Location
How to get there: Alight at Chung Hung MTR station
Best time to visit: Early in the morning and on a weekday
If you're looking for a splash of colours in your photos then you'll want to visit Choi Hung (Rainbow) Estate. As its name suggests, this photo spot is an estate that has been painted in the colours of the rainbow. To get the best view of all the colours you will need to visit the playground above the car park located in the middle of the entire estate. This has become an immensely popular spot thanks to Instagram but if you get there early in the morning on a weekday you'll be able to get a few photos in without anyone else in the frame.
---
10. Tung Ping Chau (東平洲) – Location
How to get there: Board a ferry from Ma Liu Shui Ferry Pier
Best time to visit: Anytime
Looking for something most visitors don't see when they come to Hong Kong? Jump on a boat and visit the city's most remote location, Tung Ping Chau. The crescent-shaped island is home to many unique sedimentary rock formations which also makes the island a great spot for photographers. Reaching the island is a little difficult, you'll need to take a ferry from Ma Liu Shui Ferry Pier which takes around an hour and a half. Please check ferry times (to and fro) before going – if you miss your ferry back you're going to have to camp overnight.
---
11. Lugard Road (盧吉道) – Location
How to get there: Either take the tram or bus 15C to the Peak and it's a 5-10 minute walk from there
Best time to visit: Before sunrise or after sunset
Hong Kong's city skyline is arguably the most iconic photo you can take of the city but the standard view from the Avenue of Stars (Tsim Sha Tsui) or The Peak (Central) is getting old for many. Instead, take a walk down Lugard Road just 5-10 minutes away from the Peak to find an unobstructed close-up view of Victoria Harbour. This Hong Kong photography spot looks its best during sunrise but if you're not an early morning person then come in the evening when the lights come on for an equally impressive scene.
---
12. Suicide Cliff (自殺崖) – Location
How to get there: Minibus 1 and alight a Fei Ngo Shan
Best time to visit: Sunset
Suicide Cliff isn't for the faint-hearted so if you're afraid of heights you might want to skip this one. This spot is located on Kowloon Peak just behind the weather station. Suicide Cliff got its nickname thanks to its extremely sharp and steep cliff edge. From the top, you will have an incredible view of Kowloon on one side and Sai Kung on the other. We recommend not taking the short route up as this is much steeper, instead walk 30 minutes along Fei Ngo Shan Road to get to the trailhead with stairs – it might take a little longer but it is so much easier and safer. Those going need to be aware of the potential danger and must understand the risks of walking near a cliff edge.
---
13. Ha Pak Nai (下白泥) – Location
How to get there: Minibus 33 from Yuen Long
Best time to visit: Sunset
This is one of our favourite places to watch a Hong Kong sunset thanks to the unobstructed view from the beach. Although not widely known to tourists, Ha Pak Nai is popular among locals. On our visit, we also found plenty of fiddler crabs poking their heads out of the sand. The only public transport which serves this location is minibus 33 from Yuen Long. Foodie tip: check out Kei Kee Dessert's famous "B Jai Leung Fun (B仔涼粉)" – you can thank us later.
---
14. Sai Wan Swimming Shed (西環泳棚) – Location
How to get there: Alight at Kennedy Town MTR station and walk 20 minutes
Best time to visit: Evening
The Sai Wan Swimming Shed is the only one of its kind still open to the public in Hong Kong, but more recently it has become a popular spot for photos. Due to the location it faces, Sai Wan Swimming Shed is a great spot for sunset – the only problem is that everyone else in Hong Kong knows this too. On a weekend you can expect long queues lining up to walk out onto the wooden pier. We recommend skipping sunset altogether and instead wait until later in the evening when the crowds disperse. You can reach the spot by alighting at Kennedy Town MTR station and walking around 20 minutes down the road.
---
15. Sunset Peak (大東山) – Location
How to get there: Bus 3M, 11 or 23 and alight at Pak Kung Au
Best time to visit: Sunset in autumn
Rounding off our list of top Hong Kong photography spots is the city's third tallest peak – Sunset Peak. To reach this spot you will need to embark on a two-hour hike, but trust us the views are worth it. From the name alone you would have probably already guessed that the best time to visit is at sunset, we recommend bringing along some camping gear so you can watch the sun go down without having to worry about another 2 hours of hiking in the dark. If you happen to go during autumn you will also be able to marvel at thousands and thousands of silver grass plants spread all along the hillsides. To start the hike take bus 3M, 11 or 23 from Tung Chung and alight at Pak Kung Au.
---
And there you go, these are our top 15 Hong Kong photography spots. Let us know if you guys head out to any of these places and we'd love to see what you create!
If you're looking to up your travel photo game, read 9 tips to improve your travel photos.