Zermatt is renowned as one of Europe's top destinations for skiers and snowboarders, but what about those who don't ski? In this post, we cover some of the activities and sights you can do in Zermatt for non-skiers (like us).
Disclaimer: We partnered with Zermatt Tourism Board to bring you this post but all words and comments are our own.
Zermatt Village
You can easily spend a few hours getting lost in the charming village of Zermatt itself. The main street is lined with cute shops and restaurants where you can try some of the local foods including Rösti and Cheese Fondue. Don't forget to visit Petit Royal Zermatt, also located along the main street, for their deliciously rich hot chocolate!
Head deeper into Zermatt to find it's Old Village. The buildings here are constructed in a traditional style of the barns and stores of the upper Valais. Impressively, they still sit on flat stone slabs balanced on stilts to keep out mice and provide a dry place for the firewood.
Matterhorn two peaks
The Matterhorn is undisputedly a symbol of Switzerland, and the beautiful jagged-tooth mountain stands proudly just above Zermatt – you'll find impressive viewpoints all over town. But for a more adventurous experience you'll want to head up either Matterhorn Glacier Paradise or the Gornergrat Ridge. The former is Europe's highest mountain station with 360 degrees views of the surrounding alps, an ice tunnel, cinema lounge and more; while the latter boasts Europe's highest open-air funicular railway which offers unique views of Matterhorn along the whole way.
Both are worth visiting and those looking to do so can take advantage of the Peak2Peak ticket which covers all transport to and fro the two peaks as well as entrance to the ice tunnel at Matterhorn Glacier Paradise.
Tickets can be booked in advance over at Zermatt Tourism's website
Glacier Express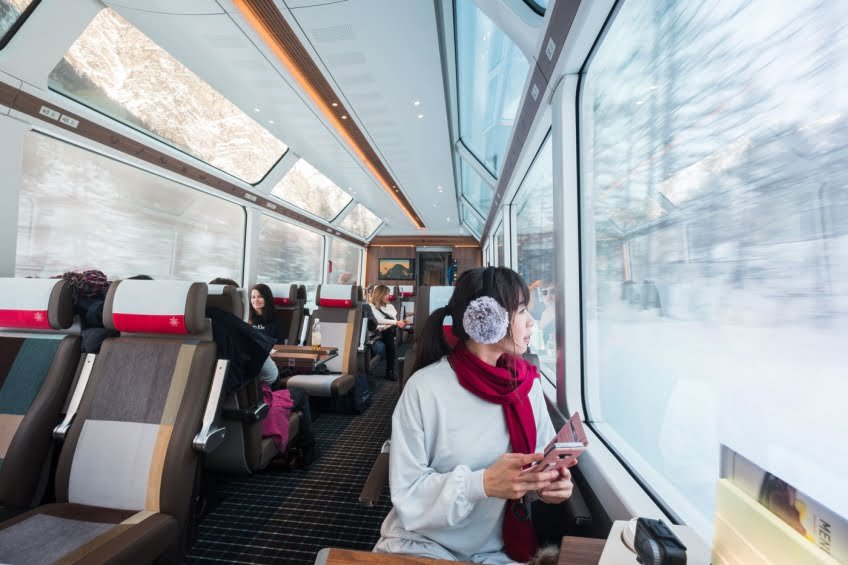 A perfect way to see Switzerland's picturesque lands is straight from the window of the Glacier Express train. What separates the Glacier Express to normal trains is the three-course meal served on-board, audio guide offering tidbits of information along the way, the panoramic-windowed carriages, and first-class comfort and service just to name a few. The train journey starts or ends in Zermatt so it's a great idea to add a Glacier Express ride to your travel itinerary before or after Zermatt. Please note, the Glacier Express is extremely popular with travellers so it's best to reserve your tickets well in advance. Glacier Express tickets can be booked on their website.
Winter hiking/snowshoe trails
Hiking in Zermatt isn't limited to just the warmer seasons, during winter there are around 70km of hiking trails waiting to be explored. For the more adventurous you can rent snowshoes from local sports shops before heading out on one of the snowshoe trails.
All trails are well maintained throughout winter but we'd recommend visiting the Zermatt Tourism website (using the links above) to check the conditions for each of the trails before setting off as snowfall overnight can cause closures.
Learn to ski
If you can't beat them, join them! There's no better place to learn how to ski or snowboard than on the stunning slopes of Zermatt. The ski resorts here open 365 days a year with plenty of beginner slopes for you to practice on. For more skiing packages and more information visit the Zermatt Tourism website.
Looking for more travel inspiring articles? Check out our other posts from Travel the World