Exploring Europe by train is one of the classic adventures sought by travellers from all around the world. But the idea of entering multiple countries and travelling to multiple destinations can be confusing and daunting. Enter Interrail (or Eurail for non-European citizens) – a simple and flexible way to get your Eurotrip going. In our Complete Guide to Interrail/Eurail, we'll go through everything you'll need to know from the benefits that come with an Interrail Pass to tips on planning your dream rail adventure.
Book your Interrail/Eurail pass here.
Disclaimer: We partnered with Interrail to bring you this guide but all words and comments are our own.
What is Interrail/Eurail?
Let's kick things off with the basics: what exactly is Interrail/Eurail? Eurail is a company founded back in 1959 to offer train passes allowing travellers to discover Europe. Their passes today allow travellers to reach over 40,000 destinations across 33 countries by utilising the great European railway network.
The names Interrail and Eurail are often used interchangeably but the brand you'll want to focus on will depend on your passport. European citizens will need to purchase an Interrail Pass, whereas non-European citizens will need to purchase a Eurail Pass. Moving forwards, we'll use the name Interrail to denote both brands. 
Why use an Interrail Pass?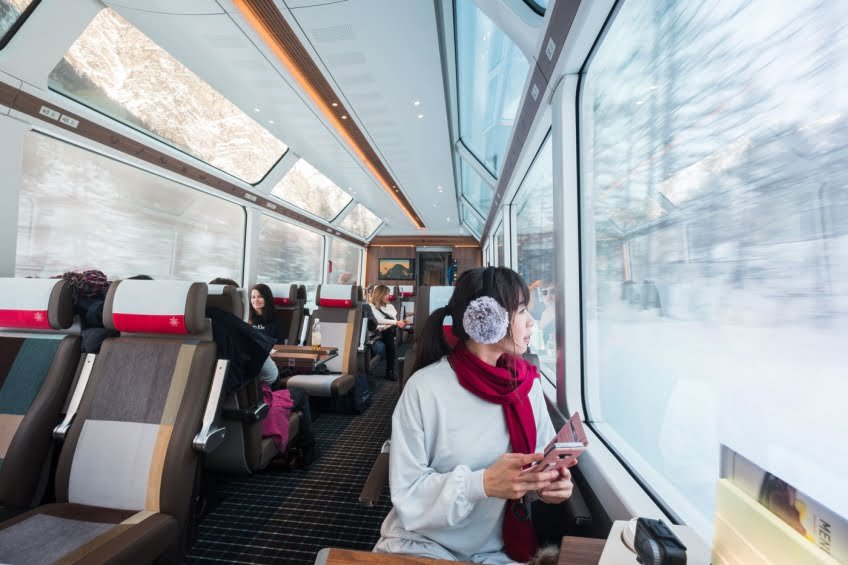 An important point we'd like to make is that it is possible to embark on your European train adventure without an Interrail Pass but we would highly recommend picking one up. Here are a few reasons why you might want to use an Interrail Pass:
Price
Perhaps the strongest reason for picking up an Interrail Pass is the money you could potentially save. The cost of taking all the same trains we took if we didn't have a pass would have cost us £156 more each. The savings were amazing and they would have been even higher had we not cut our trip by two weeks (we held one-month passes) due to the coronavirus situation. We would recommend calculating the cost for your own itinerary to see if you'll get savings with an Interrail Pass. As a general rule: the more trains you take, the more you can save.
As an Interrail Pass holder, you are also entitled to certain discounts on your travels. These can include discounts for accommodations, car rentals, other forms of transport, city cards, tours and more. We were able to take the famous Glacier Express train in Switzerland for a fraction of the price (we paid £37 each for 1st class seats, whereas 2nd class seats without a discount would have cost us £162 each). So make sure to add these benefits when calculating your costs.
Simplicity
If you calculated the cost of each train you might take, you'll know how things can get exponentially complicated as you add more trains, more destinations and more countries. An Interrail pass cuts out a lot of the difficulty as you won't need to purchase a ticket before boarding. Just turn up at the right time, fill in your travel diary and you're done (more on how to use your pass later). There are exceptions when you will need to reserve your seat for specific trains but this process is often very straightforward.
Flexibility
With an Interrail Pass, you can freely select destinations as you travel. Though we all like to think our itineraries are perfect from the get-go, it's often important to allow flexibility in your plans just in case you decide to make changes. This is often the case when travelling in Europe as there are endless options when it comes to destinations you could go to next. You might also meet locals and other travellers along the way who may have great recommendations on places to visit, so having a degree of flexibility is always great.
Trains vs Planes
Using an Interrail Pass means you'll mostly be using trains and with this comes so many advantages:
The first is comfort, trains are just more spacious and won't dry out your skin as you travel. Mobile signal and sometimes Wi-Fi is available when travelling on trains which will allow you to track your current whereabouts, plan your upcoming journeys or kill some time with social media and Netflix.
The second advantage; is you have no luggage restriction! Now, this doesn't mean you should carry three or four suitcases but it does mean you don't have to pay extra for luggage or worry about weight limits which are a constant problem we have with many short-haul budget airlines.
Advantage number 3, you'll be doing the planet a favour. Trains are far more eco-friendly than travelling with planes. This is especially true for short-haul flights as most of the fuel and emissions are used during take-off and landing.
And lastly, there are just so many great views that you'll miss if you're flying above the clouds. Europe has some of the most scenic landscapes which can be seen straight from the train windows (Switzerland and Austria being our favourites).
Buying an Interrail Pass
Passes can be bought from the Interrail and Eurail websites. Once on their store, you'll find two types of passes: Global Pass and One Country Pass. The Global Pass allows you to travel to as many countries as you want, whereas the One Country Pass is cheaper but allows you to travel only within one country. 
The Global Pass has the option to set a limit on the number of days you can travel with your pass in the chosen time frame e.g. seven days of travel within one month. The alternative is to have no limit on the number of days within your chosen time frame e.g. you can travel every day within one month. The former will be cheaper but you'll need to plan ahead and do the bulk of your travelling within a day to make the most of the pass – this option is best if you're not looking to make many stops but need to cover a large distance. We prefer the option to travel any day as there are just so many great places you can visit between the major cities and destinations.
Note, the One Country Pass only has the option of setting a limit on the number of days of travel within your chosen time frame.
Before purchasing your pass please remember to factor in the delivery time. You can find the delivery time and costs here (for Eurail here).
How to use an Interrail Pass
In your Interrail package, you'll receive a sleeve that includes the Pass itself, a guidebook and a map. Firstly, double-check the pass to make sure the name and other details (such as start date and end date) are correct. Also, remember to bring the sleeve and everything inside with you, it's indicated that the sleeve is actually part of what validates the ticket!
The process of using your Interrail Pass is extremely simple, just note down the date, time and where you're going (from and to) in the travel diary below the pass. You must do this before boarding the train for your journey to be valid using your Interrail Pass.
If the train requires a seat reservation then you must do this before getting on the train too. Some only let you reserve a day prior while other trains are very popular so require reserving further in advance. Once reserved, you'll receive an email that includes your ticket which you use alongside your Interrail Pass. Note, you still need to write down the journey in your travel diary.
Tips for Interrail Pass
Planning
As mentioned previously, there are over 40,000 destinations you can visit using an Interrail Pass so the itinerary possibilities really are endless. How we started planning ours was to look at a map of Europe and start ticking where we wanted to visit. From here, you can start visualising possible routes you can take to efficiently travel to all the countries you ticked.
Next you'll want to break it down further to the places you want to visit within each country. This is usually the point where you realise you don't have enough time for everything so you'll need to decide on what to cut out of your itinerary.
Lastly, take a look at the timetable for trains and see how long it takes to travel from one destination to the next – you can do so using Interrail's train timetable. There are a few high-speed rails linking several countries so it may surprise you how quick it takes to get from one country to the next. Or, on the flip-side, you might realise a journey takes far longer than you initially thought so you'll need to cater additional time or alter your route.
Stuck on an itinerary?
If you really can't decide on an itinerary then take a look at some of the recommended itineraries created by Interrail for inspiration, or scroll further down to see ours.
Avoid reservation fees
Sometimes it is possible to avoid reservation fees by taking local trains. You can quickly filter out these options using the 'show more options' dropdown in the train timetable page and selecting local trains only. This will display alternative options without reservation requirements. But remember to take note of travel times as it can take much longer and may not be worth saving the money.
Double-check the station
Some of the cities may have more than one station, so make sure you know which one you're heading to. The last thing you'll want is to turn up at the wrong station causing you to miss your train.
Rail Planner App
This is the best tool when it came to planning our Eurotrip. You'll find the train timetable function built into the Rail Planner App as well as the ability to save specific train journeys/time. You can build and save your itinerary so you have access to it all the time. They also have a cool function that turns your itinerary list into a visual representation on the map. You also have the ability to reserve seats via the app as well as browse the different benefits you're eligible for with your Interrail Pass. The best part about the app is that it works offline too. Download it here.
Extra travel diary lines
With the massive number of trains you may take, you may run out of space on your travel diary. But fret not, Interrail is one step ahead! There are additional travel diary lines in the back of your guidebook – just cut it out to start using it. If this is still not enough, you can download and print out additional travel diary lines here.
Our itinerary
Our trip was cut short by two weeks but here's the full one-month itinerary (note Italy was excluded due to the situation there at the time):
France – 4 days
Day 1: London/Paris
Day 2: Mont St Michel
Day 3: Rennes/Paris
Day 4: Paris
Switzerland – 7 days
Day 5: Interlaken
Day 6: Interlaken/Lauterbrunnen
Day 7: Lauterbrunnen
Day 8: Lauterbrunnen/Zermatt
Day 9: Zermatt
Day 10: Glacier Express to St Moritz
Day 11: St Moritz/Innsbruck
Austria – 1 day
Day 12: Innsbruck
Slovenia – 3 days
Day 13-14: Lake Bled
Day 15: Ljubljana
Croatia – 2 days
Day 16: Plitvice Lakes National Park
Day 17: Zagreb
Austria – 5 days
Day 18-20: Vienna
Day 21: Salzburg
Day 22-23: Hallstatt
Germany: 6 days
Day 24-25: Fussen
Day 26: Munich
Day 27-28: Frankfurt
Day 29: Cologne
Belgium: 1 day
Day 30: Brussels
If you enjoyed this guide, make sure to check out our Complete Guide to Vietnam