Autumn is one of the most magical times to visit Japan and our personal favourite season to visit! In this guide, we'll cover everything you need to know to plan your trip, including the best time to go, where to visit, what to pack, and other top tips.
At the end, we'll also share three itineraries to help you get started in your planning. So whether you're looking for a quick weekend getaway or a longer vacation, we've got you covered.
Why visit in Autumn?
Off the bat we want to make it clear – Japan is an amazing country to visit all year round. It's one of the few destinations we recommend travellers visit no matter the time of year. So for us, the question isn't a matter of why visit Japan in autumn over other countries but rather why visit Japan in autumn over other seasons.
Less busy
After the hectic summer months, autumn sees lower levels of international and domestic travellers in Japan. For those wanting a quieter experience with fewer crowds then this will be perfect but we want to make it clear, this doesn't mean it won't be busy, just less busy than summer and spring. Autumn in Japan is out of this world beautiful and is gaining popularity as a fantastic time to visit Japan – You're probably on this guide yourself because you've heard or seen how magical it is in Japan during this time of year.
Cheaper prices
When there are fewer travellers around you can expect the prices of accommodations, flights and activities to be lower too. Businesses will also entice travellers with great promotions which could save you a significant amount compared to travelling in other seasons.
Autumn colours
One of the biggest draws of autumn in Japan is the spectacular display of colours as foliage changes from greens to vibrant oranges, reds and yellows. Autumn colours are beautiful all around the world but in Japan, it's more than just beautiful, it's a part of their culture. Going outside to admire autumn leaves is so rooted in their culture, that the Japanese even have a name for the activity: Momijigari.
Temperate weather
Autumn is a welcome relief from the hot and humid summer weather, and both residents and travellers alike enjoy the cooler, more temperate climate.
What months?
Autumn in Japan officially starts on the Autumnal Equinox, which falls on September 23 (2023) but may vary in other years. The autumn season then lasts through October, November, and even December in some parts of Japan.
Where in Japan is best for autumn?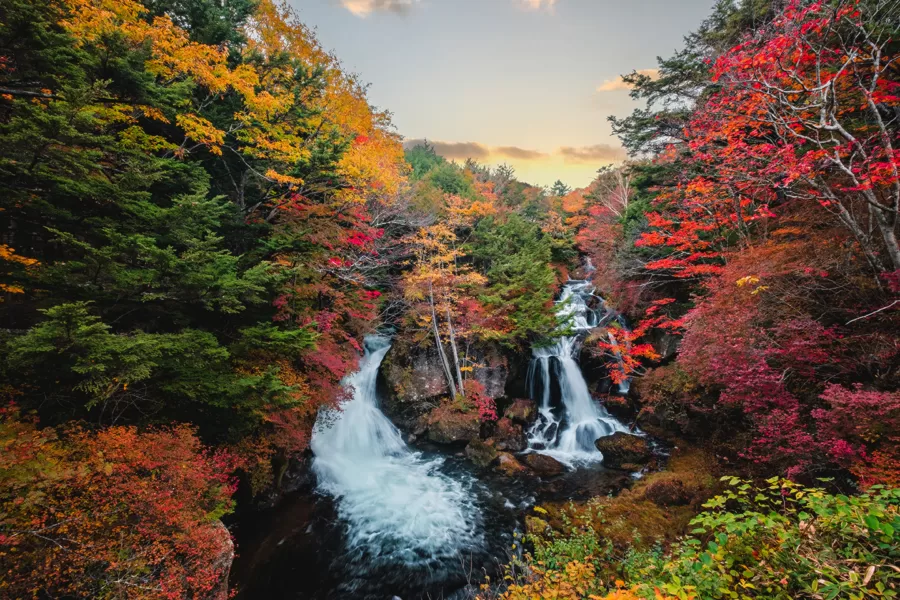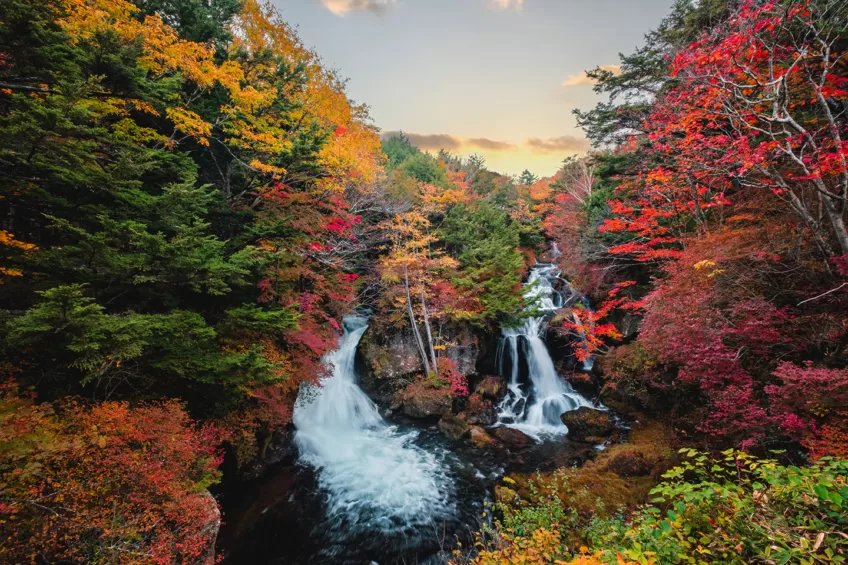 It's a cliched response, but we enjoy all regions of Japan for autumn and any would be a great choice. However, the regions of Tohoku and Kyushu are our personal favourites because they offer stunning natural areas to fully experience the autumn leaves.
If you're more into city breaks, Tokyo would be our top choice. The city has plenty to offer already but you also have fantastic spots to view autumnal colours including ​​Meijijingu Gaien and Mizumoto Park. If you're willing to make trips outside of Tokyo you also have good access to Lake Kawaguchiko, Nikko and Ibaraki – all offer breathtaking autumn scenes.
The further south and north regions, Okinawa and Hokkaido, are both excellent and often overlooked by international travellers for the autumn season. Autumn is the ideal time to be in Okinawa as it's hot enough to enjoy the array of outdoor and water activities and skips the scorching humid heat of summer. Hokkaido on the other hand is one of the premier regions when it comes to outdoors and nature so if you're seeking the maximum experience for autumn colours then head up north.
What's the weather like?
You can expect temperatures to range between 7C to 27C during autumn in Japan – note this is across the whole of Japan so it's highly unlikely you'll see such big swings in temperatures in one location. We've included a table below which includes the average temperatures of a few major cities across Japan. This should give you a good idea of what temperatures you might face on your trip.
What to wear in autumn?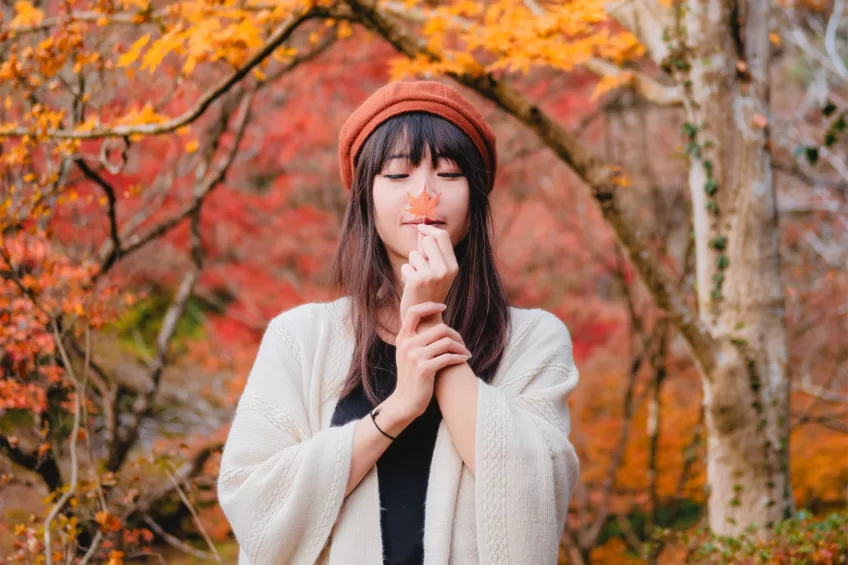 Bringing clothes you can layer would be ideal for autumn as temperatures can be nice and warm during the day but it can get cool in the evening and early morning. We typically pack enough clothes so we can go up to a week without washing.
The different kinds of trees/plants for autumn
Not everyone is a botanist so we've created a cheat sheet for some of the trees and plants to look out for in Japan during autumn.
Japanese Maple Tree
Scientific name: Acer palmatum
Where to see: all over Japan
Autumn colours: yellow, orange and red
---
Gingko
Scientific name: Ginkgo biloba
Where to see: all over Japan
Autumn colours: yellow
---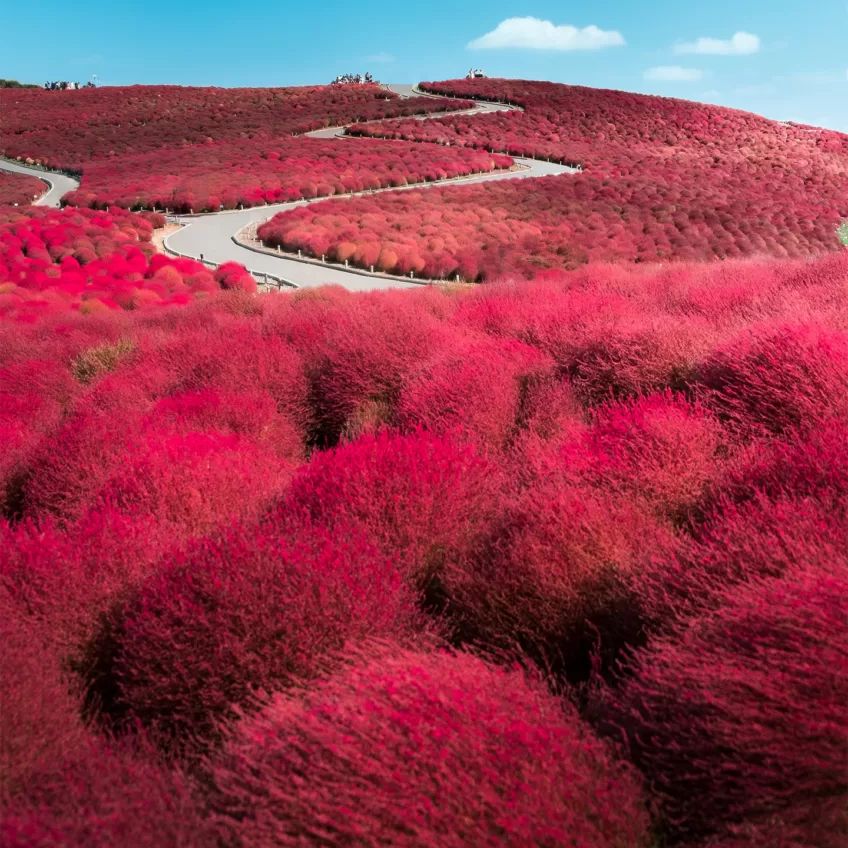 Kochia
Scientific name: Bassia scoparia
Where to see: Ibaraki and Lake Kawaguchiko
Autumn colours: red
---
Red Spider Lily
Scientific name: Lycoris radiata
Where to see: Saitama and Aichi
Autumn colours: red
---
Autumn foliage forecasts
It's super helpful to know what dates you can expect best viewings for autumn foliage as this will allow you to plan your trip accordingly. Check our 🍁 2023 Japan Autumn Foilage Forecasts are Live! for the latest autumn foilage forecasts by the Japan Meteorological Corporation (JMC).
Autumn Festivals in Japan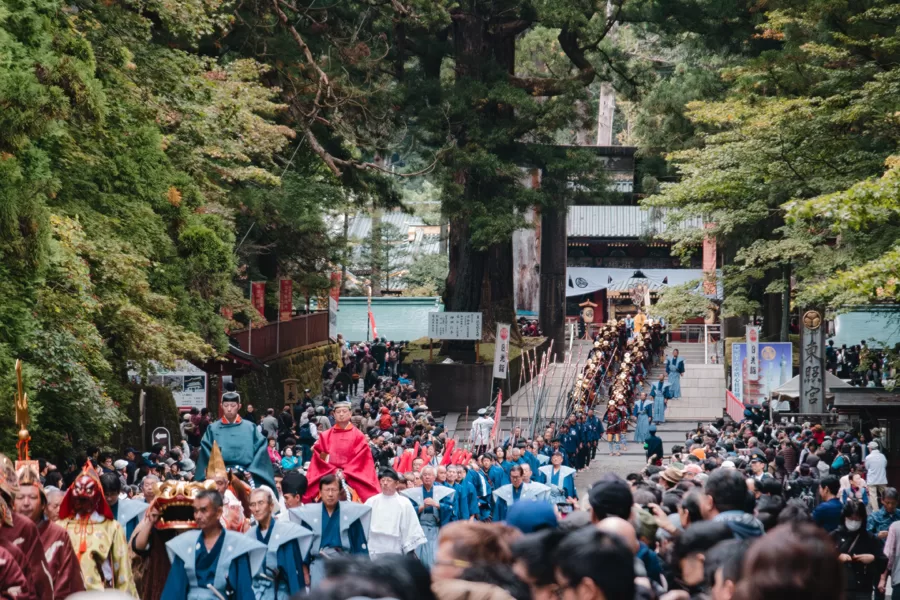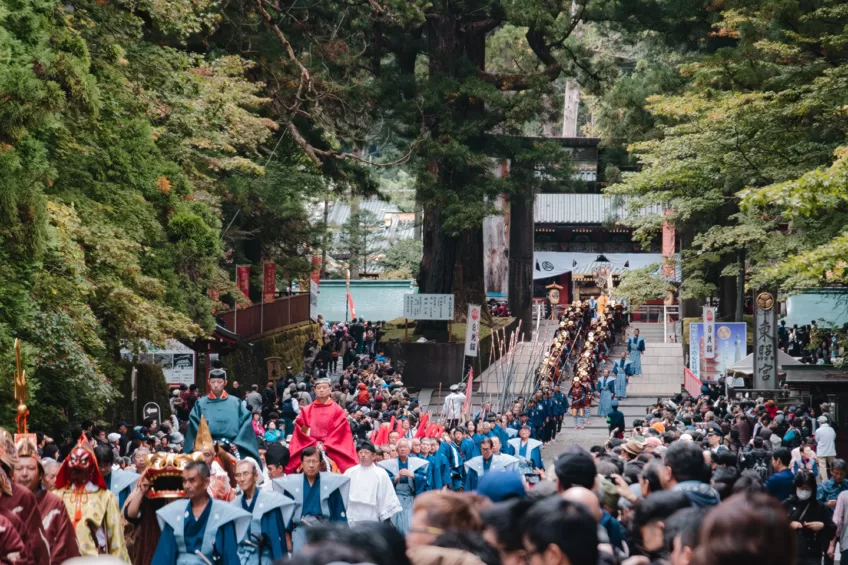 Festivals play a big role in Japan's culture and traditions, and it just so happens that some of the most unique festivals happen in autumn.
Autumn Grand Festival
When: October 16-17th
Where: Nikko
The Autumn Grand Festival in Nikko centres around the Toshogu Shrine, a UNESCO World Heritage Site dedicated to Tokugawa Ieyasu, the founder of the Tokugawa Shogunate. It is a time for people to pay their respects to Tokugawa Ieyasu and seek blessings for the future. One of the highlights of the festival is the grand procession that reenacts the funeral procession of Tokugawa Ieyasu. Participants, dressed in historical costumes, parade through the streets of Nikko accompanied by traditional music and rituals. This procession is a vivid representation of Japan's rich cultural history. The festival also features Yabusame, archery on horseback, and Kagura dance, a traditional Shinto dance performed by priests in ornate costumes.
---
Saga International Balloon Festival
When: November 1st-5th (2023)
Where: Saga
The Saga International Balloon Festival is an exciting and colourful annual event held in, you guessed it, Saga! This festival is the biggest hot air balloon festival in Asia and attracts visitors from all around the world. Participants from various countries come to Saga to showcase their unique and creative balloons and compete to see who's the best hot air balloon driver. If you're attending over the weekend, stick around after the sun sets as there is a special night illumination with balloons floating at night.
---
Kurama Fire Festival
When: October 22nd
Where: Kyoto
The Kurama Fire Festival is one of the more popular fire festivals in Japan and reenacts an old village ceremony to welcome the kami spirits of the shrine. The captivating event is held annually in Kurama, a small village on the outskirts of Kyoto.
---
Halloween in Tokyo (cancelled)
A quick mention that the mayor of Tokyo's Shibuya Ward has advised people not to visit Shibuya on Halloween to prevent overcrowding and potential accidents.
---
Autumn travel tips
Time your trip
It is recommended to check autumn foliage forecasts before booking your trip, as it will provide you with a good idea of the best dates to visit. For example, if you are planning to travel to Kyushu, you would have a better chance of seeing the autumn colours in early December than in September. As a general rule, the further south you go in Japan, the later the autumn colours will appear at their best.
…but don't stress too much about timing
Unlike cherry blossoms, autumn leaves tend to last for a longer period. Therefore, even if your visit falls outside of the forecasted optimal viewing period, you should still be able to see beautiful colours (as long as you're not too far outside of it).
There are two waves of autumn colours: yellow from ginkgo trees and red from maple trees. Therefore, we generally recommend aiming for dates slightly later than the forecasted dates for yellow colours. This is because if the forecasts are correct, you will catch a nice mix of yellows and reds; but if the forecasts are wrong, you will either catch the best viewings for red colours or still catch the best viewings for yellow colours.
Another reason not to stress too much about timing is that these are just forecasts. Forecasts are not 100% accurate and are not fixed. Leading up to the autumn season, JMC will release three updates to the forecasts, with each update becoming more accurate the closer it gets to autumn. We do not typically recommend waiting for the final forecast before booking, as most accommodations will be fully booked by then. Therefore, do not fixate on the forecast too much and just keep it in mind when booking.
It's not all about the leaves
While the autumn leaves are certainly a sight to behold, Japan has so much more to offer visitors in the autumn months. There are many unique and fascinating festivals, as well as tasty foods to try. Of course, even without the seasonal activities, Japan is packed full of amazing places to see and things to do.
Avoid late September
For international travellers, it might be best to avoid late September as this is usually still too early for autumn colours and also lands on a couple of public holidays (Respect for the Aged Day and Autumn Equinox) so you can expect lots of crowds around this time.
Food to look out for
There are endless dishes and food you'll already have on your list to try when you travel to Japan but you'll want to look out for these autumn specialities when you are out and about
Yakiimo
Yakiimo, also known as baked Japanese sweet potato, is a beloved street food and popular snack in Japan. These sweet potatoes are typically enjoyed during the colder months in Japan. It is often sold by kombinis, supermarkets and street vendors. The Japanese sweet potato is unique with its purplish skin and extra sweet and fluffy centre.
Chestnuts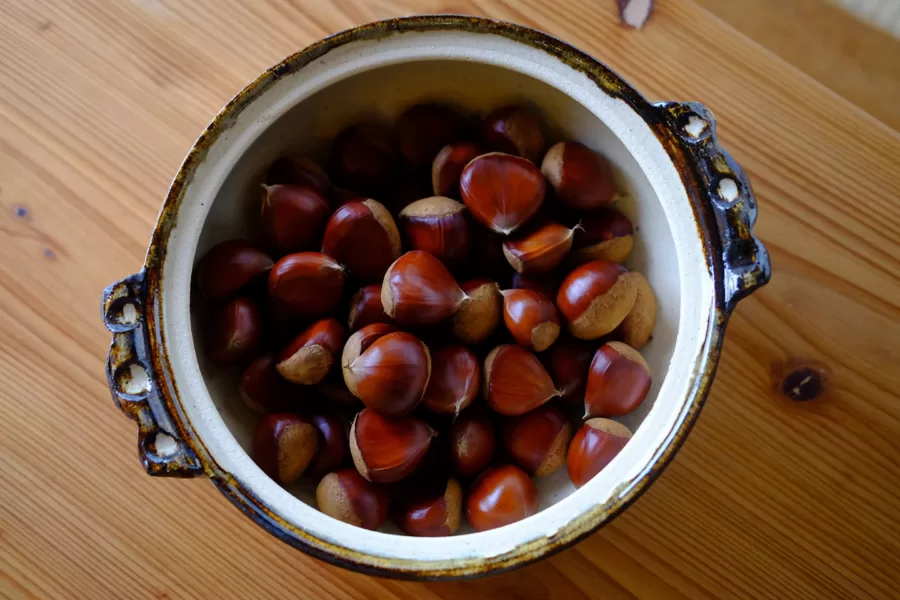 Chestnuts are an iconic snack for autumn and this is true also for Japan. You'll find roasted chestnuts served up at markets and festivals while bakeries offer chestnut-filled steamed buns and restaurants add kurigohan (chestnut rice) to the menu.
Oden
Oden is Sarah's favourite thing to eat whenever we're in Japan. Oden is similar to the hot pot where ingredients are cooked in soup but instead of boiling the ingredients, they are slowly simmered in hot soup instead. Eating oden used to mark the turn to colder seasons but it's so delicious and so loved that you can often find it all year round. Still, there's nothing quite like hot oden to warm you up on a chilly autumn day.
Persimmon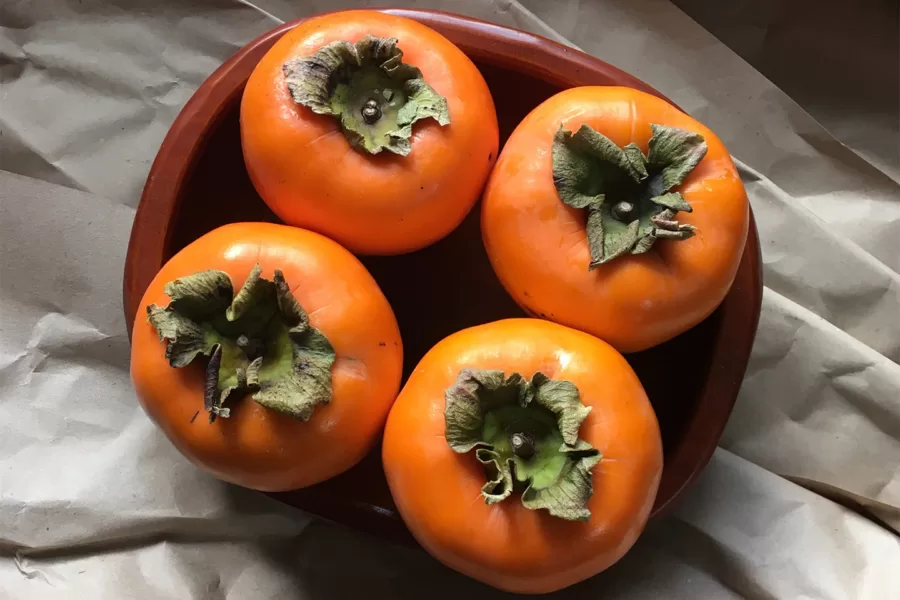 Persimmons are loved for their sweet flavour but also the vibrant colours they add to trees, bringing a touch of warmth to the autumn landscape. Many households have persimmon trees in their gardens and you'll find these fruits sold at michi-no-ekis, supermarkets and other local stores.
Itineraries
Below are three itineraries suitable for a one-week, two-week and a month-long trip. Please note that these are very packed itineraries (we like to make the most of each trip) but if you want to travel at a slower pace then you can remove places as necessary. At the end, we've included a few points of interest you might want to include if using the itinerary.
One week trip
If you have one week in Japan, we recommend the Kanto region as it is better connected with public transport and you can easily experience a mixture of nature and the city.
Day 1 & 2: Tokyo
Day 3: Lake Kawaguchiko
Day 4: Saitama
Day 5: Tokyo
Day 6: Nikko or Ibaraki
Day 7: Tokyo
---
Two-week trip
With two weeks this gives you just about enough time to explore the Kyushu region. We started the itineraries from Tokyo or Osaka as these are the major airports most international visitors will fly into. Quick note, the two-week trip itinerary is most viable if you decide to rent a car. We recommend cutting one or two places if you're looking to use public transport instead.
Day 1: Tokyo/Osaka
Day 2 & 3: Fukuoka
Day 4 & 5: Saga
Day 6: Kumamoto
Day 7: Takachiho
Day 8 & 9: Mt Aso
Day 10: Oita
Day 11: Fukuoka – 1 day
Day 12 & 13: Tokyo/Osaka
---
One month trip
With a whole month to travel, we highly recommend starting off in Tokyo and exploring the surrounding area before heading north and exploring the massive region of Tohoku. We recommend renting a car either from Tokyo or Sendai as many parts of Tohoku can be tricky to reach by public transport. If you prefer to travel by public transport then we recommend removing the Kyoto to Osaka portion of the itinerary to give yourself more time to travel around.
Day 1 & 2: Tokyo
Day 3: Saitama
Day 4: Ibaraki
Day 5: Nikko
Day 6: Oze National Park
Day 7: Ouchi-juku
Day 8: Fukushima
Day 9 & 10: Yamagata
Day 11: Mt Zao
Day 12: Sendai
Day 13: Iwate
Day 14-16: Aomori
Day 17: Hirosaki
Day 18: Akita
Day 19: Kakunodate
Day 20: Oyasukyo Onsen
Day 21: Sendai
Day 22: Tokyo
Day 23 & 24: Kyoto
Day 25: Nara
Day 26 & 27: Osaka
Day 28: Tokyo
---
We hope this guide has been helpful in planning your trip to Japan in autumn. Please do not hesitate to drop any questions in the comment section below. Oh and don't forget to check out the autumn foliage forecasts before heading to Japan!