Situated in the beautiful city of Niigata, this luxury hotel delivers comfort and sophistication. It was our first time in Niigata, so we decided to go with a familiar hotel brand for our stay. Read on to learn more about our stay at Hotel Okura Niigata.
Things we love
Riverside view
Central location
Delicious local food offerings
Service is personal and attentive
Disclaimer: Our stay at Hotel Okura Niigata was hosted but all words, comments and thoughts in this post are our own.
Location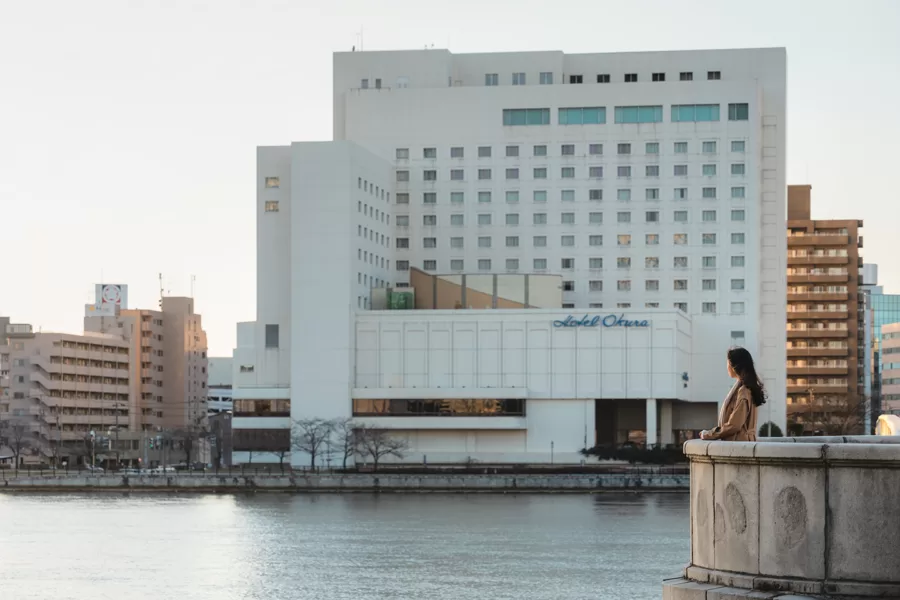 Hotel Okura Niigata can be found right beside the Shinano River and overlooking Bandai Bridge. For those unfamiliar with Niigata's topology, the Shinano River cuts the city into two very sections. North of the river is where you'll find more of the historical parts of the city while the south has newer redevelopments. Hotel Okura Niigata's middling position allows travellers to reach both sides of the city with relative ease.
The train station is relatively nearby, taking under 20 minutes to walk on foot. But there's also a bus stop right outside the hotel that also heads in the direction of the station. By taxi, it takes just 5 minutes to reach the station from the hotel. We prefer the walk as it's a perfect excuse to take your time appreciating the Shinano River view as you cross Bandai Bridge.
Property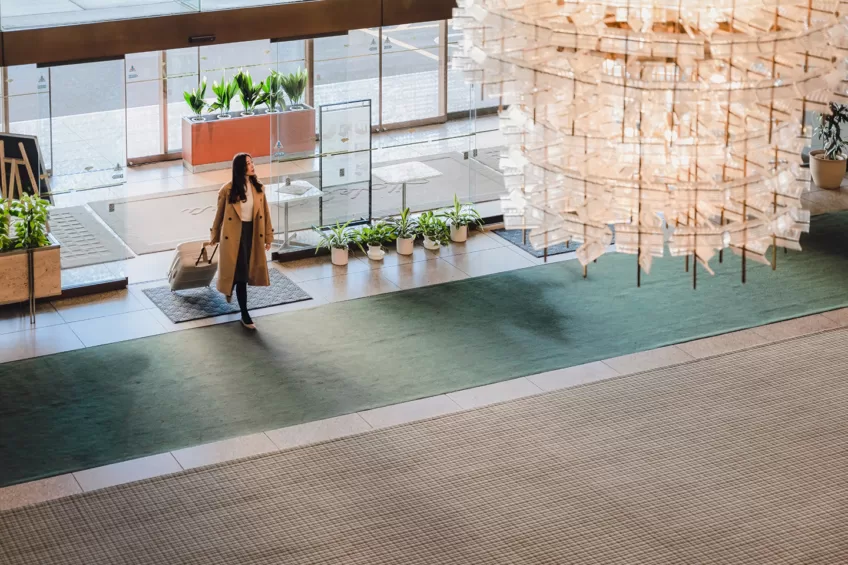 Hotel Okura Niigata first opened in the '70s, and like the architecture of those times, the hotel can be characterised as functional and minimalistic with its block-white exterior. Inside, two extra large chandeliers welcome guests into the lobby before a smiling staff continues the warm welcome.
Room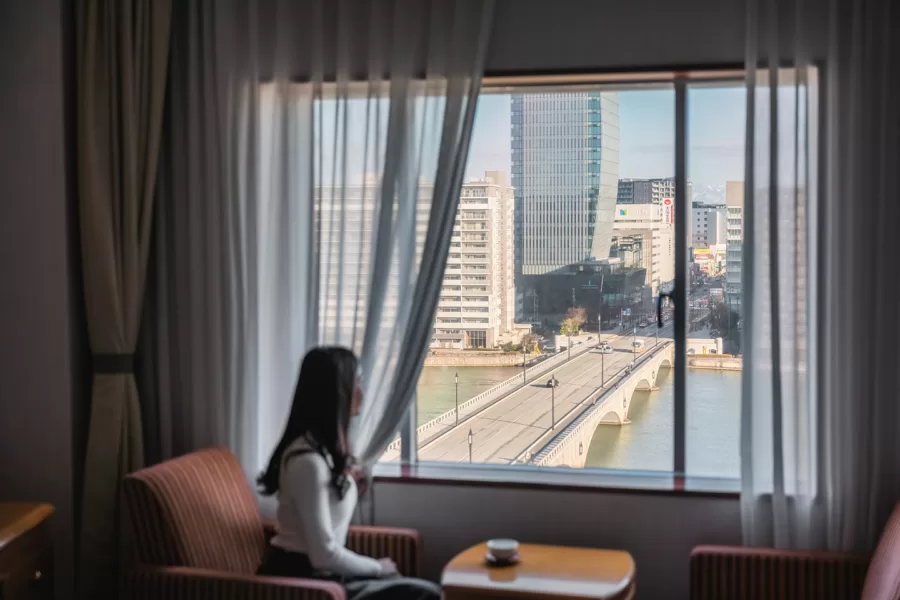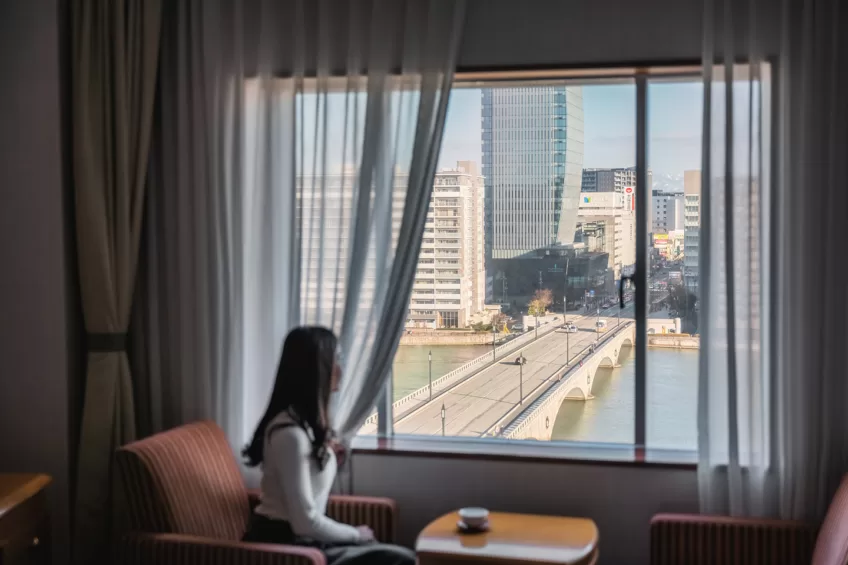 We stayed in the Deluxe Twin Room with River View, as the name suggests it offers a view of the Shinano River. Two single sofas are parked beside the window so you can sip on the complimentary green tea while you enjoy the view. The room is comfortable and spacious with enough room for the both of us to fumble around in our suitcases.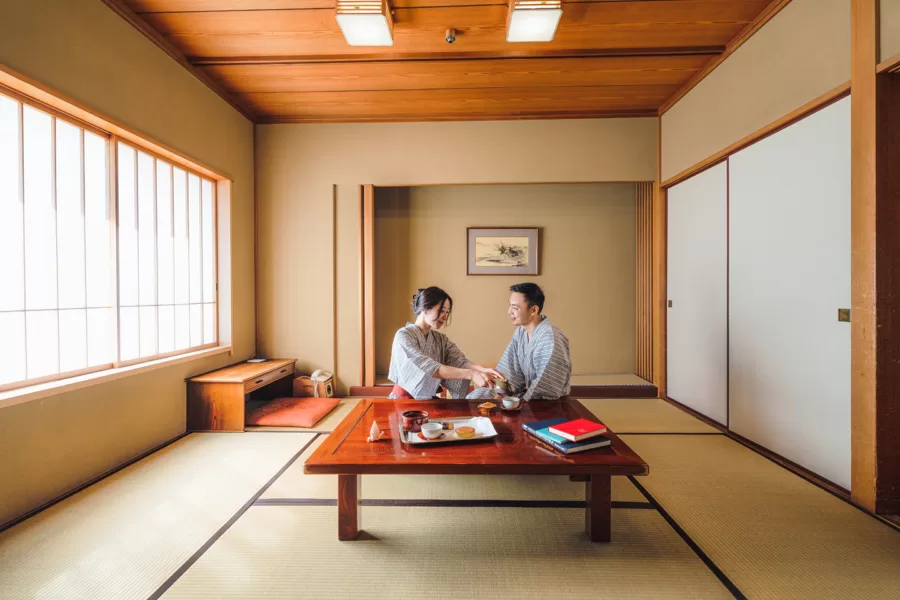 We also had the opportunity to experience the Japanese Room where guests sleep in comfy futons on tatami mats – something we recommend everyone try at least once. Traditional-style rooms like this are usually found at Ryokans, so it's a nice surprise to see it being offered at a hotel.
Service
We've stayed at hundreds of hotels and we can confidently say the service we received at Hotel Okura Niigata was some of the kindest, most personal and caring we've ever experienced. This was true from the moment we stepped into the hotel and across all staff from all areas of the hotel.
It was also our first time visiting Niigata and due to our packed schedule before arriving, we didn't quite have a travel itinerary ready nor time to do any research on places to visit. Thankfully the staff were excellent, they took the time to understand what we liked to do and gave great recommendations. More on the places they recommended later.
Restaurants and Facilities
Hotel Okura Niigata has three restaurant offerings: Tsubaki, a buffet restaurant; Yahiko, a traditional Japanese restaurant; and Toh-Kah-Lin, a Chinese restaurant. It's great to see all restaurants here serve food that utilises local in-season produce. Niigata is famous for its produce thanks to its terrain and proximity to the mountains and sea. We wanted to give a special mention to the rice produced here as it often vies for first place for best rice in Japan.
Places to visit nearby
Hakusan Park
Niigata Hakusan Shrine
Enkikan
Yasuragitei Embankment
Imayotsukasa Sake Brewery
Sado Island
Honcho Market
Overall
Hotel Okura Niigata is a luxurious hotel that offers impeccable service and a variety of amenities. Whether you are travelling for business or pleasure, Hotel Okura Niigata is the perfect place to stay.