Füssen (Fuessen) is an old Bavarian town located right on the southern German border from Austria. Though small in size and population, Füssen is a place that attracts domestic and international travellers alike thanks to its rich national history, fairytale castles nestled amongst stunning landscapes, and marks the end of Germany's "Romantic Road".
Disclaimer: This guide is a collaboration with Füssen Tourismus and Marketing but all words, comments and thoughts in this post are our own. This post may also contain affiliate links, meaning we get a commission if you make a purchase through our links which comes at no cost to you 🙂
How to get there
Füssen is well connected by road and rail so it's very easy to reach the town no matter where you're coming from. If you're flying to Munich airport then it takes around three hours by train with up to three train changes between.
Where to stay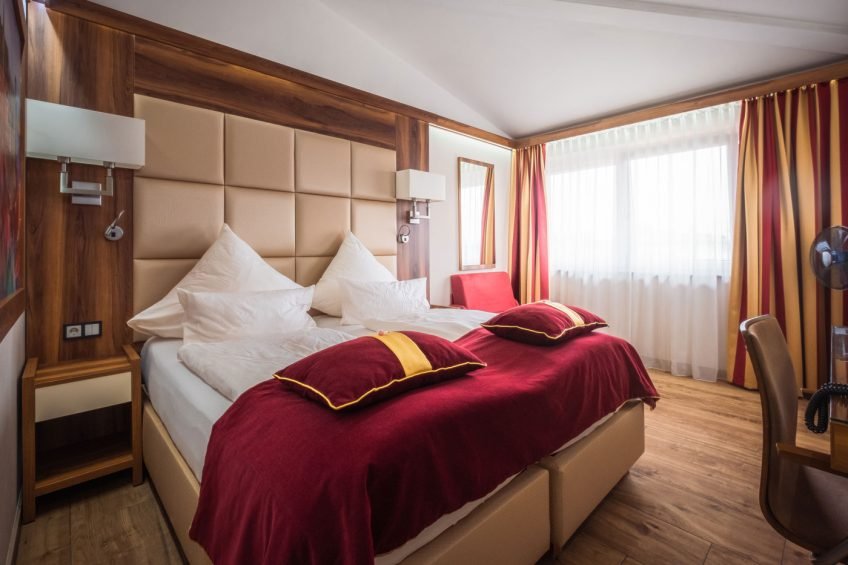 For the two nights we stayed in Füssen we booked into the Best Western Plus Hotel Füssen. The hotel's location is perfect for exploring the area as it's neither too far from the train station nor is it too far from the old parts of town. We stayed in the Standard Twin Room was comfortable with enough space for a sofa and a desk.
Book your stay at Best Western Plus Hotel Füssen with Booking.com
When to visit and how long
Füssen is a great destination for travellers no matter the season of travel. If you're visiting in Autumn, like we did, then you'll be in for a treat with beautiful yellow and orange foliage spread across all of Füssen's surrounding forests. The other season we'd love to go back and experience is winter when the mountains are caked in snow and the whole of Füssen looks like a winter wonderland.
Some travellers may feel Füssen is just a stepping stone to reach the wonderous Neuschwanstein but we highly recommend taking your time to enjoy this beautiful town and its surrounding areas. If you're including a day out to Neuschwanstein Castle then we recommend staying two to three days. This will allow you a full day of exploring the castle areas as well as the town itself. With three days you can also set out on one of the many hiking and biking trails in the region.
Things to do in Füssen
Walk the Old Town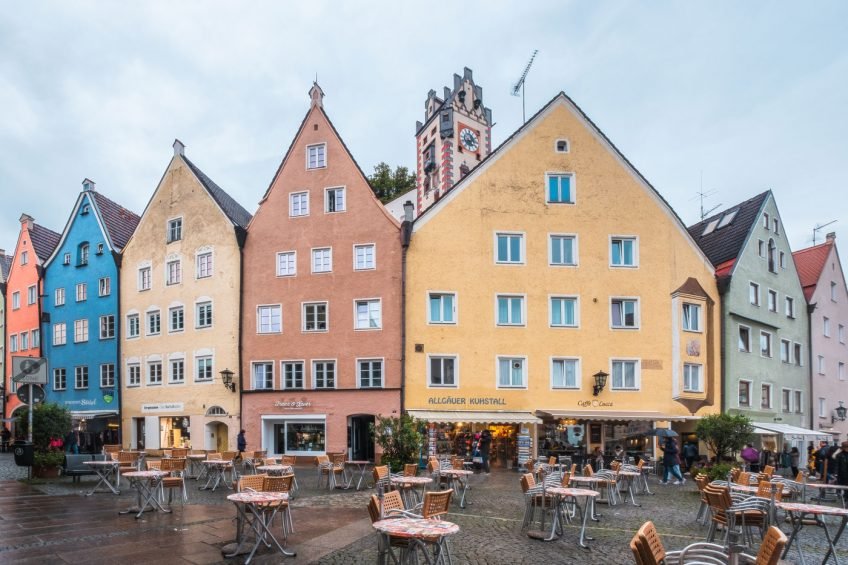 When you arrive the first thing you'll want to do is explore the old town on foot. Head inside the old medieval walls and you'll uncover a well-preserved 700-year-old town with cobbled roads lined with colourful Bavarian buildings. Down every street is a new angle or alleyway to explore (and photograph) so be sure to cater at least an hour or two to just walk around and soak in the ambience of Füssen.
Parish Church of St. Mang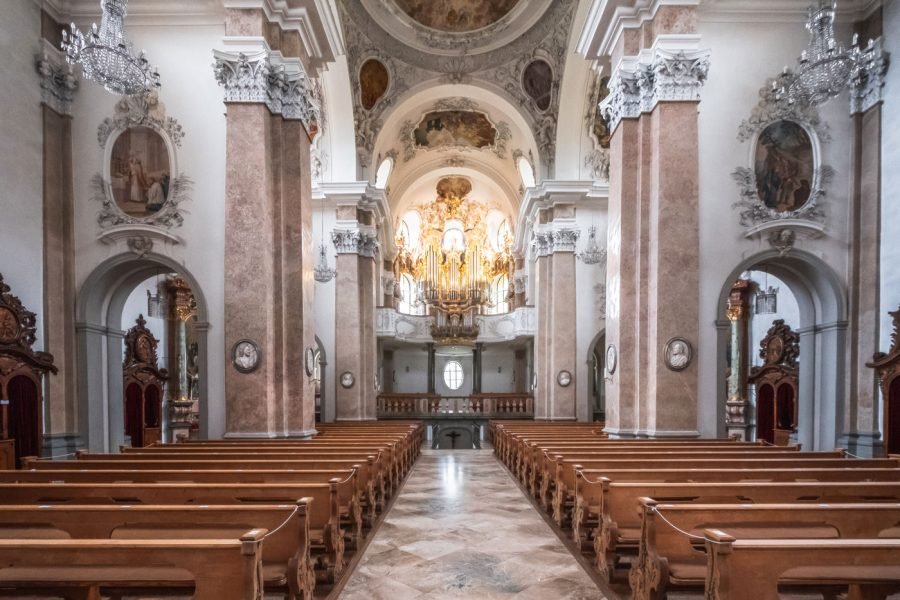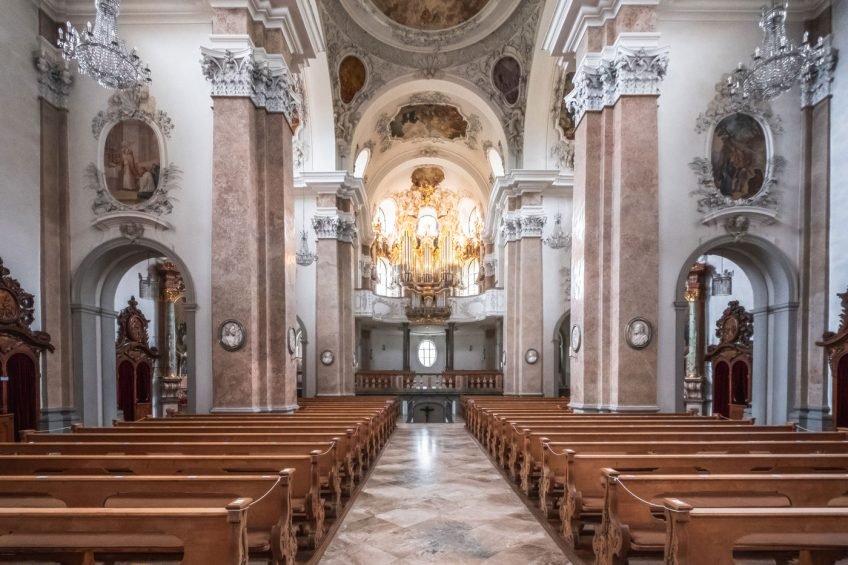 The Parish Church of St Mang can be found just a little below the High Castle of Füssen and – if not for our wonderful tour guide Erih – we might have missed the church altogether as it has a rather inconspicuous exterior. But once inside you'll be stepping into a majestic marble sanctuary – one of the finest Baroque styled churches we'd come across on our trip across Europe. The Parish Church of St Mang really does feel like a hidden gem tucked away waiting for travellers to discover.
The Museum of Füssen
Uncover the unique history and traditions of Füssen at the heritage museum. Located in the southwest wing of the St Mang monastery (the same building as the Parish Church but uses a different entrance to enter), the museum houses artefacts and archaeological finds from the town's 1000 year history including a collection of violins and lutes – Füssen was once an important commercial manufacturer of lutes in Europe. It's not just the exhibitions and artefacts that are of interest, the interior has been beautifully preserved and you can walk the monastery rooms as the Benedictine monks once did. Our favourite part of the museum was the enchanting pink baroque-style library.
High Castle of Füssen
Perhaps overshadowed by the two neighbouring castles at Hohenschwangau but the High Castle of Füssen is well worth visiting while you're in town. The castle was the former residence of Prince-Bishops of Augsburg and is decorated with unique "3D-like" illusionary paintings on its exterior. The design seems a little novel in today's era but at the time, using such illustrations on buildings was seen as innovative. While here be sure to head to the castle tower where you'll find two windows that offer panoramic views of the entire town below.
Neuchwanstein and Hohenschwangau Castle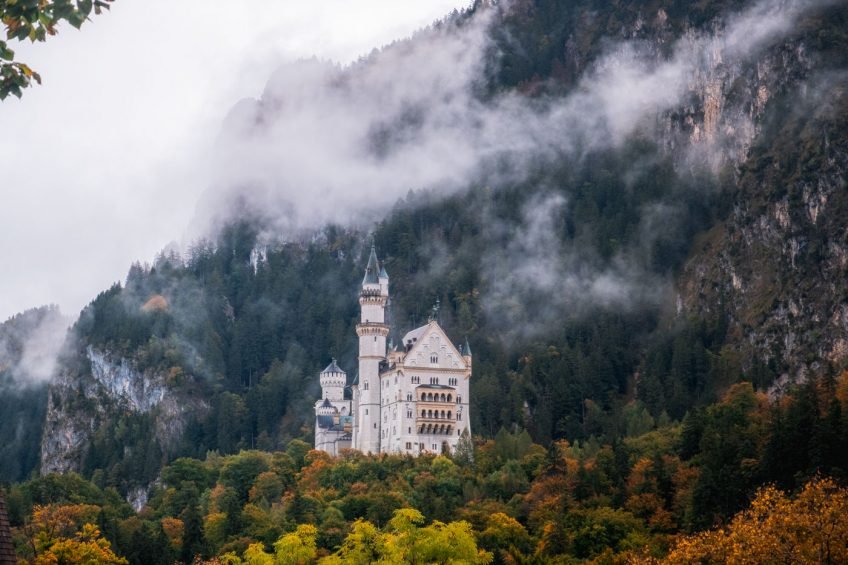 Neuschwanstein Castle is the fairytale masterpiece conjured up by King Ludwig II of Bavaria. The medieval-style castle was in fact built several hundred years later than this era when Ludwig commissioned its construction in 1868. The white limestone exterior and blue roofs might conjure up images of a similar-looking (though fabled) castle – Disney's Sleeping Beauty Castle. Walt Disney paid a visit to Neuschwanstein Castle himself and it's largely believed that this is where he got his inspiration, though no official statement or evidence has surfaced as of yet.
Be sure to also check out Hohenschwangau Castle, this was where King Ludwig II grew up, which is positioned on the opposite hillside to Neuschwanstein. There are plenty of paths and hiking trails that snake all around the forests of Hohenschwangau and take you to both castles. Some paths are easy and have horse carriages that can take visitors up and down the hills, but trek off the concrete paths and onto the side trails that guide you along rivers, beautiful lush forests and wonderful viewpoints of the castles.
We recommend booking a castle tour which allows you to enter the castles and learn about the rich history of the Bavarian castles. Tickets can be reserved online before picking up at Hohenschwangau's Ticket Centre, located right beside the large car park and bus stop.
Technically not in Füssen as the world-renowned Neuschwanstein Castle is located in the nearby village of Hohenschwangau. But due to the limited number of hotels here and generally higher room rates, many travellers (including us) stay in Füssen and make the short trip over. There are buses that serve routes from Füssen but note opening and closing times as they usually don't run until sunset. We walked back from Hohenschwangau to Füssen, although not the shortest walk, it is still very doable and took us across some beautiful pastures along the way. We've mapped out the route we took and some of the viewpoints we enjoyed during our day trip to the castles.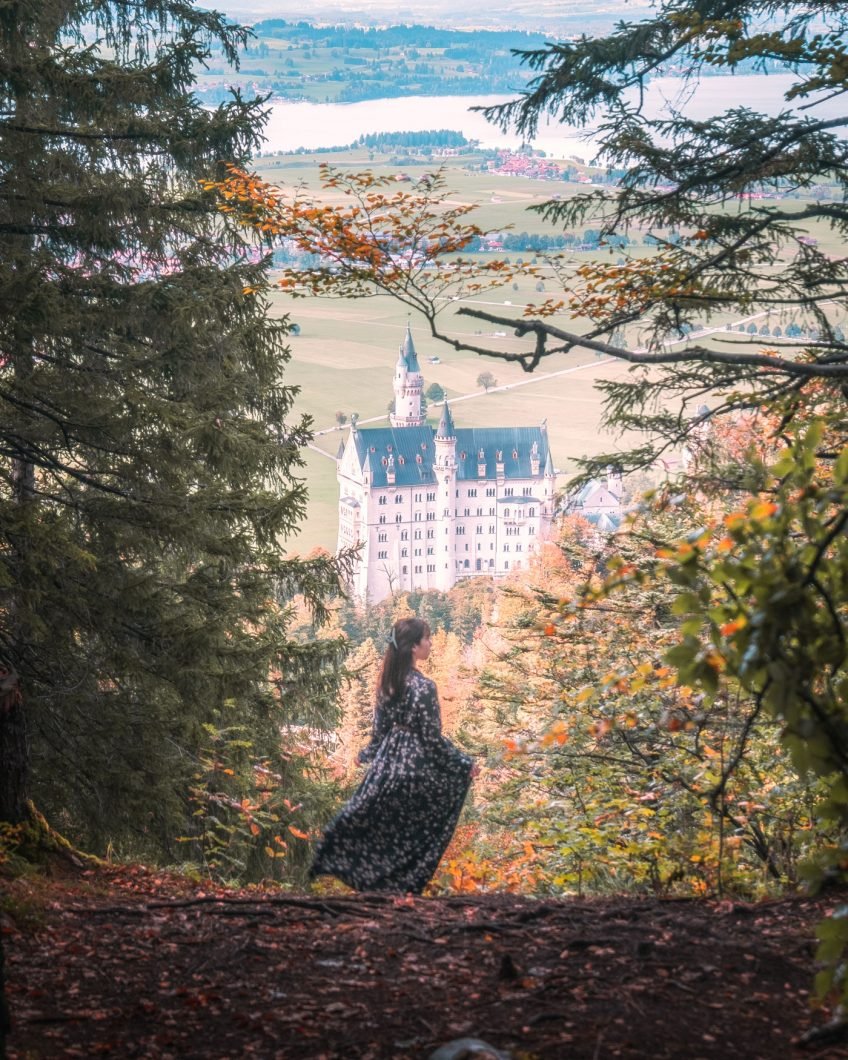 ---
Check out some of our other articles and Discover the World