With the Halloween season kicking off, Eric and I headed down to Ocean Park Halloween Fest to check out what's on offer – and boy were we in for a real treat! 
Revamped with spooky decorations to set the mood, the atmosphere was still family-friendly throughout daytime. All the regular attractions were open as per usual. Come afternoon and you will find some characters here and there slowly cropping up into the scene. This was a great opportunity to pose with them for a quick snap without being too creeped out.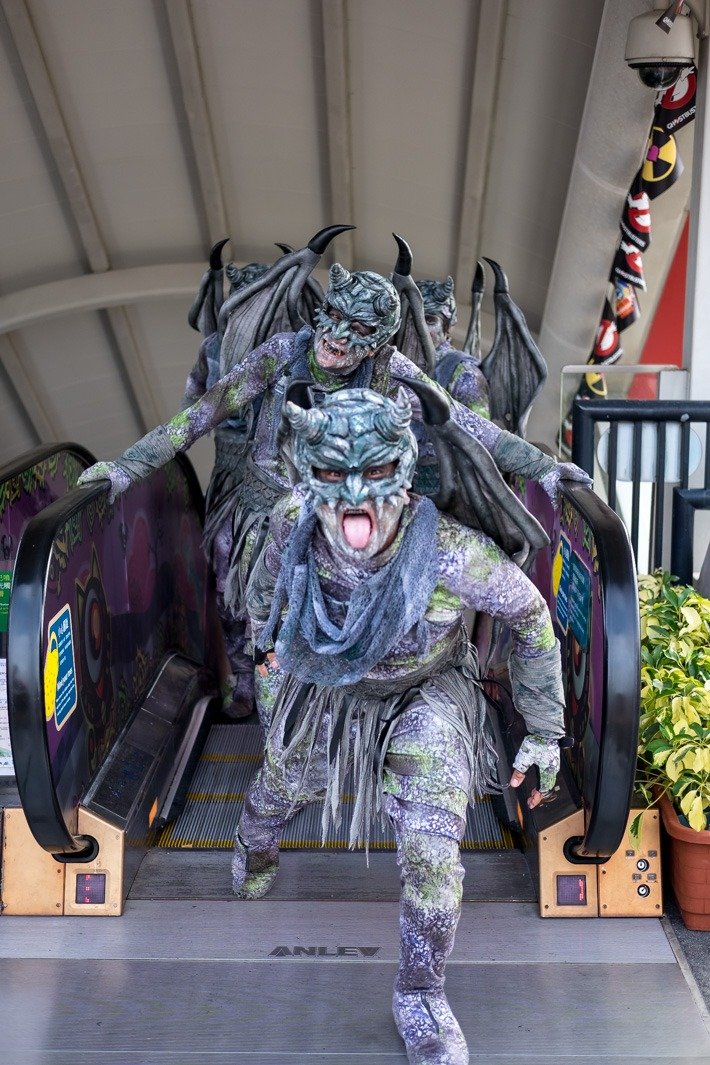 The fun really began as dusk drew near…it was at this moment when the rest of the actors started emerging from the darkness. Dressed in their hyper-realistic costumes and makeup, their ability to stay undividedly in character was impressive. From lurking chillingly in the shadows of street corners to roaming openly around the park; one thing for sure – they were all on a raring mission to target unsuspecting passersby. Nowhere, and no one, was totally safe!
Scattered within the park were numerous haunted houses definitely not for the fainthearted. I will preface this by saying that I absolutely hate haunted houses. Call me a baby but I derive no pleasure from having people jump out of nowhere and yell loudly in my face – or even worse, chasing me in an enclosed space!
I still vividly remember one time when I braved myself into a haunted house in Universal Studios, California. Long story short, Chucky (yes, the annoyingly invincible doll) chased me all the way out to the exit waving his plastic knife about and I have been traumatised ever since!! Eric on the other hand, loves it. So if this floats your boat too, then you will surely have a great time!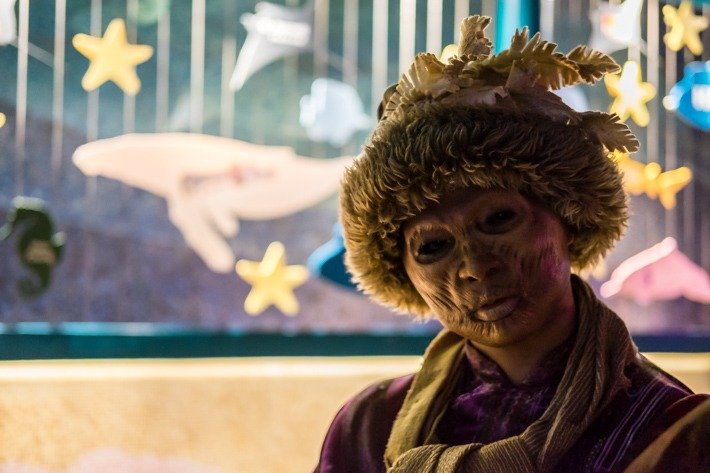 The Halloween attractions proved to be very popular as expected. Having passed by several attractions that night, the startling screams, sudden thuds and chasing of footsteps from within was enough to send my heart racing. Those who made it out alive came out looking wide-eyed, exhilarated and eventually collapsing in laughter. Scary or not, that's for you to find out!
If you can't bare to place yourself in the midst of these horrific encounters, you're not alone! Who said you can't still enjoy Halloween?! In fact, you'll be pleased that there are some mild attractions that you can occupy your time with too. The highlight of the night for me was Project Deathway presented by Meyer Sound.
---
Project Deathway Extravaganza!
Project Deathway was a seated show featuring top models on stage with red-hot, sizzling post-mortal looks from the depths of 'Hell'. If that wasn't enough, it also involved action-packed dance performances and stunts which will make your heart leap and jaws drop. The host topped it all off by dishing out hilarious commentary and gags – an entertainment which Hong Kongers can definitely relate to. Don't be put off by the language barrier though; given their eye-popping displays and costumes, we highly recommend it as a finale before you leave the Park.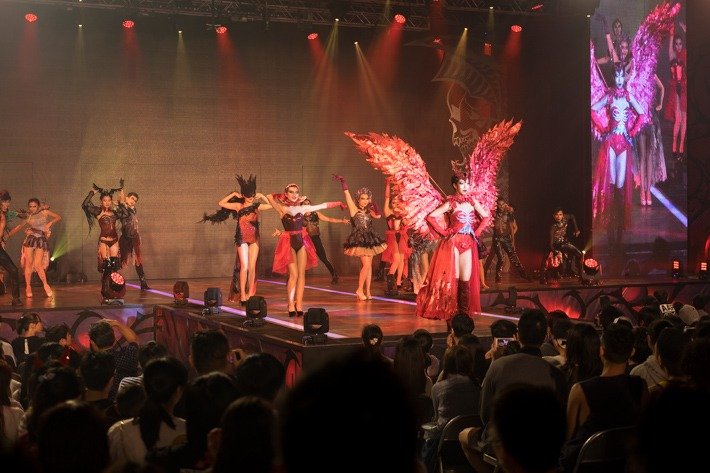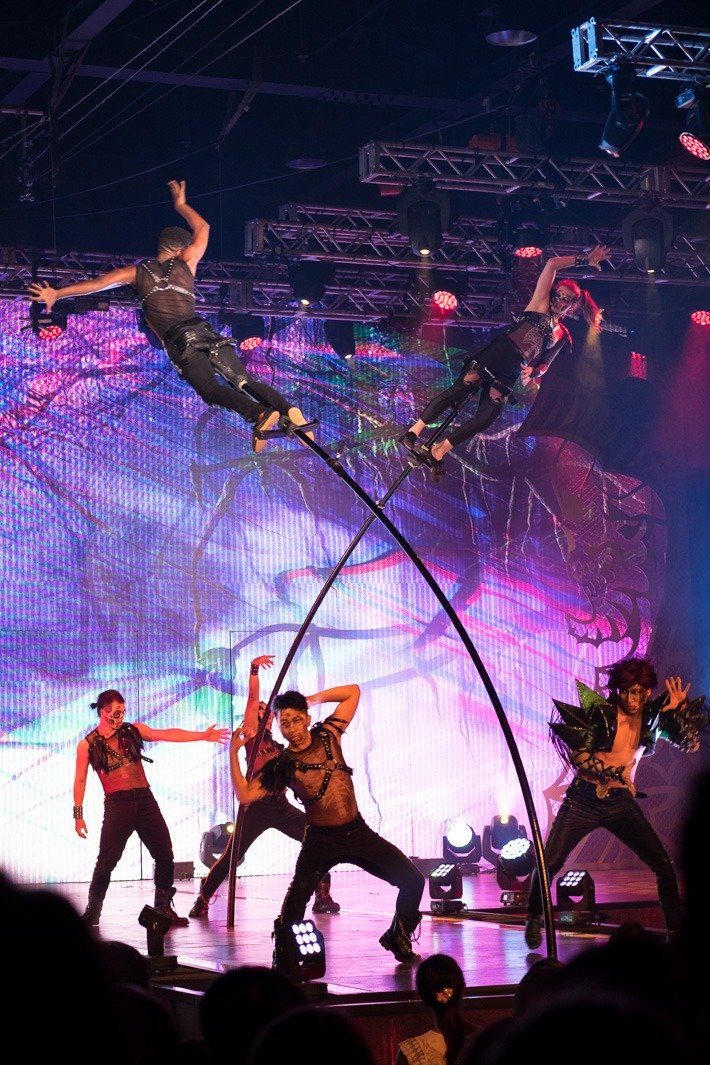 ---
Creeking Cable Cars at Night
Another experience which was unexpectedly scary was our cable-car ride after dark. Since Ocean Park's opening times have been extended until 11pm during the Halloween Fest as opposed to its regular 7pm, we thought it'd be a good idea to hop on, in hopes for a spectacular night view of the lit up islands below.
Well, it would have made a peaceful journey had it not been typhoon 1 moments after we were whisked away from the platform! We clung onto our dear lives as our cable car rocked creakily from side to side. The thought that our carriage was essentially just attached to a single rope didn't exactly conjure the best image either. And to top it off, there were many empty carriages at this time, so the whole experience couldn't have been anymore eerie. Having said that, the view was pretty incredible at night!
All in all, Ocean Park Halloween Fest really lived up to its expectations and we had an absolute blast! Do note though that their Halloween attractions vary each year, from theme to theme, so be sure to check their website to see what's on.
---
General Information
Admission Ticket: Adults HK$385; Child (Aged 3-11) HK$193; for full-day and night access
Ticket Selling Point: The Park Entrance Ticketing Office; Online Ticketing System; All 7-11 Stores in HK
Opening Times & Dates: Every Friday to Sunday between 2nd October to 31st October. Opening times from 10am to 10pm on Halloween days with most Halloween attractions and activities starting at 1pm.
Public Transportation: The most popular and hassle-free route is simply to take the Citybus Route 620 from Central (Star Ferry) or from Admiralty MTR Station, Exit B. Bus fares are $10.60 (Adult) and $5.30 (Child).
So what are you waiting for? Grab your friends and head down to Ocean Park Halloween Fest for a real treat! If you have any questions or would like to get in touch, please feel free to drop us a comment below, shoot us an email or find us on instagram and facebook!