Our second trip to Okinawa took us out to the region's largest and main island, Okinawa Island. There we spent a week inside the island's capital staying with Hotel JAL City Naha. Read on to find out our thoughts on the hotel.
Disclaimer: Our time at JAL City Naha was sponsored but all words and comments in this post are our own.
Location
When it comes to staying within the capital city of Okinawa Prefecture, location-wise it doesn't get much better than JAL City Naha. 15 minutes by car from Naha airport, the hotel is located in the heart of Kokusai Dori – the city's busy shopping strip where you'll find endless choices of eateries catering for every taste.
Walk a few minutes further and you'll stumble across Heiwa Market and Makishi Public Market. These markets offer lots of opportunities to find Okinawan items e.g. Okinawan-style shirts/dresses, Okinawan flower clips.
The hotel is also just a 10-minute walk from Makishi Monorail Station, making access to popular locations around Okinawa very convenient.
Rooms
It wasn't long before our stay that Hotel JAL City Naha underwent a small renovation to its rooms, introducing a couple of new J Premium style rooms with designs that use colours and materials which reflect Okinawa's culture.
All room types throughout the property were clean and very spacious. You'll also find all the hotel amenities you'll ever need, plus a Nespresso coffee machine if you stay in the J Premium rooms.
What was unexpected though was just how quiet it was in our room despite its central location on Naha's busiest street. So after an evening out slurping Okinawa Soba and drinking Orion beer with the locals, it was lovely to come back to our room and find peace and quiet. Our bathroom also offered a fantastic view out onto the city which we enjoyed whilst relaxing in a bath!
Facilities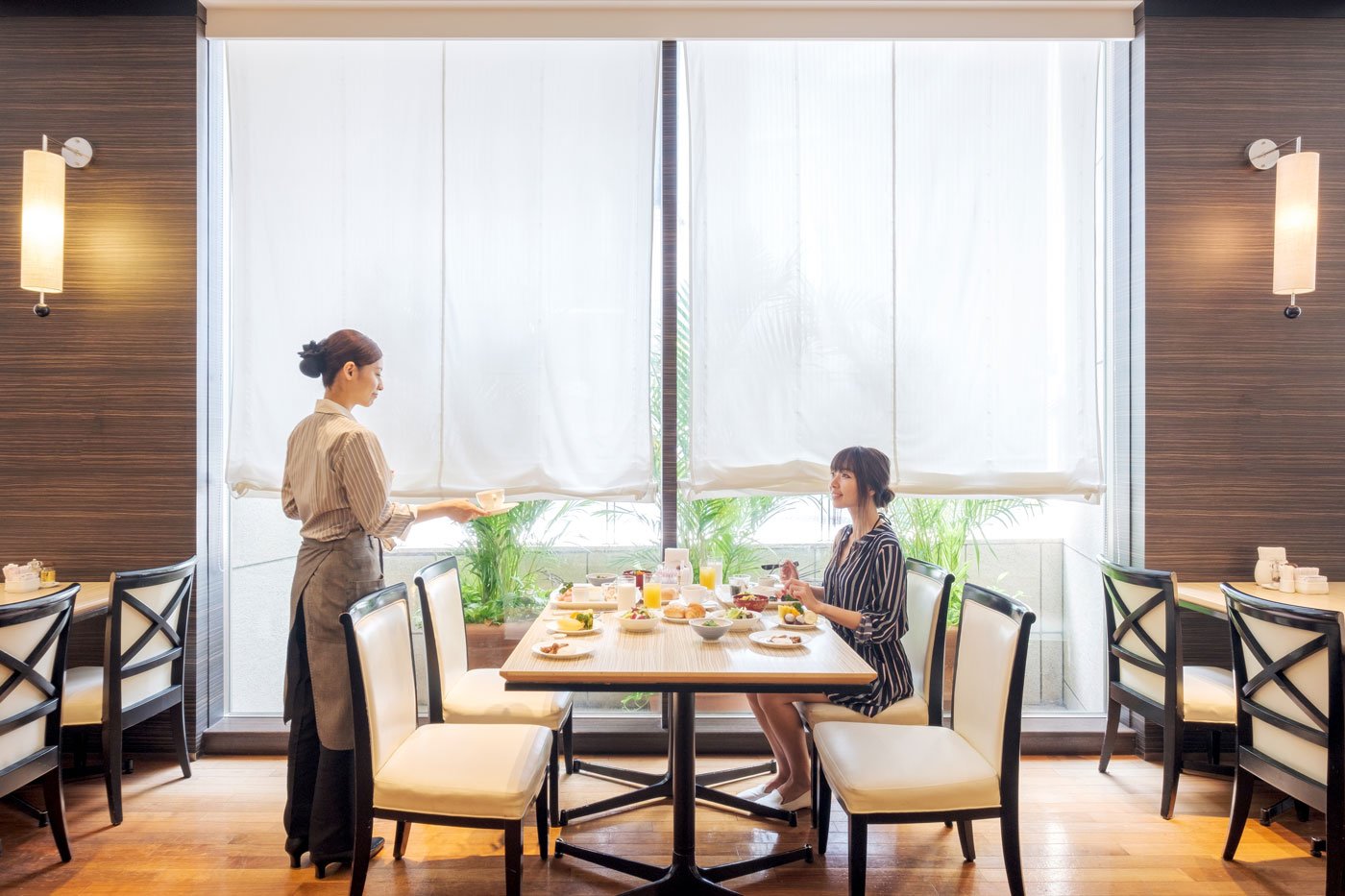 There are plenty of food options right outside Hotel JAL City Naha but in case you don't feel like venturing out you can enjoy breakfast, lunch or dinner at the hotel's restaurant, Bon Appetit. We personally had the breakfast and dinner options.
The breakfast is a buffet style that includes over 50 selections, many of which are Okinawan specialties such as Okinawan porridge, Bitter gourd and spam, Okinawan sweet red bean dumpling desserts and Okinawa soba. For dinner, we had the Prefix Dinner Course which included appetizers, soup or pasta, bread or rice, a main dish, salad, dessert and tea or coffee – it's fair to say we were well and truly full!
JAL City hotels are generally geared more towards business travellers and although their Naha property has more of a relax and resort vibe, you will still find a business centre which includes computers and photocopying machines if you need to get some work done.
Summary
One of the first decisions when it comes to booking a hotel is where is its location, and Hotel JAL City Naha takes the trophy home in this category. Its convenient location makes it perfect for shopping, eating and exploring Naha and Okinawa island.
Looking for other accommodations to stay around the world? Check out Where to Stay