We enjoyed our time in Hoi An so much that we decided to stay an additional two nights in the coastal town. After staying at the larger Hotel Royal Hoi An – MGallery, we wanted to experience a more homegrown brand and that's when we discovered the Little Hoi An Group and their Little Riverside Hoi An property.
Disclaimer: Our time at Little Riverside Hoi An was sponsored but all words and comments in this post are our own.
Location
Little Riverside Hoi An is situated along the Thu Bon River on the eastern side of Hoi An ancient town. This location places it on the quieter end of town which means you'll spend less time jostling with other tourists and more time soaking in charming Hoi An sights. But if you are interested in exploring the busier areas of ancient town just know it's only a short walk away along.
Nearby, you'll find plenty of cafes and restaurants including The Noodle House, our favourite restaurant in Hoi An.
Check-in
We all know how important the check-in experience is considering it's a guest's first impression of the hotel's service. And we're happy to say Little Riverside Hoi An scores full marks in our books. Amber was the reception staff who greeted us with a welcoming smile. We were guided over to the sofa where we sat down and she really got to know us. She asked us what we were looking to do for our visit to Hoi An, what our interests are, favourite foods and where we've already been. She proceeded to give us some great recommendations – in fact, The Noodle House was her recommendation.
We should mention we were also offered hibiscus drinks and chocolate brownie cakes infused with cinnamon as welcome gifts. Amber told us to take our time to enjoy the snacks and to let her know once we were ready to see our room. 10/10 for check-in!
Property
As Amber guided us through the property it was clear Little Riverside have taken much care in maintaining the visuals and charm synonymous with Hoi An. Starting from the beautiful entrance featuring yellow-walls and bamboo arching over to form a roof, to the traditional wood throughout the property – Little Riverside Hoi An is as charming as a hotel can be.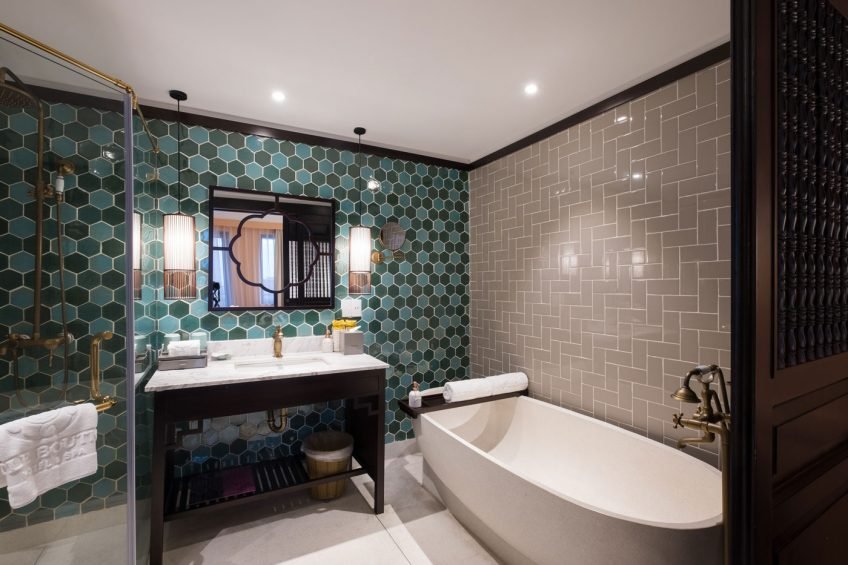 Our stay was in their King Suite with city view. Little details around the room like ceiling patterns, bathroom colours and classical sliding doors all came together to create a very Hoianese feel.
Services/Facilities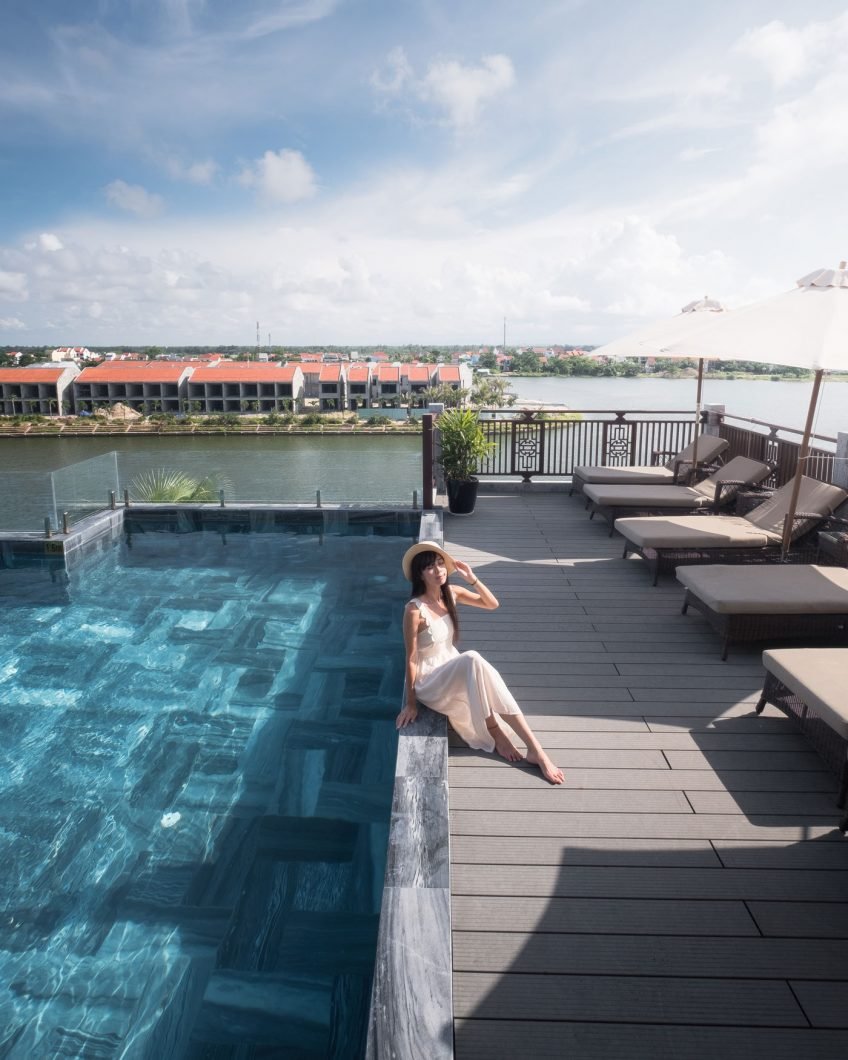 An outdoor infinity pool can be found on the rooftop with beautiful views Thu Bon River and Hoi An town, plus there's also a bar on the rooftop which guests can enjoy while having a swim.
On the ground floor is their Traders Waterfront Restaurant which serves both western and Vietnamese cuisine throughout the day. Breakfast is served in a buffet style.
The Ozone Spa is located on the lower floor which has 4 private massage rooms and a steam bath. We enjoyed a lovely foot-massage which was just perfect after a long day of walking around Hoi An.
Other services offered include complimentary bicycle rental and a fitness facility.
Summary
We had one of our most enjoyable stays in Vietnam with Little Riverside Hoi An. As soon as we arrived we felt very much in the care of the staff. They really got to know us and from our observations every other guest too.
The property is beautifully designed, showcasing luxury that pays homage to local designs and culture – something we hope more hotels take note of as the hotel industry progresses.
Looking for other accommodations to stay around the world? Check out Where to Stay